The atrocious attack in Nice on July 14 is on everyone's mind at the Republican National Convention this week.
Indeed, continuing attacks by Islamic State, its affiliates or its copycats may have a substantial impact on the presidential election. As Rudy Giuliani recognized on the first night of the convention, in recent months there have been five major attacks by violent Islamists (he called them "violent Islamic extremists") on the U.S. and its allies, including Orlando and San Bernardino.
How to respond may become the issue of the 2016 election.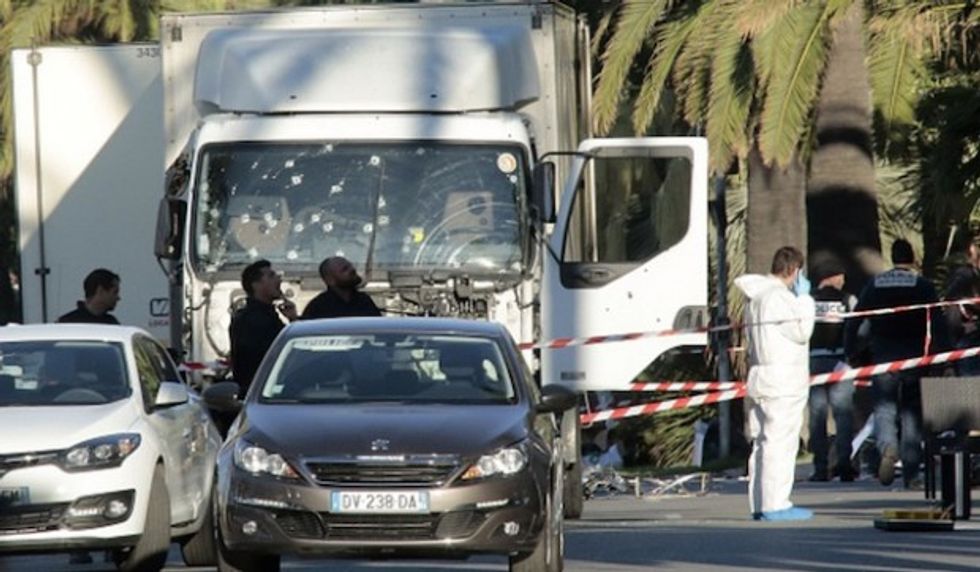 Forensic police investigate a truck at the scene of a terror attack on the Promenade des Anglais on July 15, 2016 in Nice, France. A French-Tunisian attacker killed 84 people as he drove a truck through crowds, gathered to watch a firework display during Bastille Day celebrations. The attacker then opened fire on people in the crowd before being shot dead by police. (Photo by Patrick Aventurier/Getty Images)
Over the past four years, people around the world have seen the atrocities of Islamic State. As Giuliani observed, the victims are foremost fellow Muslims, but Islamic State also has perpetrated genocide directed at religious minorities, such as Christians and Yezidis, in Iraq and Syria. The attacks from California to Europe to the Middle East suggest that even if Islamic State as a military force is beaten on the ground, that the radical ideology of violent Islamism will continue to spark lone wolf terrorist attacks. This is particularly true of "soft targets" where people are able to celebrate their freedom such as restaurants, dance clubs, markets, and civilian workplaces.
Last week's attack on Nice, occurring on France's Bastille Day, was the equivalent of an attack on the United States on the Fourth of July. It was a strike not only against French citizens, but against the very values, the positive values, that the French Revolution's overthrow of tyranny represented: fraternity, political equality among citizens, and individual liberty within the rule of law. Imagine a similar attack in Philadelphia or Chicago on July 4.
How may this affect the presidential race? These attacks continue to strengthen the hand of Donald Trump and demonstrate the weakness of the position of the current administration and of former Secretary of State Hillary Clinton. If these attacks continue, Americans are going to be soberly asking themselves, "Which candidate is most likely to make us stronger and safer? Which candidate is most likely to take the steps necessary to protect my children?"
Answering this question poses a real challenge for Clinton because in the past she has consistently said that this is not a religious problem and that there is not a tie between religion and the violence. Many feel that on her watch as secretary of state, and under the government of a Democratic administration, the world has become increasingly less safe for the U.S. and its allies. The foreign policy indictment is long: destabilizing and overthrowing the government of Libya, inaction for years on Syria, and weakness with regards to Iraq and Afghanistan have made the world less safe today than it was at the beginning of the Obama administration. And it was Clinton at the State Department that was a big proponent for a self-limiting approach to national security of the United States.
However, candidate Clinton is clearly feeling the pressure to respond more robustly on this critical national security issue because in an unprecedented move, candidate Clinton called in to Fox News' "The O'Reilly Factor" on the evening of July 14 to say, "this is a war against these … radical jihadist groups." She later called CNN to make a similar statement.
In contrast, Donald Trump has consistently articulated a view about what threatens the United States and steps that must be taken. First he has routinely called out foreign adversaries whether it is traditional challengers like Russia and China or the violent Islamism of Islamic State, Al Qaeda, and their ilk. Second, Trump has offered common sense policy proposals that are worthy of debate about steps that will make American citizens safer. The job of the president of the United States, as commander in chief and chief executive, is first to promote and protect the lives, livelihoods, and way of life of the citizenry of the United States. His first job is not to the citizenry of other countries nor the alleged civil rights of terrorists and criminals, but the basic security and liberties of the American people.
Trump has argued for crushing the leadership of Islamic State on the ground and stricter controls at home on immigration and border security. Trump has argued that perhaps the U.S. needs to slow down, or be extremely cautious in who it lets in from countries with known terrorist backgrounds. These types of steps can be judiciously taken to increase the security of the United States, such as allowing in refugee families (parents with children) or orphaned children who will be supported by churches and non-profit groups (as in Canada) rather than bringing to the U.S. single young men from Syria. All of this is both tougher and wiser than the hand-wringing associated with Obama and Clinton.
Some have called Trump a neo-isolationist but that does not seem to be his foreign policy agenda. His advocates protecting the interests and lives of the American citizenry rather than trying to make the United States a global policeman or a global nice-guy handing out goodies in an effort to make everyone like us. When the election comes, particularly if there are more terrorist attack, Americans are going to be asking themselves which candidates has articulated a vision for national security, particularly in light of Islamic State and violent Islamism. Donald Trump will be their choice.
Dr. Eric Patterson is Dean of the Robertson School of Government at Regent University in Virginia Beach, VA and the author of numerous books, including the co-edited Debating the War of Ideas and Ending Wars Well.
–
TheBlaze contributor channel supports an open discourse on a range of views. The opinions expressed in this channel are solely those of each individual author.