In a recent speech given to the U.S. Air Force Academy in Colorado Springs, National Security Adviser Susan Rice assured the cadets that "we have faced down and defeated much greater adversaries... ISIL is not Nazi Germany. It is not the Soviet Union at the height of the Cold War. This is not World War III or the much-hyped clash of civilizations."
I find this statement alarming, especially given the recent acknowledgment that the Islamic State committed genocide against Yazidi Christians in Iraq - an act that is both reminiscent of Nazism during World War II and, arguably, the desired end state for all who fall under the control of the Islamic State and reject their ideology.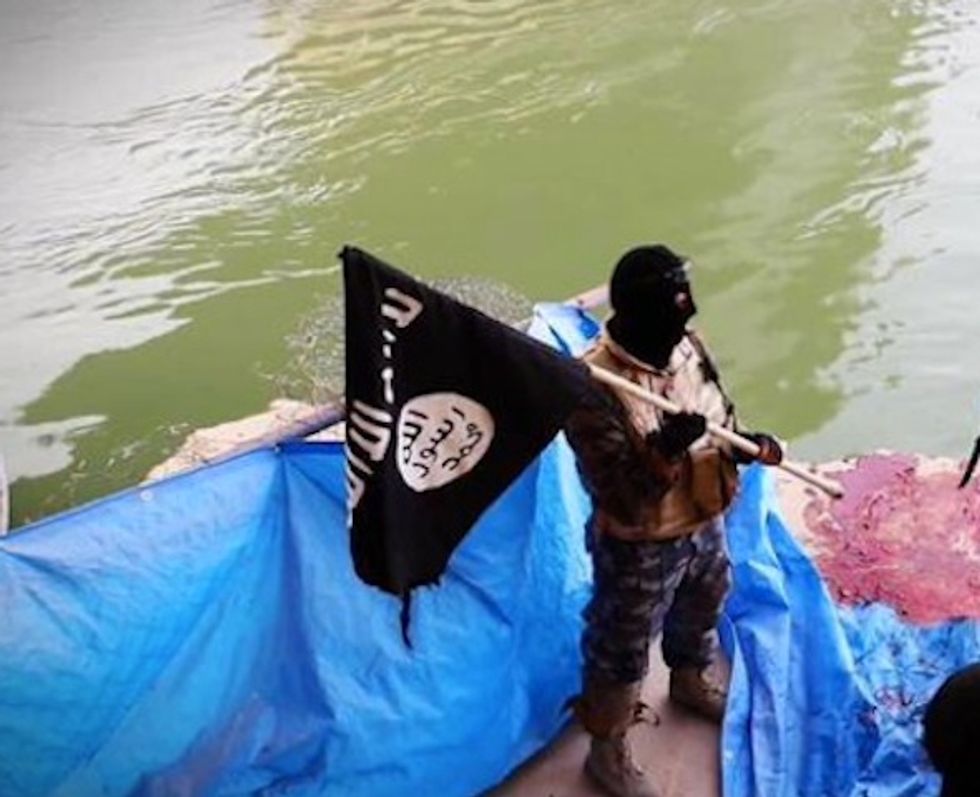 Islamic State fighter holds the jihadist group's black flag. Eyewitnesses told a Kurdish news agency tha the jihadist group executed a Syrian teenager after he missed Friday prayers. (Image source: YouTube, File)
For Rice, genocide is something she takes very seriously, given her role as a member of President Bill Clinton's National Security Council during the Rwanda genocide.
In an interview about Rwanda, Rice stated:
"There was such a huge disconnect between the logic of each of the decisions we took along the way during the genocide and the moral consequences of the decisions taken collectively... I swore to myself that if I ever faced such a crisis again, I would come down on the side of dramatic action, going down in flames if that was required." [emphasis added]
Twenty-two years have passed since the genocide, and it appears that the low body count in Iraq has allowed the Islamic State's genocide to avoid the National Security Advisor's pledge for "dramatic action."
Given Rice's apparent renege on the seriousness of genocide, and her track record for bold claims (like how four dead Americans in Benghazi was the result of a YouTube video), I find myself highly skeptical of her assessment of the current plague originating from radical Islamists.
First, that she would even compare the current conflict with the Islamic State - non-state actors - to past wars with legitimate state militaries is nonsensical.
I'm sure every Western country wished the fight with the Islamic State was merely an interstate conflict, and that our enemy had a defined border, capital city or uniformed military. This war, however, will continue to be fought amongst the people and against a cowardly group of fighters who have no problem replacing their weapons with shovels and pretending to be civilians when it is convenient for them - like during a mass migration.
Second, Rice's claim that this is not a "clash of civilizations" reveals that she is creating a clear dichotomy between the people who commit terrorist acts or genocide from those who adhere to the ideology of Islamism which is responsible for said atrocities.
Both of these positions seem like nothing more than equivocations for the purpose of vacating responsibility to take "dramatic action."
Yes, if you believe the ideology of Islamism - which is the leading cause of radicalization and terrorism - has nothing to do with the Islamic State's support and growth, and that they are content with remaining confined to a particular area of the world, then this is nothing close to a clash of civilizations.
However, if you believe there is a movement to import these radical beliefs into Western nations, that many of the traditions and nuances of Islamic culture are the antithesis of Western values, and that a large portion of immigrants from the Middle East and North Africa have no desire to assimilate into their adopted Western countries, then there is a very strong argument that the conflict, as a whole, certainly resembles a civilizational clash.
In 1996, Samuel P. Huntington wrote a book titled, "The Clash of Civilizations." The thesis of the book argued that in the post-Cold War era, the primary conflicts of global politics would occur between people's cultures and religions, and that "the preservation of the United States and the West requires the renewal of Western identity."
If you agree with Huntington that the ultimate survival of the West depends on a reaffirmation of a Western identity, then there is a desperate need to define the current conflict as one based on a clash of civilizations and not a squabble with a band of twisted brutes, murders and maniacs.
Twisted brutes can be killed and forgotten. Islamism, however, if left unchallenged, will continue to propagate in the West's multicultural petri dish and further the civilizational divide that is gradually increasing.
The United States needs new leaders with a realistic understanding of Islamism's second and third order effects on Western societies.
Our current policy focuses entirely on combating terrorists and their road to fanaticism while seemingly ignoring the fact that many adherents to Islamism are content to stop short of a genocidal maniac and practice more benevolent tenants like female genital mutilation and wife beatings.
As long as we have a president who continues to ignore the effect Islamism has on Western civilization -- choosing instead to focus on the narrative that terrorism takes far fewer lives in America than handguns, car accidents and falls in bathtubs - I suppose we must submit ourselves to these types of irrational arguments from Obama surrogates.
Anthony DeChristopher holds a M.A. in Strategic Security Studies from National Defense University's College of International Security Affairs. He blogs at exceptionism.com

–
TheBlaze contributor channel supports an open discourse on a range of views. The opinions expressed in this channel are solely those of each individual author.