There's a simple principle we should follow in politics: Don't support people you don't respect. Don't vote for them, don't donate money to them, and don't encourage other people to support them.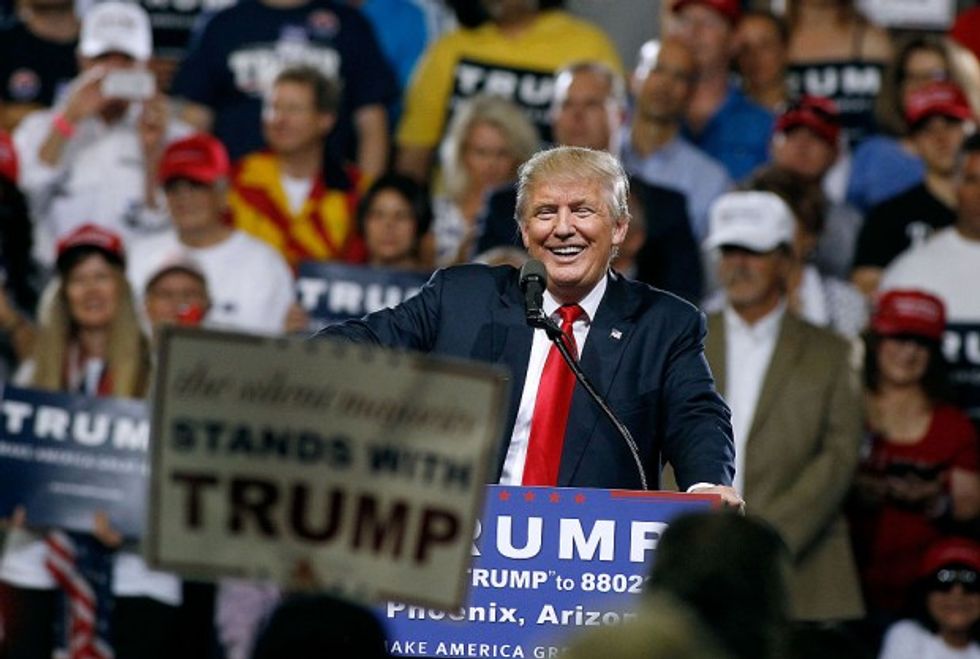 Republican presidential candidate Donald Trump speaks to a crowd of supporters during a campaign rally on June 18, 2016 in Phoenix, Arizona. (Ralph Freso/Getty Images)
Of course, it would be nice if the candidates we got to choose from were admirable people we could look up to, people who we could point to and say, "I wish I were like them. I hope my kids grow up to be that kind of person." Maybe that's too much to hope for. But, at the very least, we should be choosing among people who don't make us wince.
Politics is one of the most important aspects of our lives, one of the most vital ways in which we interact with other human beings. When we deal with our family, we want to make sure we're carrying ourselves with dignity, and behaving in a way that we and our family can be proud of. The same should go for when we enter the political arena.
And so, when they talk about presumptive Republican presidential nominee Donald Trump, I don't think his opponents do themselves a favor when they dub themselves "Never Trump."
I know, it's a slogan, and the point of slogans is to be short, punchy, memorable, and – in the Twitter era – hashtag-friendly.
But it's a conversation-ender. It simply declares that you'll never support Trump, meaning Trump supporters can discard you as summarily as you've discarded them.
Instead, those of us who aren't fans of Trump – and I'm solidly in that camp – should be describing what we're for, and then asking Trump's supporters to show us how Trump lives up to those values.
Because what I want is dignity. I want a candidate who – even if I disagree with them on matters of policy – states their position clearly and honestly, and then defends it to the best of their ability without resorting to insults. I want someone who I respect because I've seen how they treat others with respect.
How does Trump fit that description?
From what I've seen of him so far, he's been so sensitive to criticism that he made fun of a reporter's congenital disability after the reporter contradicted him. He's excoriated his Republican rivals – Ben Carson has an uncurable "pathological temper,""Lyin' Ted" Cruz has five mistresses, Marco Rubio is a lightweight – and then invited their political support, as if they weren't the undesirables he described them as. And he's changed position on so many issues – often without admitting it – that it's hard to know where he stands.
Don't tell me that presumptive Democratic presidential nominee Hillary Clinton is worse. I'm not asking whether Trump is the worst person in the country, or even in the presidential election. I'm asking how Trump meets the minimum standard of dignified behavior. Because, even if he's not the worst person out there, there's a floor beneath which I won't go.
Trump inevitably fails the #NeverTrump standard. To those of you who support him, please: tell me how Trump meets the standard of #AlwaysDignity?
Alasdair Denvil runs The Civil Debate Page.
–
TheBlaze contributor channel supports an open discourse on a range of views. The opinions expressed in this channel are solely those of each individual author.