I am still recuperating from that inane Republican debate.
"Seinfeld," one of the highest rated television shows in history was said to be a show about nothing. The CNN Republican debate was one of their highest rated programs ever.
Coincidence? I don't think so. Debates do our nation zero service when they amount to sound bites and resemble the type of rhetoric that is employed by kids on a playground. We have some serious issues to discuss, one of which is our inability to compete globally.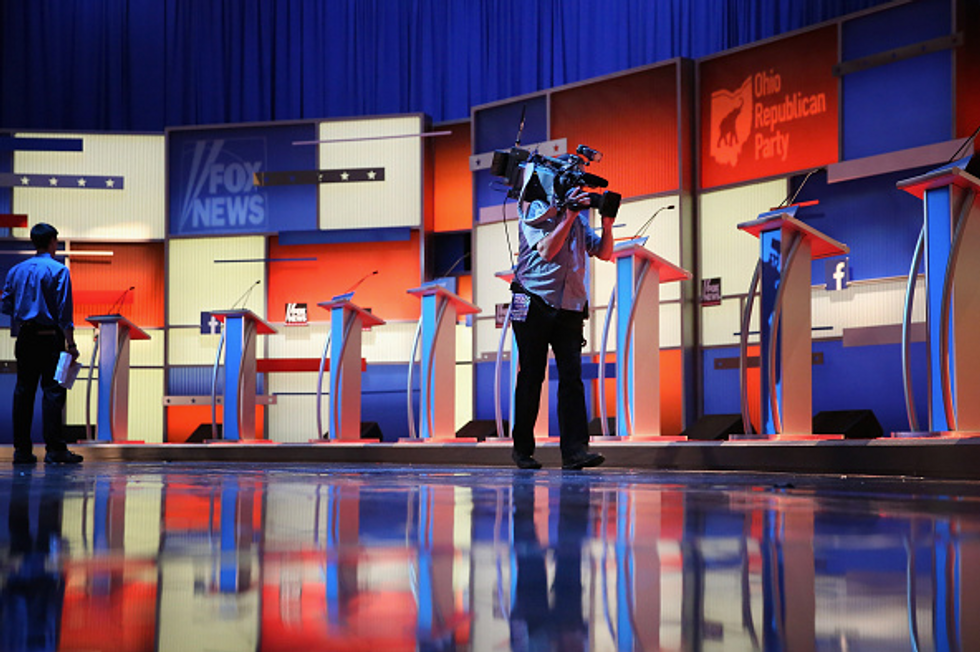 The row of ten podiums for the Republican presidential debate is set on stage at The Quicken Loans Arena August 6, 2015 in Cleveland, Ohio. This is the first debate of the 2016 presidential campaign season. (Photo by Chip Somodevilla/Getty Images)
The United States of America, the self-proclaimed "land of the free and home of the brave" has dropped to 16th in the world when measuring economic freedom. The Fraser Institute's annual report, Economic Freedom of the World, shows that our nation's drop has picked up steam since 2010. Disintegration of legal and property rights coupled with an ever-growing regulatory burden has been pulling us down.
Hypothetically speaking, lets say the U.S. Olympic team representing us at the 2016 Summer games in Brazil comes back with a dismal showing of 16th place in the medal count, there would be outrage all across the land. The media would be pouring gasoline on the bonfire and fanning the flames. Granted, 16th in the medal count does stink. However, it is not nearly as horrific as being as uncompetitive as we have become in the world of business.
For many years, U.S. businesses have been picking up and moving to new locations in order to escape heavy taxation and regulation. There has been a massive migration from northern states to southern states. The same dynamic is being seen globally. We are seeing more and more tax inversions taking place. This is when a smaller overseas company buys a larger American company so the location can be moved to avoid our ever-expanding burdens.
We are not as competitive as we once were by any stretch of the imagination. Just because we were once the most sought after place to do business, it doesn't mean that will always be the case. Believe it or not it is easier to set up shop in Chile, Jordan and Georgia than the United States.
Being uncompetitive has its side effects.
A record $2,883,250,000,000 has collected in tax revenue for the first 11 months of fiscal year 2015. That is $19,346 for every person in the country that has either a full-time or part-time job.
More Americans have chosen to turn in their passports and reject American citizenship in the first three months of the year than ever in history.
Federal debt held by the public totals $107,000 per household.
The 2015 Global Venture Capital Confidence Survey ranked the United States among the lowest in investor confidence. Investors are not confident that the government can put into place policies or reforms that make it conducive for venture capital.
The Census Bureau published a report that paints a dismal picture of income and poverty in the United States. Real median household income was identical to the 2013 median and remains 6.5 percent lower than the median in 2007. The data also shows that income mobility is stagnating. Fewer people are moving up the pay grid in comparison to earlier periods. The poverty rate (46.7 million people or 14.8 percent) has not changed for four years and is 2.3 percent higher than in 2007. Poverty also increased in groups that usually are less susceptible, such as: married couples with children and people ages 25 and older with at least an undergraduate degree. The only metric that did not decline was income inequality.
Donald Trump's campaign slogan is "Make America Great Again," which is nice, however I have yet to hear how he plans on accomplishing that task.
Side note: The current resident of 1600 Pennsylvania Avenue seems to think that America is great now, and stated so in response to Trump. Sorry Mr. President, you are whistling past the graveyard. I want to remind people that slogans are cute, but ultimately meaningless unless there is substance behind the candidate. The nation got really stoned from "Hope and Change" back in 2008 and look what that has gotten us today.
For starters: We need to talk about the regulatory burden. If Ken Langone, one of the founders of Home Depot, is telling you that they would not be able to start the company today due to the regulatory climate we most certainly have a problem. Entrepreneurship needs to encouraged, not discouraged, by Uncle Sam.
Next up the tax-code. Several candidates have put forth proposals, however the coverage by the press has been scant and juvenile. Rather than look at the posssible revenue implications and the benefits of simplification, the discousrse has been about haves and have nots. Plus I am still amazed on how ill-prepared reporters are when it comes to the Fair Tax.
Welfare reform and entitlements are the proverbial third rail of American politics. Politicians need to stop being fearful of talking about these issues and explain clearly and concisely that Ponzi schemes don't work. Franklin D. Roosevelt himseldf warned about the excesses of his New Deal programs and if you can't articulate to the American people what a waste $22 trillion has been in trying to alievate poverty in the United States you probably shouldn't be running.
Substance please!
–
TheBlaze contributor channel supports an open discourse on a range of views. The opinions expressed in this channel are solely those of each individual author.