No more iconic image to a U.S. Marine exists than that of the famous Joseph Rosenthal World War II photograph of the American flag being raised atop Iwo Jima's 546-foot high Mount Suribachi.
During the almost seven-week long battle that began with an amphibious assault on the Pacific island, two flag raisings actually occurred on Feb. 23, 1945—just five days into the fight.
Taking Iwo Jima would have an immensely positive psychological impact for U.S. forces as it would be the first Japanese homeland soil to fall into American hands. To provide that impact early in the battle, a Marine platoon was ordered to place a flag on top of Suribachi. Six flag-raisers were involved in an event captured by Marine photographer Staff Sergeant Louis Lowery.
Secretary of the Navy James Forrestal saw the flag-raising offshore and exclaimed, "That flag means a Marine Corps for the next 500 years."
But soon afterwards, Battalion Commander Lt. Col. Chandler Johnson ordered his operations officer to find a larger flag to fly—one "large enough that the men at the other end of the island can see it. It will lift their spirits also."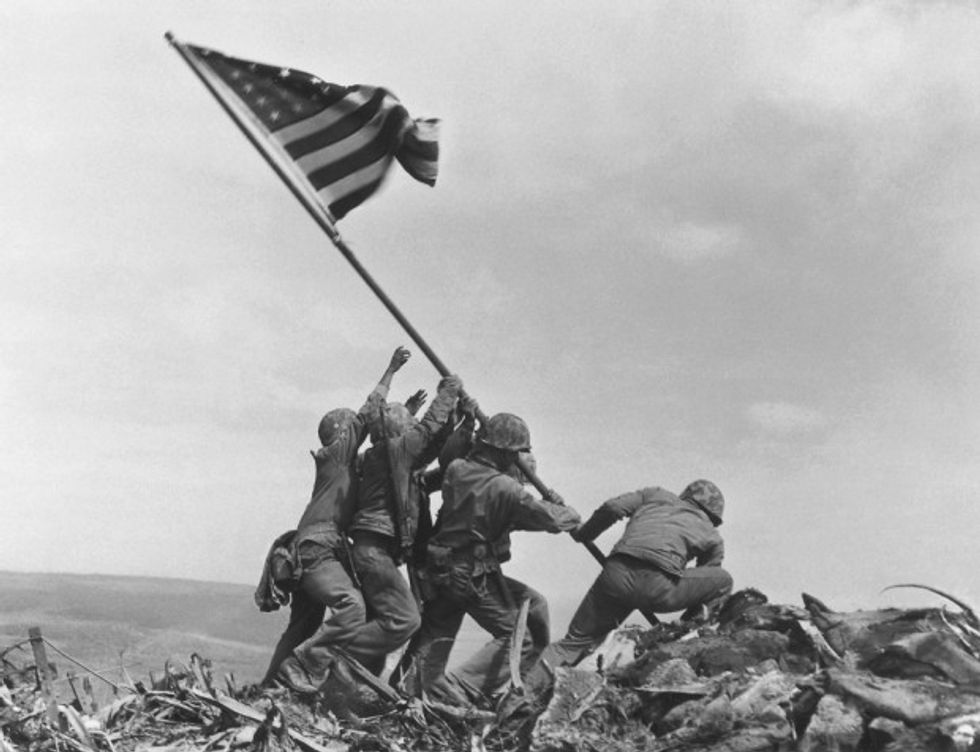 In this Feb 23, 1945 file photo, U.S. Marines of the 28th Regiment, 5th Division, raise the American flag atop Mt. Suribachi, Iwo Jima, Japan. The Marines Corps announced Thursday, June 23, 2016, that one of the six men long identified in the iconic World War II photograph was actually not in the image. A panel found that Private First Class Harold Schultz, of Detroit, was in the photo and that Navy Pharmacist's Mate 2nd Class John Bradley wasn't in the image. Bradley had participated in an earlier flag-raising on Mount Suribachi. (AP Photo/Joe Rosenthal, File)
One was found which led to a second flag-raising. This time, Rosenthal was in a position to take his famous photograph. His film was immediately rushed to Guam for processing and within 18 hours of having been taken, the Associated Press published it—an astonishing feat at that time. Later that year the photo won a Pulitzer Prize—the only time a photograph did so within the same year of being published.
The Marine Corps acknowledged last month—71 years after the photographs of the flag-raisings were taken—that two of the six participants in the first one were misidentified. This revelation comes on the heels of an acknowledgement made only two months earlier by the Corps that a Marine in the second flag-raising also was misidentified.
These revelations were the result of painstaking work by historians who studied numerous photographs taken of the two flag-raising events.
Proper identification of the Marines involved was hampered not only due to the confusion of having held two flag-raisings but also because three of the subjects appearing in Rosenthal's photograph died on Iwo Jima a few days later.
But, in the shadow of today's Iwo Jima flag-raising misidentification stories lies an earlier story even more remarkable.
It should be kept in mind that none of the faces of the Marines in these two flag-raisings were visible since they were taken from behind. But other photographs existed of all those who were on Suribachi that same day. Lowery had taken at least 56 pictures before and during the first flag-raising. Thus, historians were left to analyze equipment, weapons and various other items worn by all the Marines there, painstakingly comparing same to that worn by the faceless Marines in both photos. Since much of the equipment was very similar, a comprehensive detailed review was necessary.
Ironically, what took several pairs of analytical eyes years to determine, took only one mother's quick and keen eye to determine her son participated in the second flag-raising despite Marine Corps assertions to the contrary.
What was it that enabled a mother to identify a son whose face was not even visible to her?
The Rosenthal photograph hit the front page of every major newspaper on Feb. 25, 1945. But when it first appeared, the six Marines in it were left unnamed.
Belle Block was the mother of Marine Harlon Block. As her younger son showed her the newspaper photo, she immediately exclaimed as she pointed to a figure on the far right—"That's Harlon!" The younger Block son immediately chided his mother's claim since no faces were visible.
A few days later, newspapers ran the photograph again, this time including the names of the six Marines involved. However, Harlon's name was not among them. But Belle remained adamant—she told anyone who would listen the Marine on the far right was most definitely her son.
After the war, Belle was visited by Ira Hayes—one of three remaining survivors in the Rosenthal photograph. Hayes was so determined the truth be known, he hitchhiked to Texas to see her. He explained the Marine Corps had misidentified one of his fellow flag-raisers—for it was Harlon who was one of the six participants in the second flag-raising photo.
What everyone else denied, a mother knew to be true! Hayes became the catalyst for the Marine Corps to correctly record what a loving mother knew all along—the Marine in the far right of Rosenthal's photograph was, in fact, her son Harlon.
When asked why she was so confident it was her son in the photograph and not another Marine, Belle gave a response only a mother could give. She reported she had changed Harlon's backside as a baby so many times she knew it when she saw it!
Perhaps a lesson for future historians to heed is, should ever the identities of figures in historical photographs be in question, just bring in the keen eye of a loving mother!
–
TheBlaze contributor channel supports an open discourse on a range of views. The opinions expressed in this channel are solely those of each individual author.