My initial reaction to San Francisco 49er quarterback Colin Kaepernick's refusal to stand for the National Anthem at a pre-season NFL football game recently was disgust. I still feel disgust, but now, days after the incident, it goes deeper than that, much deeper.
I tweeted to him recently: "Dude, the National Anthem isn't about you, it's about THEM. #Veterans." I included a link to a video I remember watching on line some time ago.
The video was of Virginia Tech head men's basketball coach Buzz Williams explaining to his student athletes why the team policy of respecting the National Anthem before games is what it is.
The video shows a solemn procession of veterans, some in uniform, lining up across from team members, with only a few feet separating them, face-to-face. It is a powerful and uncomfortable scene.
The student athletes are in shock. No one speaking, eyes wide, attention rapt.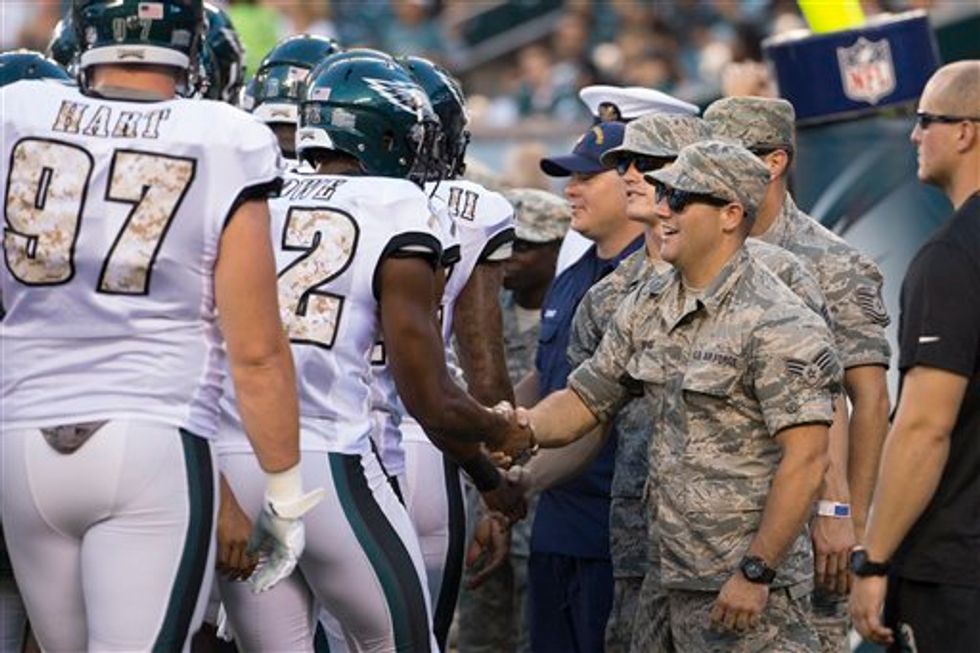 The veterans are stone faced.
The coach, with power and conviction explains why they stand at attention for the Star Spangled Banner – "Because we didn't earn those seats," he says as he gestures to the padded sideline folding chairs. "They earned those seats. They earned those seats so that you could have a good life and play basketball and go to college. You didn't earn those seats."
Silence.
Eventually, the National Anthem plays, and the team is now at intervals between the veterans, hands over hearts, all facing the flag.
Tears stream down my face every time I watch it. And I watched it after reading about Kaepernick's selfish gesture.
In this country we enjoy freedom of speech among other rights. Some say Colin Kaepernick is within his rights not to stand for the National Anthem. I disagree.
I believe the rights in this great nation of ours are not for those who abdicate their citizenship through a lack of responsibility. They are not for illegal aliens, or terrorists, or those who wish to subvert the law and replace it with their own law.
In fact, I believe rights cannot exist without responsibilities.
Hot cannot exist without cold. Light cannot exist without darkness, or good without evil.
In my book, rights are EARNED through citizenship.
Colin Kaepernick stole his right to sit from every veteran who ever gave or offered life and limb for the United States of America. He is a thief.
No one, in any organization or team, has the right to put him or herself above the organization or team. To draw attention to oneself in a way that is detrimental to the goals and objectives of that organization or team is the ultimate in narcissism. It is immature, unethical and immoral. That is if one practices morals of the Judeo/Christian ethic: The Golden Rule and the Ten Commandments.
Kaepernick is demonstrating a Pagan ethic of "if it feels good, do it." He is demonstrating a utilitarian philosophy of "if it's useful to me, it's good." And he is demonstrating liberal progressive humanism by thinking that whatever he does is good if it doesn't hurt anyone else who shares his Pagan utilitarian values.
In other words, the man is messed up.
So, how shall we tell if Colin Kaepernick believes that race relations and such are improving? He takes a knee or squats?
What do his adoptive parents (white folks) think about their adoptive son's antics? Are they embarrassed, ashamed, or do they support their son unequivocally? We may never know.
We may also never know the core of pain and hatred that drives such behavior. But one thing is for sure, it is not American.
Kaepernick's birth mother, Heidi Russo, recently revealed her feelings about it on Twitter, saying in one tweet: "There's ways to make change w/o disrespecting & bringing shame to the very country & family who afforded you so many blessings."
Colin Kaepernick would do himself good to remember a little American history. Do you know what kept our flag flying the night Francis Scott Key wrote the Star Spangled Banner?
"By the dawn's early light," after an incredible barrage of naval cannon fire on Fort McHenry, by what appeared to be the entire British armada during the War of 1812, "our flag was still there" because every time cannon fire threatened to bring down Old Glory, courageous patriots ran to keep it up, many losing their lives in the process.
To save themselves and their families, many of whom were also sequestered in the fort, all they need have done was lower the flag or let it fall.
Instead, they ran to almost certain death in order to keep the flag flying.
They ran so that we could live free.
Think of that or the sacrifices of millions of military members and their families and loved ones next time anyone chooses to remain seated during our anthem, or keep their hat on, or hold a conversation.
Think of that next time Colin Kaepernick, or anyone else decides that disrespecting the flag and our veterans and their families and loved ones is a good idea to get a point across.
It is not about you, Mr. Kaepernick. It is about them.
I am the author of "Saving Grace at Guantanamo Bay: A Memoir of a Citizen Warrior," and three times mobilized U.S. Army Reserve Major (Retired). Author web page: http://sbpra.com/montgomeryjgranger/ Twitter @mjgranger1
–
TheBlaze contributor channel supports an open discourse on a range of views. The opinions expressed in this channel are solely those of each individual author.