Remember the "War On Women"?
I'm sure the GOP operatives who snatched defeat out of the jaws of victory in 2012 would like to forget it.
Harken back to the days of an oppressed Georgetown law co-ed. Her name was Sandra Fluke, and if you missed her speech at the Democratic Committee it went like this:
"...we've heard about two profoundly different futures that could await women in this country — and how one of those futures looks like an offensive, obsolete relic of our past ... That future could become real."
Women, she warned, will be "shut out and silenced," rape victims "victimized all over again," pregnant women will "die preventable deaths in our emergency rooms . ..access to birth control controlled by people who will never use it."
Scary stuff. If I was a woman I'd have pulled the "D" lever too!
President Barack Obama, accompanied by Sandra Fluke, waves at a campaign in Denver, Wednesday, Aug. 8, 2012. (AP)
The problem was that Ms. Fluke's grievance was over the healthcare plan of her renowned Jesuit university because it did not cover contraceptives on religious grounds. Ms. Fluke, by the way, was 30 at the time of the speech and still a student. In a less coddled age she'd be considered well into adulthood.
Though Ms. Fluke somehow managed the $55,000 a year tuition to earn a prestigious degree that typically yields a starting six-figure salary upon graduation, she couldn't find the spare change for a box of condoms or, as she claimed when speaking to Congress, the $100 per month for other forms of contraception.
And yet, out of Ms. Fluke's entitled tantrum was born the "War On Women" meme. The Democrats ran hard with it. And it worked.
President Barack Obama won the vote among female voters in the 2012 election by 12 points, 56 percent to 44 percent, over Mitt Romney.
When the "War On Women" smashed into the GOP like a club to the face, the decent chaps of the Republican establishment didn't know what hit them. When confronted with such non-issues as his "binders full of women" gaff, the honorable Mr. Romney was unable to mount a coherent defense, even given this narrative's shameless condescension towards America's women. Apparently he never heard the mantra that: "Politics is a contact sport."
Thus, it was only a matter of time before Hillary Clinton, expecting a 2016 general election battle against Donald Trump, played the gender card early. Hoping to catch the same cynical lightning that so galvanized women in 2012, she accused Trump of having a "penchant for sexism."
In a campaign against a typical GOP candidate whose greatest political skill is delivering classy concession speeches this feminist angle would have cast the same spell.
But Donald Trump is no Mitt Romney.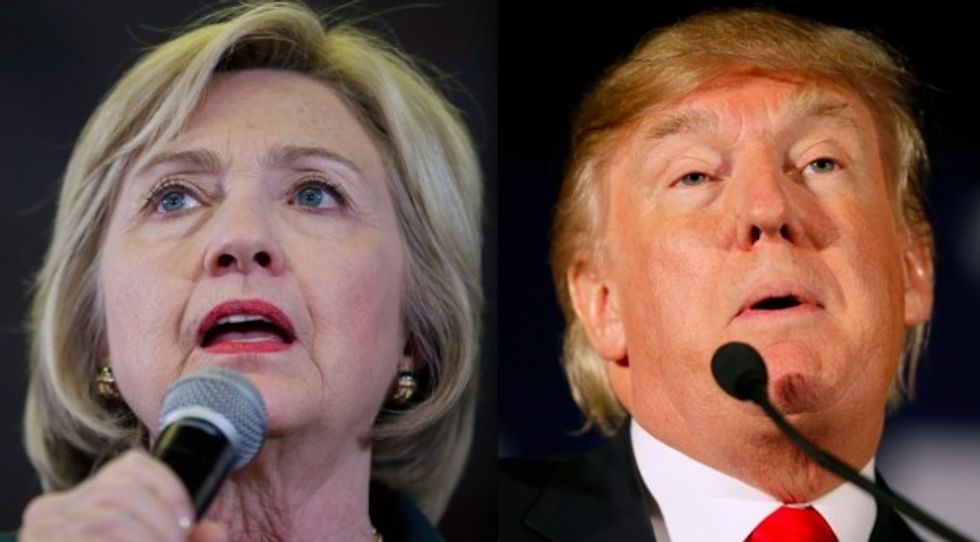 From left, Democratic presidential candidate Hillary Clinton and Republican candidate Donald Trump. (AP Photos)
Like him or not, he's a bruiser. Much of his appeal is that he has the cojones to use a tactic that many astute conservative thinkers like Ben Shapiro have advocated for years: hitting back twice as hard.
Putting his consistently underestimated political finger to the wind, Trump decided that -- despite the mainstream press having tacitly declared Bill Clinton's sleazy, even criminal, escapades off-limits -- Hillary's calculated use of gender politics made her campaigning husband fair game.
Trump would not be put on the defensive. Instead he lowered both barrels and blasted the Twittersphere with a reminder of who, exactly, this champion of the X chromosome married.
If Hillary thinks she can unleash her husband, with his terrible record of women abuse, while playing the women's card on me, she's wrong!

— Donald J. Trump (@realDonaldTrump) December 28, 2015
Suddenly her husband was fielding questions not about the good old "Roaring 90s" but about past matters he thought long-buried: sexual misconduct, rape allegations, "
inappropriate
" behavior with a young intern in the Oval Office, and affair after affair.
Trump's opening the Pandora's box of the sordid aspects of the Clinton years reminded voters that Hillary was far from the blindsided spouse in her husband's dalliances.
She was an accomplice.
She supported her then-Arkansas governor husband in the midst of the Gennifer Flowers scandal and saved his 1992 campaign which got her into 1600 Pennsylvania Avenue. She stood by him again in the midst of the Monica Lewinsky fiasco, salvaging his presidency and even making the GOP look like the bad guys. She went so far as to call the 22-year-old intern a "stalker" and a "narcissistic loony tune."
But her loyalty came with a steep price.
In the mind's eye one can see the smoke-filled back room of the Democratic National Convention: "Look Hil, you know the guy's a scumbag and we know he's a scumbag. But if you leave Bill now, do you have any idea the damage you'll do to the Democratic party brand?"
If I stay what's in it for me? She asks, knowing she's been dealt an inside straight.
"Well ... we happen to know that Daniel Moynihan is retiring. We'll keep his senate seat wide open for you."
I don't live in New York.
"Just a detail. So what do you say … Sen. Clinton? Hmmm? You like how that rolls off the tongue? Sen. Clinton?"
Hillary Clinton recently tweeted:
Every survivor of sexual assault deserves to be heard, believed, and supported. https://t.co/mkD69RHeBL

— Hillary Clinton (@HillaryClinton) November 23, 2015
She neglected to add: unless she stands in the way of my blind ambition. Then she approves messages like: "If you drag a hundred-dollar bill through a trailer park, you never know what you'll find," as Clinton operative
James Carville
declared about the women accusing her husband.
Because of Trump's no quarter offensive, the "War on Women" this time around has a new face. But t's not Sandra Fluke. It's Bill Clinton.
Trump has turned what should have been a major asset for Hillary — a former president husband who is a master campaigner — into a liability. He is a reminder of just how low Hillary will go, what warfare upon her own womanhood she is willing to endure and engage in, to satisfy her lust for power.
Lust is just one of the deadly sins. But when it comes to the Clintons, their lust comes in many forms, as Donald Trump has mercilessly reminded them.
–
TheBlaze contributor channel supports an open discourse on a range of views. The opinions expressed in this channel are solely those of each individual author.