**The following is an in-depth review of "Love the Coopers" and does contain spoilers.**
"Love the Coopers" is the latest film from director Jessie Nelson (who interestingly hasn't directed a film since 1999's "The Story of Us"). It features an all-star cast including John Goodman, Alan Arkin, Diane Keaton, Marissa Tomei and is narrated by Steve Martin.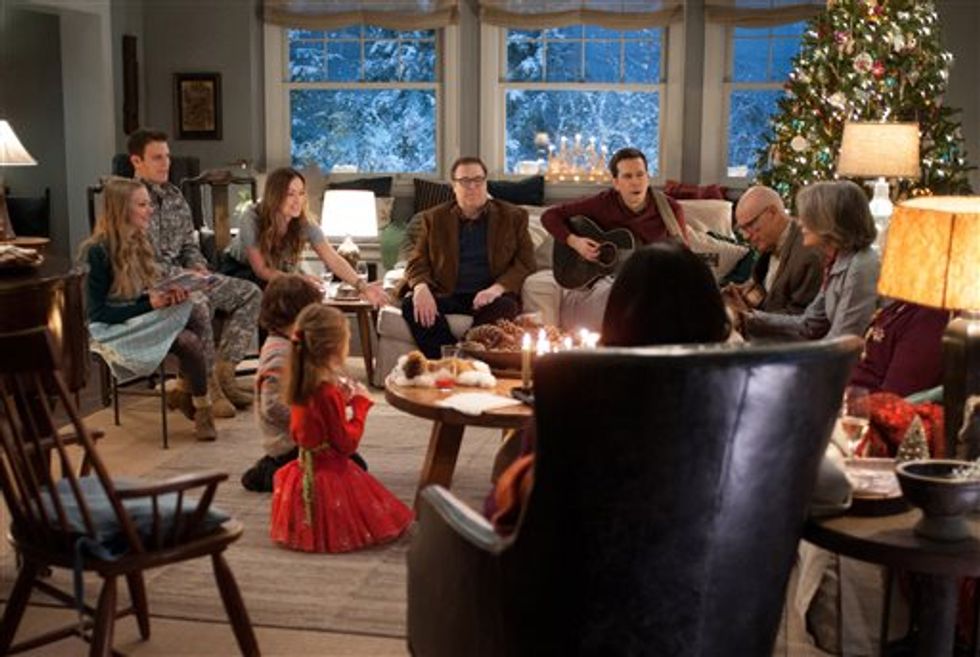 This photo provided by CBS Films and Lionsgate shows, Amanda Seyfried, from left, as Ruby, Jake Lacy, as Joe, Olivia Wilde, as Eleanor, Maxwell Simkins, as Bo, Blake Baumgartner, as Madison, John Goodman, as Sam, Ed Helms, as Hank, Alan Arkin, as Bucky, Diane Keaton as Charlotte, and Alex Borstein (back to camera), in "Love the Coopers," released by CBS Films and Lionsgate. The movie opens in U.S. theaters on Nov. 13, 2015. (Suzanne Tenner/CBS Films/Lionsgate via AP)
The film follows several members of the Cooper family as they live out the day leading up to the family's big Christmas dinner. Aunt Emma, who is presumably a kleptomaniac, is caught shoplifting from a jewelry store and is arrested. Eleanor - the youngest member of the family's third generation - is getting drunk at the airport, not in any rush to get to her parents' home. Bucky, the family's patriarch, is having lunch at a diner he visits regularly.
Bucky is infatuated with a waitress at the diner, and she is the reason he frequents the establishment despite her being 40 or 50 years younger than he is. They have a nice conversation, over the course of which she informs him that she is quitting her job at the diner and moving away. Feeling heartbroken, Bucky doesn't take the news well, calls her a coward and storms out of the diner.
While at the airport bar, Eleanor meets a young soldier named Joe. Joe is being deployed, but he is stuck in the airport because his flight has been canceled due to weather. Eleanor and Joe take a liking to each other and spend the day together at the airport.
While being driven to jail, Emma strikes up a conversation with the police officer who arrested her. Officer Williams isn't usually one for chatting it up with his prisoners, but Emma reveals to him that she is a psychiatrist and Officer Williams is compelled to open up to her.
Sam and Charlotte are the mother and father of the family, and are getting a divorce after 40 years of marriage. They've held it together for their children, but after 40 years Sam finds that he just can't pretend anymore and has decided to move out. They are dealing with all of this while watching over their granddaughter for the day, who has picked up a very peculiar habit.
The film bounces back and forth between these storylines and a few others. While many of the storylines in and of themselves could have been quite interesting, the film doesn't give enough screen time to any of them for the audience to really get any sort of satisfactory narrative.
The acting is wonderful, the atmosphere of the movie is great and really embodies the Christmas spirit, and the dialogue is very natural and believable. The movie's biggest flaw is that it offers a glimpse of some really interesting relationships on which a wonderful movie could have been crafted, but it doesn't spend enough time on any of them to properly develop them. This is a flaw that, unfortunately, derails the entire film.
Besides the main flaw in the story structure, the movie was also annoying in how it presented Joe, the soldier. We are told early on that Joe is a Republican - which seems to come as a disappointment to Eleanor, who is obviously a liberal and probably a feminist - but rather than truly explore the dynamic of a love story between people with differing ideologies, and showing how they can come to appreciate each other's worldview even if they don't agree with it, the movie opted instead of taking a few cheap shots at Republicans. Instead of understanding Joe's point of view, you're expected to find him loveable in spite of the fact that he's one of them racist, misogynist, gun-toting conservative types. Joe, by the way, is never shown to exhibit these traits, it just seems to be taken for granted because he says he's a Republican.
The film is presented in a very literary way, with Steve Martin narrating throughout the movie, which gives it the feel of having been based on a novel. Unfortunately, it was not based on any already existing book. I was actually really hoping it was, because I would have loved to read the book in order to get a more complete understanding of the relationships in the film.
"Love the Coopers" also suffers from not really bringing anything new to the table. It's a Christmas movie, and it fits quite nicely into that niche without doing anything to shake the genre up. It hits every beat, plays every note, and fails to stand out as anything unique.
Ultimately, "Love the Coopers" could have been something special. It had the potential to be an extremely entertaining movie that could help audiences learn to appreciate family just a little bit more, but it refused to live up to that potential. Save your money and instead watch "It's a Wonderful Life" when it's shown on television some time in the next few weeks.
–
TheBlaze contributor channel supports an open discourse on a range of views. The opinions expressed in this channel are solely those of each individual author.