We all have done things in our childhood that we're not particularly proud of doing. When I look back, I think about the time when I was a teenager and wanted to assert my independence. I was 16 years old and somewhat rebellious.
The South where I was born and raised, was and still is in many ways, very patriotic. I can't remember a time in school that the Pledge of Allegiance didn't start our day or that the National Anthem wasn't sung at athletic events. We were all expected to stand, put our hands over our hearts and if you were male, remove your hat as a sign of respect.
I remember one particular day in school when I wanted to show my autonomy by not standing for the Pledge of Allegiance. I wanted to make a statement. I was young, foolish and while I made a statement, the message I sent was clear. I showed the world that I was an immature brat. Not exactly what I had in mind.
Thankfully, my teacher didn't send me to the principal's office for a lecture. If she had, it would have been what I deserved. Instead, I learned from my mistake and never did it again. As a grown woman, it still bothers me to this day that I didn't rise to show my respect on that particular day.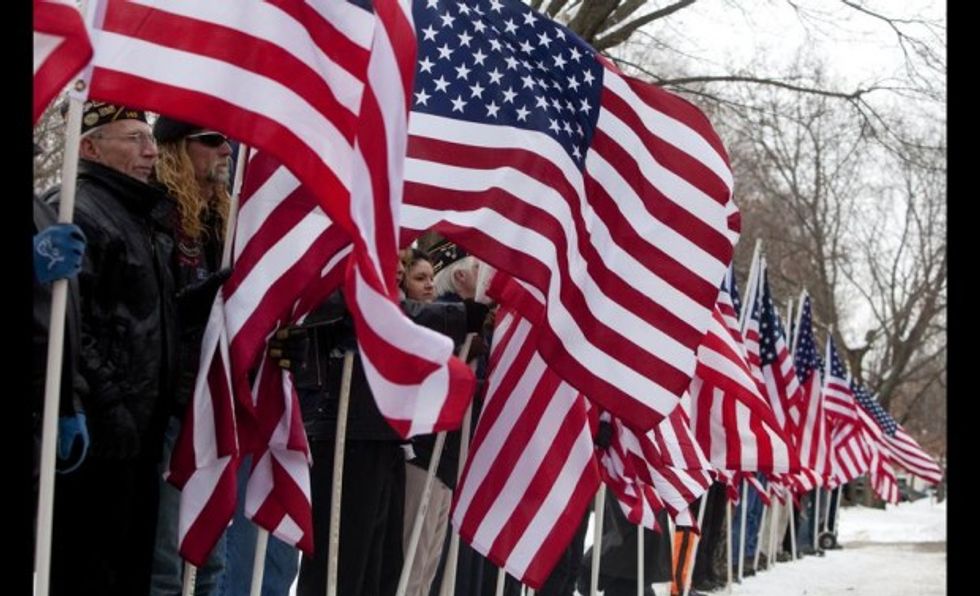 AP Photo/The Elkhart Truth, Jon Garcia
Showing respect for God, your country and your family is the code that most Southerners and many Americans live by. Respecting your country and the flag ranks almost as high as one's sacred relationship with God for many.
Today, we have a spoiled millionaire who refuses to stand because he claims to be standing up for the "oppressed." That young man needs to go back to school and learn the importance of showing respect.
Specifically, in his case, he needs to learn respect for his team, respect for football fans and most importantly respect for military men and women who serve and die for this country every day so that he can refuse to show deference for what the flag represents.
Even most school children have learned the significance of the Pledge of Allegiance.
While there are some schools who cater to those politically correct individuals who don't want the pledge recited in schools, there is at least one school that still believes in honoring their country by reciting the Pledge of Allegiance.
They have decided to throw caution to the wind and ignore the self-imposed faux monarchs of political correctness (it's hard to believe that this is what it's come to) by choosing instead, to face the flag, put hand over heart and recite the Pledge of Allegiance in a show of patriotism.
Apparently, Big Rapids Middle School in Michigan has enough common sense left to not cave in to the pressures of those who are seemingly offended by everything that is "good and holy" in this country.
On the first day of school, middle school students gathered around the flag pole where the American flag was raised while a trumpeter played Reveille.
A teacher, Mark Brejcha who served as a command chief in the Air Force for 30 years came up with the idea for the military-style ceremony.
"We just duplicated what we do on military installations at the official start of the duty day. It's a very moving, very patriotic moment," Brejcha said.
Brejcha believes reciting the Pledge of Allegiance on a daily basis teaches an important lesson.
"It teaches respect for our nation and our flag. When you see the flag flying you think about the sacrifices of those who have gone before – to give us the freedom to either say the pledge or not say the pledge," Brejcha said.
It's important to note that students at the school are not required to stand or recite the pledge. According to the principal, the students "have the freedom to stand and appreciate and recognize our country and that same country gives us the freedom not to."
While the students at the school may have the right not to stand for the Pledge of Allegiance, they seemingly recognize the importance of showing respect by their participation.
Perhaps a certain individual with a huge NFL contract could benefit from being schooled by a Michigan middle school that understands the importance of patriotism.
–
TheBlaze contributor channel supports an open discourse on a range of views. The opinions expressed in this channel are solely those of each individual author.