Donald Trump selected Mike Pence, Indiana governor and former U.S. Congressman, to be his vice presidential running mate.
Pence is a great choice for Trump, a great choice for the Republican Party, and a great choice for America.
Perhaps most importantly, the selection of Pence shows us once again the type of person that Donald Trump wants to hire.
In May Trump released a list of potential Supreme Court nominees that was intellectually conservative, and now with the selection of Pence he once again turns to a reliable social and fiscal conservative member of the Republican establishment.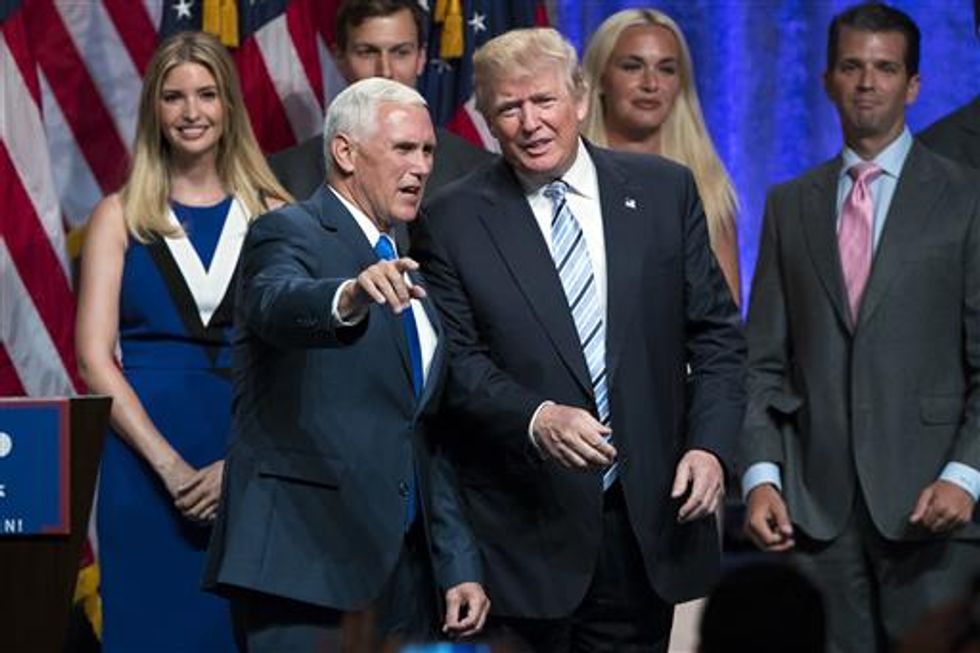 Republican presidential candidate Donald Trump talks with Gov. Mike Pence (R-Ind.) during a campaign event to announce Pence as the vice presidential running mate on, Saturday, July 16, 2016, in New York. (AP Photo/Evan Vucci)
Mike Pence is an outstanding communicator: he spent much of the 1990s as a radio talk show host and then won six elections as a U.S. Congressman before running and winning the Indiana gubernatorial race four years ago. When it comes to social issues, he has been a firm proponent of traditional marriage and he was in the vanguard to defund Planned Parenthood while in Congress. He originally endorsed Ted Cruz, but said he would work hard for whomever the GOP nominated. He is a budget hawk; while governor of Indiana he lowered income taxes while at the same time moving the state's budget into the black.
Pence has said on multiple occasions that he is "Christian, conservative, and Republican… in that order." And this gives us an insight into the man and to his family, someone with strong evangelical beliefs, someone with strong mid-Western roots (he likes to call them Hoosier roots), but someone who also knows and understands Washington, D.C. Trump has said multiple times that he was looking for a vice-president who was "political:" who knew and understood how Washington works. It is hard to find someone with a resume as strong as Pence's for such a role.
The conventional wisdom used to be that presidential nominees should look for a vice-president who balanced out the ticket, usually in terms of experience and especially region (e.g. North vs. South). This could induce voters to cross party lines to support their "favorite son" or a regional favorite. But this model has not necessarily been the norm since at least 1992, when two youthful southern Democrats ran and won the White House. Although Pence is from the heartland while Trump represents "New York values," Trump did not choose Pence for the sake of age or region. Instead, Trump brings a shrewd, experienced public servant to work with him in Washington DC. Moreover, the Pence pick assures the social conservative and fiscally conservative wings of the party that Trump is serious about their issues and their perspectives.
On July 14, the day that Trump was set to announce Pence, Trump's forces also triumphed against the NeverTrump faction trying to change the rules of the convention so that "bound" delegates would no longer have to follow the results of the party primaries in their respective states. It appears all is in order for a Trump triumph at the GOP convention in Cleveland, Ohio.
How will Hillary Clinton respond? In Clinton's case, she's under tremendous pressure from the progressive wing of the party to choose someone in the mold of a Bernie Sanders or Elizabeth Warren. The hard left wants her to select someone who is not just liberal, but who is radical. However, what is more likely is that she will select someone who she believes will extend the Clinton dynasty. Such a candidate would typically gush over the Clintons and present him or herself as a likeable moderate, although their record may be very liberal. Virginia's Tim Kaine, a former governor and now U.S. senator, is such a candidate in every way.
Unlike past elections, it appears that the presidential candidates will choose a running mate designed to appease factions within their own party rather than across party lines. Only time will tell whether, in November, voters will actually look beyond the Donald vs. Hillary slug-fest and actually care much about who the vice-presidential candidates are.
Eric Patterson, Ph.D. is Dean of the Robertson School of Government at Regent University in Virginia Beach, VA.
–
TheBlaze contributor channel supports an open discourse on a range of views. The opinions expressed in this channel are solely those of each individual author.