Editor's Note: This story has been updated to include a statement from Facebook.
Increasingly, the social media seem to become a sacred ground for social justice warriors and their extreme political correctness. While what they do is not censorship per say – only government has that power – its suppression of seemingly innocuous speech can have chilling effect - something that Liberty Memes discovered.
Even one of its administrators only wants to be referred to as "Admin 2" because they fear further retaliation.
"Back in 2011 I was participating in a live chat with the White House. I had asked a question about Obamacare, which got through, and then a follow-up. Within minutes I was logged off my account and Facebook demanded that I verify my identity. I had to send a copy of my driver's license," one administrator told me.
His most recent problems started with this inoffensive (and highly accurate) meme of Hillary Clinton following the FBI's unwillingness to recommend criminal charges on her. There had been no previous warnings before Admin 2 and his page got suspended for "violating community standards," and knowing what they are is downright impossible.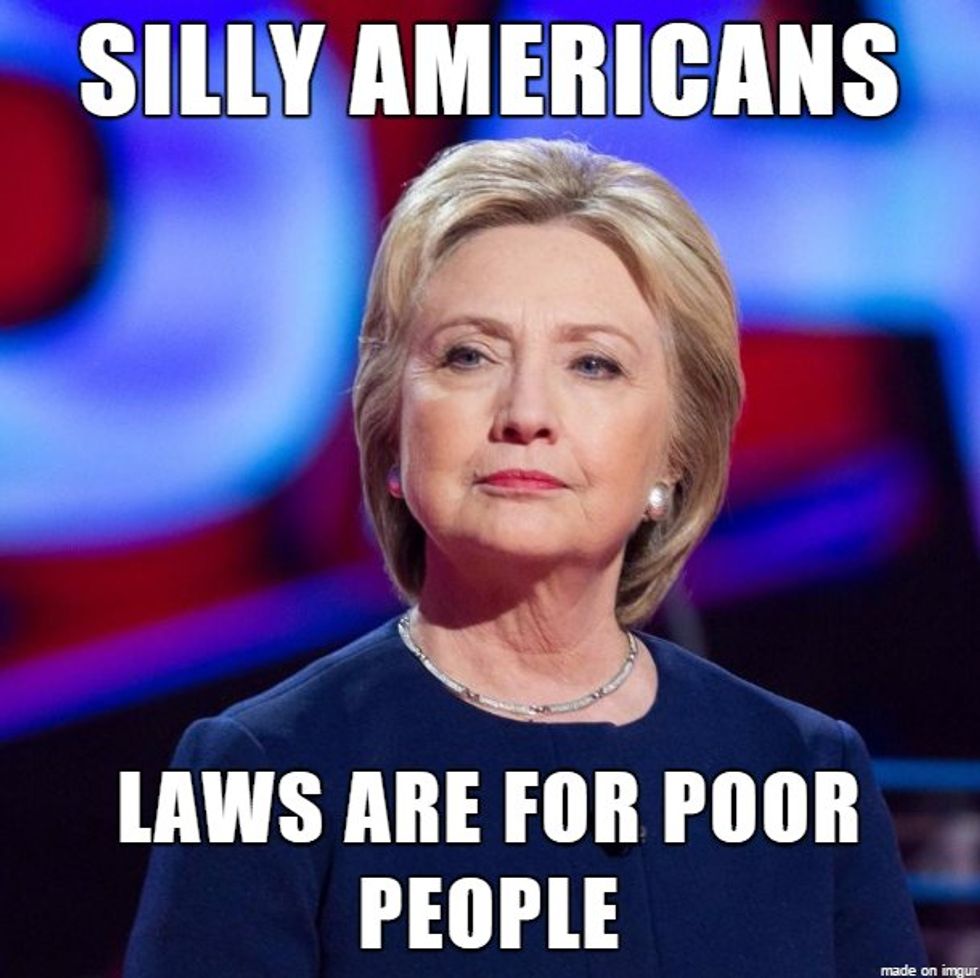 Via Liberty Memes
"Facebook has been non-responsive to our appeals in the past, and searching for answers or someone to ask only leads to the dead end of Facebook's FAQ pages. If you do make it to a problem resolution screen, they typically reply that your issue has been closed without resolution," he said.
And just as in George Orwell's "1984," these rules seem to be arbitrary; Admin 2 cannot spot any reasons why his memes get taken down.
"We don't make racist jokes or anti-gay jokes, we don't even so much as use curse words on our page. It is difficult to know what will get us into trouble at any given time, and this has a dreadfully chilling effect on our abilities of free expression. When you are afraid to say something even slightly controversial, you don't really have free speech," he said.
And these actions are quite hypocritical, he adds.
"Facebook has made recent public statements that they do not censor political speech, but our experience this week says the exact opposite. Everything has to be a [politically correct], gender fluid safe space on that media," he complained.
Speaking of the social justice warrior utopian world, Admin 2 also told us that this other (sarcastic) meme was taken down because it promoted self-harm.
If it can be of only consolation to him, he is not the only person facing stricter community standards. Info Wars reported on the policing of pro-gun rights pages a few years back, but now it's back with a vengeance. A Texas gun range had its pages suspended before it got restored after Breitbart reported on the matter less than a week ago. He may be in luck, considering that an army of Facebook snitches is scanning Facebook to report anything remotely talking about guns.
So conservative, tech-savvy people: Know that you have an incredible opportunity to create a new social network website where inoffensive ideas would be promoted rather than shut down. People who believe in freedom like conservatives and libertarians need a "safe space" away from temper-tantrum prone social justice warrior who will only rest once only the speech they like is in public spaces.
UPDATE:
A Facebook spokesperson recently email me the following on July 14:
I came across your piece "Mocking Hillary Clinton Is Against Facebook's Community Standards" from earlier this week.

I wanted to let you know that the content was removed in error and restored as soon as we were able to investigate (you can find it here) Our team processes millions of reports each week, and we sometimes get things wrong. We're very sorry about this mistake.
–
TheBlaze contributor channel supports an open discourse on a range of views. The opinions expressed in this channel are solely those of each individual author.