**The following is an in-depth review of "Mr. Holmes" and does contain spoilers.**
There are three types of Sherlock Holmes movies.
There is the classic, more traditional take on the character - like the movies starring Basil Rathbone and Nigel Bruce or the Jeremy Brett television series. There are the more fantasy and adventure oriented films - like "Young Sherlock Holmes" or the Robert Downey, Jr films. And then, there are the much more artsy Holmes films - like Nicholas Meyer's "The Seven-Per-Cent Solution" or "The Private Life of Sherlock Holmes."
"Mr. Holmes" definitely falls into the deeper, much more artsy type of Sherlock Holmes movie.
When we are introduced to the famous detective, he is a much older man than we have ever seen him before. Dr. Watson has long since married and gone on from his partnership with Holmes, and Holmes himself is living in seclusion as a bee keeper.
Holmes has lived in the shadow of the fictionalized version of himself in the stories written by his old friend and partner Watson, and published in The Strand Magazine - the original publication which printed the real early Holmes stories by Arthur Conan Doyle.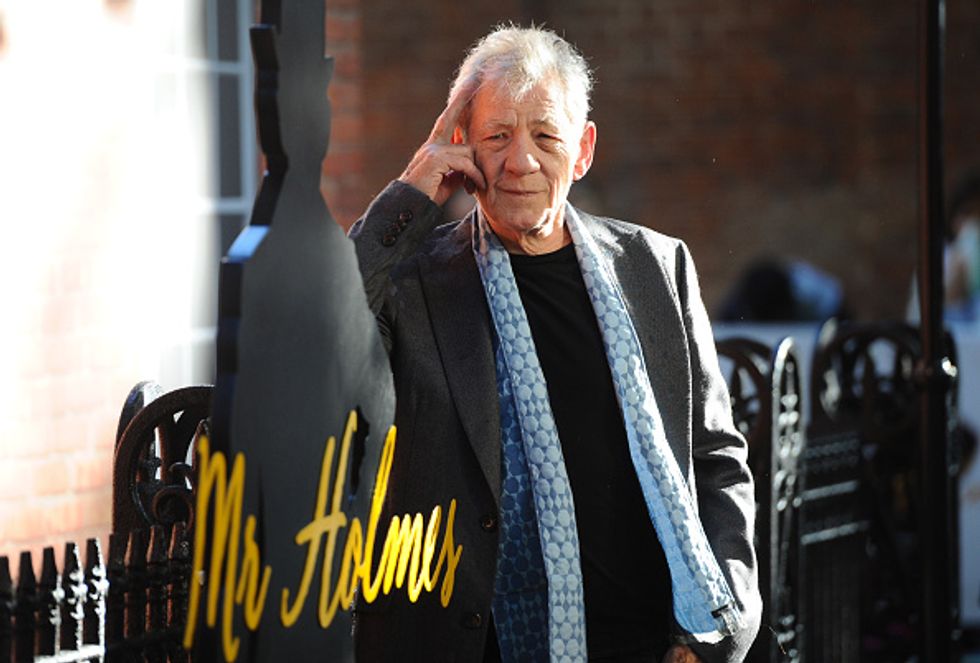 Ian McKellen attends the UK Premiere of "Mr Holmes" at ODEON Kensington on June 10, 2015 in London, England. (Photo by Stuart C. Wilson/Getty Images)
Holmes is often asked about the whereabouts of his famous deerstalker cap, although he claims to have never owned one. Holmes also reveals that he has always preferred cigars to a pipe, often stating that Watson had sometimes let his wild imagination get the better of him when he was chronicling their exploits.
It is also revealed that Holmes is suffering from severe memory loss, probably due to the early stages of dementia. For someone like Holmes, who has built his entire life around his keen observational skills and eidetic memory, the thought of losing one's mind is most terrifying. Living with Holmes on his bee farm are his housekeeper, Mrs. Munro, and her son Roger. Roger has taken a liking to Holmes, and Holmes to Roger.
"Mr. Holmes" actually tells two stories and two separate, though linked, mysteries. Holmes in the present day is trying to solve the mystery of some missing memories. Some of the memories he is missing stem back to Holmes' final case, which is the second mystery of the film and is told in flashback. The more Holmes is able to recall in the present, the more the audience is given through flashbacks.
The story told in flashbacks centers around a woman named Ann Kelmot, whom Holmes was hired to follow by her husband. At first, the audience is led to believe that she intends to have her husband killed because he has become domineering. As Holmes is able to conjure up more of his memory, however, we learn more about Mrs. Kelmot and her problem. She had two miscarriages, and she mourns them both - which is something her husband just can't understand.
Mr. Kelmot feels that his wife is obsessing over these children who, to him, never existed. She's named them and even wants to have headstones erected, which he thinks is crazy because there are no bodies. As far as he is concerned, there never were any children. Most women who have ever had a miscarriage would absolutely identify with Ann. It is a baby, and the mother does feel the same sense of loss as over the death of any other child. To her, these are absolutely natural desires.
The more Holmes is able to piece together from this decades old case, the more the audience begins to understand that Ann's plot to kill her husband was nothing more than a ruse to throw Holmes off the scent of her true intentions, as she had found Holmes' business card in her husband's clothes while doing the laundry and knew she was being followed. Ann's true intentions were far more grim. She planned to join her children in death.
When Holmes had put the final pieces of the puzzle into place, he had a heart-to-heart talk with Ann, telling her she needed to go home to her husband who loved her dearly. Ann pulls the vial of poison she had intended to take from her purse and pours it out on to the ground. She leaves, and Holmes believes this is another case closed and another soul saved.
In the morning, however, Holmes reads in the newspaper that Ann never did go home that day, and mere hours after her talk with Holmes she had stepped in front of an oncoming train. It was this event, this failure, that caused Holmes to retire to the bee farm.
While the story of an aging Holmes, struggling with the onset of dementia, is quite interesting, the movie does have its weak points.
Sir Ian McKellan did a stellar job in the role of Holmes, joining the ranks of some of the greatest actors in the world who have played the role before him. However, the film doesn't have the same feel as an Arthur Conan Doyle mystery. While Holmes was wholly Holmes, he felt quite out of place in a film that didn't feel like a Sherlock Holmes film. Also, Watson is sorely missed. There is something about Sherlock Holmes going it alone that makes the character inherently less interesting.
The more Holmes is able to put together form his broken memories, the more engaging the film's story becomes, but it gets off to a rather slow start. "Mr. Holmes" definitely takes an effort to get into, but once it truly does get rolling the audience is rewarded with a truly unique vision of a beloved character.
One great scene in the film involved Holmes sitting in a matinee watching one of the films based on Watson's stories. Because the film is set in the 1940s, this would have been a Basil Rathbone Holmes film. The actor playing "Holmes" in the film the real Holmes is watching is actually quite a clever cameo. He is Nicholas Rowe, who had portrayed Holmes in the 1985 film "Young Sherlock Holmes." So he was literally an actor who had played Holmes playing an actor playing Holmes.
The film is by no means a comedy, but there are definitely a few lines that will cause at least a chuckle in even the most hardened of hearts.
As a whole, "Mr. Holmes" definitely satisfies if you can get past the first 45 minutes. The film moves at a fairly brisk pace, even considering the slow start. While it differs from what you would normally expect from a Sherlock Holmes movie, "Mr. Holmes" does provide a fresh and interesting new take on a character that is over 100 years old.
–
TheBlaze contributor channel supports an open discourse on a range of views. The opinions expressed in this channel are solely those of each individual author.