As I prepare this week to be a mother for the fourth time and give birth to my long-awaited first little girl, Gracie, it pains me that there is a dark cloud hanging above her pending delivery.
While I am counting down the days and minutes until I can look into her eyes and kiss her little cheeks, there is one fact that never leaves my mind. There is a 25 percent chance that my precious daughter will be born with Cystic Fibrosis, a deadly genetic disease that my oldest son, Gunner, suffers from every day.
[sharequote align="center"]His suffering teaches us all that life is a gift and something to be thankful for every single day.[/sharequote]
While I would be lying to say that I'm not panicking about the news of Gracie's diagnosis, I am comforted by the fact that if she tests positive she will have a big brother to do her time-consuming daily treatments with and to look to for an example when she doesn't want to take her more than 20 pills a day.
The day that Gunner was diagnosed was the worst moment of my life. My husband and I couldn't imagine how life would be for our son, how much he would suffer, and how much we would suffer.
It was in that moment, everything that I envisioned for Gunner's life and my family's life was wiped away. It's a moment that every parent fears and begs God never to have to face. Concerns about his future high school GPA were replaced with thoughts of making sure he lives long enough to graduate.
With my other three pregnancies since Gunner, I could have opted for genetic testing to determine if my children possess the same genetic mutations as Gunner. But I didn't.
I knew that no matter what the diagnosis, my husband and I will be there for our children - ensuring they are seen by the best doctors, that their daily medical regimens are strictly followed, and that their lives, although filled with challenges, are happy and fulfilled.
Yet, most medical professionals, and others, cannot seem to grasp why we chose to deny prenatal testing.
I remember one particularly disturbing moment when my husband and I were with newly-diagnosed Gunner at the clinic and genetic counselor came in to ask if we had any questions. What was she doing on a care team that is comprised of nutritionists, respiratory therapists, and pulmonologists? Not knowing I was pregnant with my second son, she told me she helped Cystic Fibrosis families who wanted to have more children avoid having any more with the disease through embryo screening.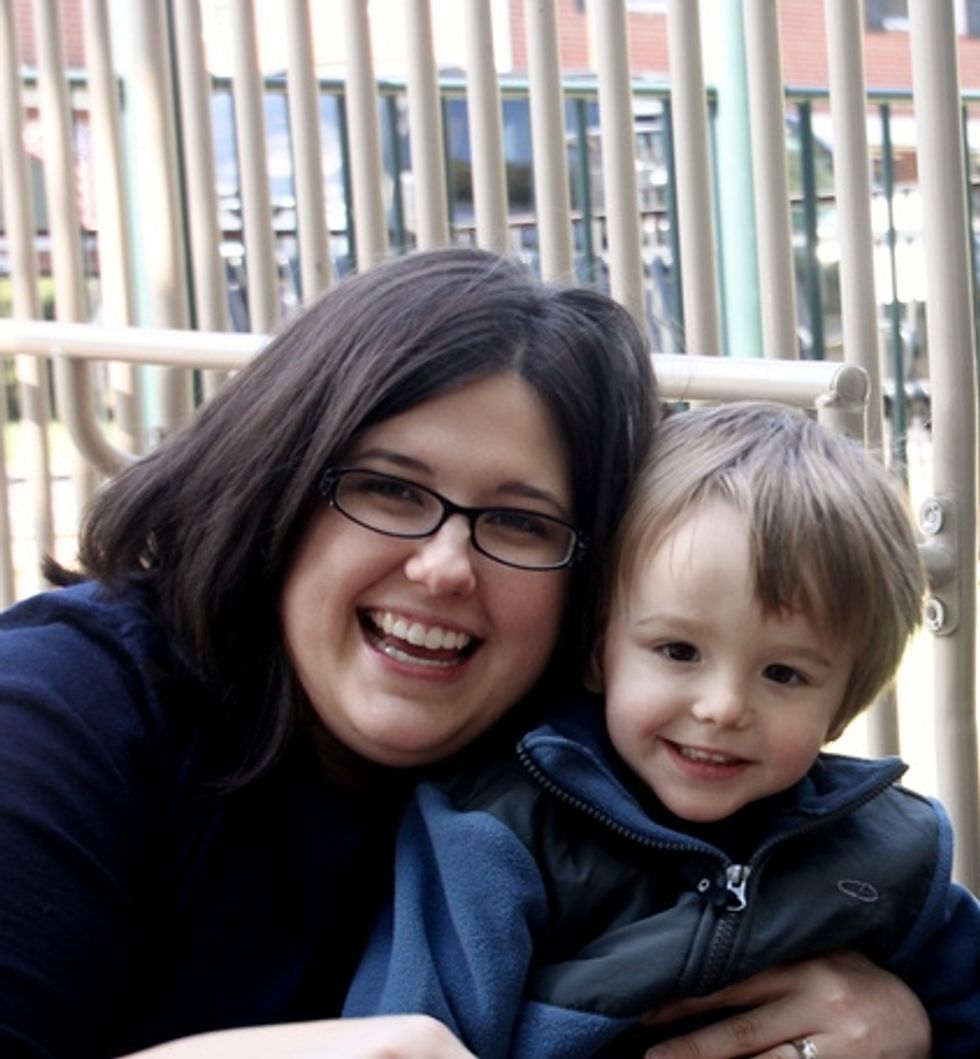 The author with her son, Gunner, who suffers from Cystic Fibrosis. Courtesy of Author.
To this day, I'm amazed that I was able to stop myself from the insults I wanted to hurl at her. I simply couldn't believe her brazen audacity to suggest that my beautiful son, who was sitting on my lap smiling, was a mistake that could be avoided.
Sadly, though, that's what too many believe. In one study by Kaiser in California, over 87 percent of children diagnosed in utero with Cystic Fibrosis are aborted. This is a tragedy.
While I can't promise any parents facing a positive diagnosis that life will be easy, I can promise you that you will never regret having your children. To those parents facing a difficult prenatal diagnosis or a debilitating diagnosis after birth, your child's life is not only a miracle, unique, and priceless, but through his or her life I promise that you will find great joy and blessing.
Despite the frequent doctor's visits, challenging toddler temper tantrums, and high medical bills, Gunner and his brothers, and nearly-here sister, are my most proud accomplishments.
Gunner is smart, compassionate, and full of life. Yes, he coughs. Yes, we worry. But his life has meaning. His suffering teaches us all that life is a gift and something to be thankful for every single day. It makes us slow down and truly appreciate every moment we have, to not let our lives get so busy we forget the blessings we have. It makes us more patient, more kind, and better people.
No matter how much you may try to avoid it, everyone will suffer. Ours is just out there for others to see more.
If Gunner or his sister dies from this disease, we will celebrate the lives they lived. We will be thankful for every precious moment we were given. Their lives will have mattered - to me, to my family, and to everyone they were able to meet along the way.
Kristan Hawkins is president of Students for Life of America.

–
TheBlaze contributor channel supports an open discourse on a range of views. The opinions expressed in this channel are solely those of each individual author.