At the close of the last term for United States Supreme Court, the high court in Michigan vs. EPA took the unusual step of telling the Environmental Protection Agency to reconsider a major environmental regulation because the agency failed to consider the cost of that regulation before unrolling their red tape rolls.
That decision takes place against the backdrop of another proposed regulation where two environmental regulatory authorities—the EPA in Washington and the California equivalent—are preparing to move independently toward issuing stringent new rules against a compound that is both manmade and naturally occurring. This compound, present in the earth long before humans ever began manufacturing it for industrial and defense-related purposes, poses no threat to public health in most cases where humans come into contact with it, but the clean-up will cost tax payers tens of billions of dollars if the proposed regulations take effect.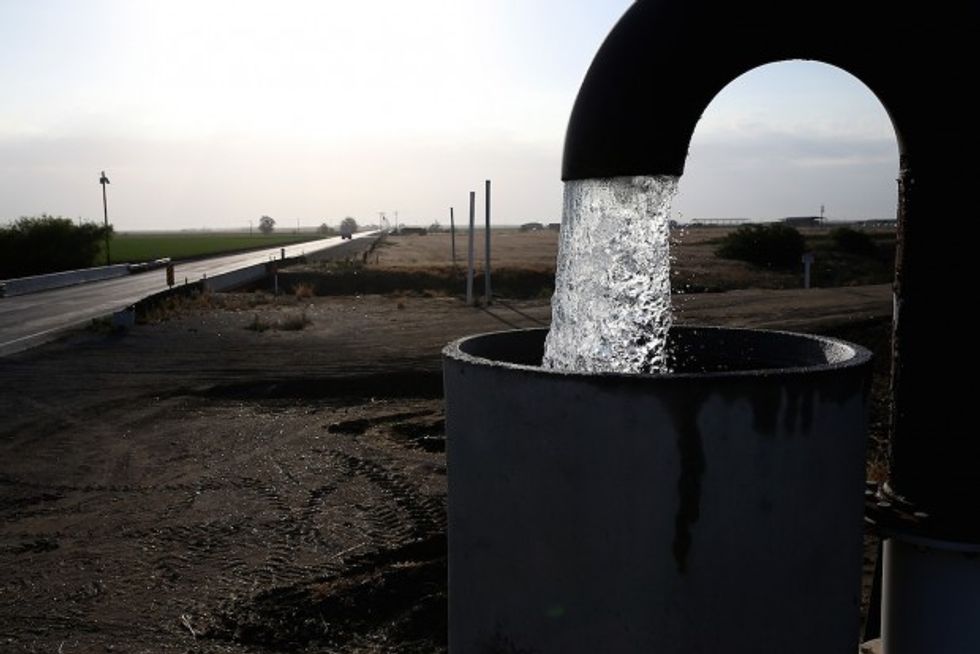 Well water is pumped from the ground on April 24, 2015 in Tulare, California. (Photo by Justin Sullivan/Getty Images)
If the chemical name perchlorate doesn't ring a bell, don't worry. It's a relatively obscure compound that is manufactured mostly for defense applications, but it is also occurs naturally across the country at relatively low levels.
Most observers expect U.S. EPA and California EPA to dramatically lower the allowable levels of perchlorate in water. Regulators will impose significant costs on water systems across the country to test and treat drinking water to meet this unnecessary new standard. Worse still, these tightened regulations would have no discernible impact on public health, according to current and former EPA officials.
The decision to regulate will also dramatically increase the prices of many agricultural and commodity crops that depend on scare sources of water for irrigation.
If regulators suddenly declare those sources of water unsafe, the crops that we grow and in turn export will be deemed unsafe in the market. For farmers, that means a dramatic and crippling price spiral. An increase in water prices in California, where much of the United States' food crops are grown, will necessarily result in across-the-board food price spikes for the rest of the nation.
California EPA's regulatory moves won't just impact the fine folks of the Golden State, but will bear weight on the pocketbooks of every American in the check-out aisle.
There is no question that very high levels of perchlorate can be harmful. Very high levels are very rarely found. At low levels, as it normally presents, it is not threatening to even at-risk populations. But when we attempt to purge in perpetuity something that nature produces every hour of every day, we're talking about massive sums of money – amounts that California simply doesn't have.
All of a sudden, the question of costs associated with these two regulations becomes pretty important to get our arms around - especially since it's going to be taxpayers and farmers taking the hit.
Unfortunately, Michigan vs. EPA will probably have little impact on either U.S. EPA or California EPA in this case. U.S. EPA has already decided to regulate and California EPA has proposed making their existing regulation the strictest in the country.
So, just how much will it cost to clean up something that occurs naturally and is basically inert at very low levels?
The scary thing is, we already have a pretty good idea of the cost of these two regulations will be.
California has been regulating perchlorate at six parts per billion (ppb) since 2007. Many water systems have raised water rates by 60-70 percent to help pay for treatment costs associated with the existing regulation. Across California hundreds of millions of dollars have been spent to clean to the existing standard. Now that most water systems are below 6ppb, California regulators are attempting to lower the bar yet again.
At the federal level, EPA announced four years ago their intention to regulate perchlorate. Problem is, they can't seem to get the science to support their claim that perchlorate is actually harmful at the levels most commonly found in the environment.
Proving something is actually harmful and conducting a basic cost benefit analysis beforethe decision to regulate is at the heart of what the high court held in Michigan vs. EPA.
The cost of this regulation goes beyond simply calculating what water systems will pay to treat the water we all drink. After the US EPA announced their decision to regulate in 2011, the EPA's Inspector General examined their rationale and issued a rather stinging rebuke.
While treatment costs associated with the regulation would cost hundreds of millions of dollars, the true economic cost of the regulation could run as much as $100 billion dollars.
The regulation will in effect declare the vast majority of our drinking water and agricultural crops as contaminated. The Inspector General's most damning statement, however, was that the regulation will have no positive impact on the health and welfare of Americans at all.
In too many cases administrative agencies like U.S. EPA and California EPA set in motion regulatory actions that lack scientific rational and bear potentially crippling economic consequences for both taxpayers and consumers. In Michigan vs. EPA, despite the high court smack down of EPA, most of the damage had already been done. But it's not too late to force California and U.S. EPA to fully account for the costs of these proposed regulations publicly. While they have made the decision to regulate, some political accountability from state and federal lawmakers would help make the true costs of these regulations known to the public.
–
TheBlaze contributor channel supports an open discourse on a range of views. The opinions expressed in this channel are solely those of each individual author.