On the eve of Israeli Prime Minister Benjamin Netanyahu's speech to Congress, a despicable and disastrous betrayal has become clear: President Barack Obama has traded Israel for Iran.
In the annals of the history of American foreign policy filled with pages of willful blindness, amorality and often State Department-led folly, there are few things more substantively and symbolically egregious than this fundamental transformation.
Consider the two nations of which we are speaking: One is the largest state sponsor of terror in the world, run by genocidal jihadist theocrats who in their Twelver Shiite theology seek to bring on the apocalypse by destroying the cradle of world civilization. The other is a bastion of liberty, plurality, dynamism, creativity and innovation, despite being surrounded by myriad hostile regimes.
In a sane world, it would be unthinkable, unconscionable, and un-American for us to turn on the state of Israel – the front line of Western civilization against barbarians who seek to take us, and who are fast taking themselves, back to the seventh century.
But then we are in year seven of the Obama presidency, an "Alice in Wonderland" world in which the seemingly perverse has become the norm, all in the name of regressive progressivism.
While Americans focus on the seen of beheadings or the destruction of ancient artifacts by Islamic State in high definition, that shock our collective conscience, the unseen is that Iran is quietly becoming the hegemon in the Middle East – and perhaps in the eyes of President Obama, America's top ally in the region.
The easing of sanctions allowing billions of dollars of wealth to flow to a tottering economy and allowing the continued enrichment of uranium – will provide legitimacy to a terrorist regime and show the world that – like Neville Chamberlain's England – America has chosen to appease evil rather than confront it.
Meanwhile, as DEBKA asserted in a recent memo, Iran has concurrently been "taking up forward positions in Iraq, Syria and Lebanon, where they are busy fashioning a Shiite Crescent that encircles Sunni Arab states as well as Israel."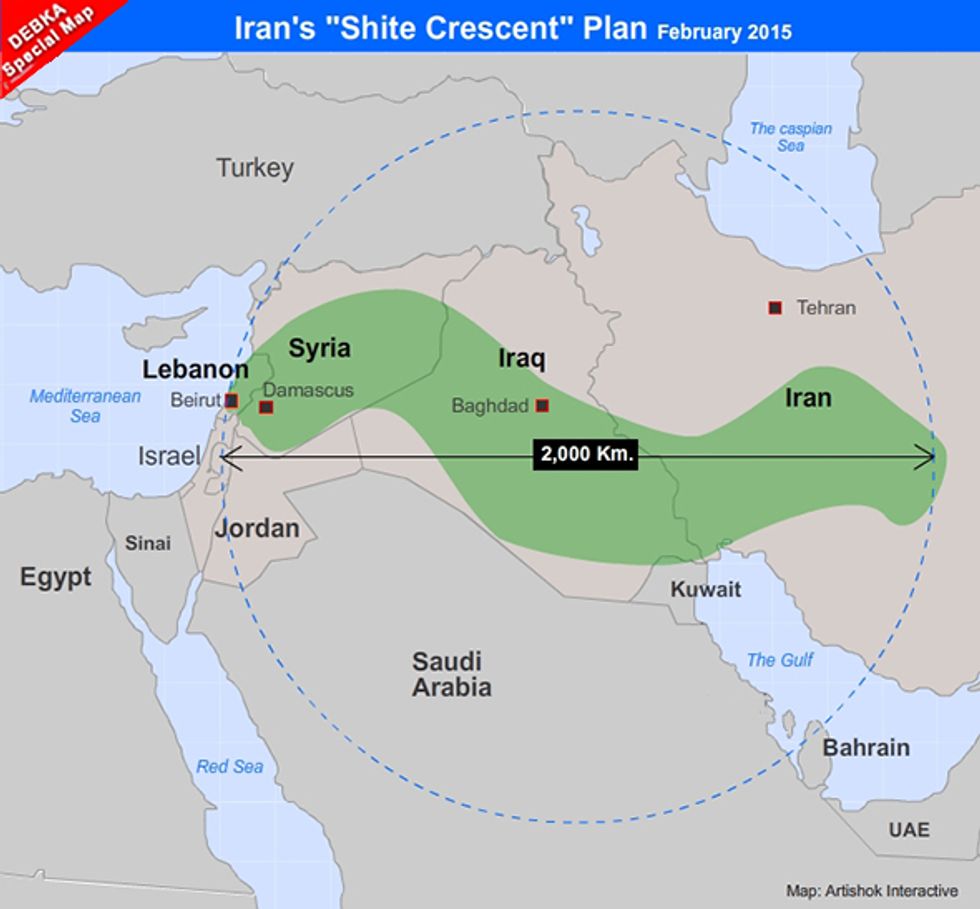 (Image Source: DEBKA)
America under this president has consciously chosen to stand by all the while. As Tony Badran wrote in a stunning analysis at NOW [emphasis mine]:
In one of Obama's several letters to Iran's Supreme Leader Ali Khamenei, he reportedly presented finalizing the deal on the nuclear program as the gateway to a broader regional partnership, especially against Sunni extremist groups like the Islamic State (ISIS).

This partnership is central to Obama's broader objective of extricating the U.S. from the Middle East and leaving in place a new security structure, of which Iran is a principal pillar. His tacit policy from Baghdad to Beirut has been to partner with Iranian-backed forces as the boots on the ground in the campaign against Sunni extremists. In Iraq and Lebanon especially, the U.S. partnership with Iranian assets and Iran-dominated state institutions has created a de facto condominium between the U.S. and Iran. 
Lest we conclude the spread of Iran's tentacles throughout the Levant primarily endangers Sunni jihadists, the title of a recent paper from MEMRI spells out the real casualty: "From The Mediterranean to the Golan, Iran Builds Active Front And Direct Military Presence On Israel's Border To Deter Israel And Further Ideology Of Eliminating The Zionist Regime."
MEMRI quotes from a columnist for the Lebanese Al-Akhbar paper:
Israel faces a fateful crisis. As much as it feared the Iranian nuclear program, it never imagined that Iran would be standing on its border even before its nuclear agreement with the Americans was complete. The Iranian threat to Israel is no longer theoretical…[t]he threat has become direct, practical and conventional.
President Obama's strategy during this time, as DEBKA pithily put it, has been to make:
...sure Israel was well supplied with all its material security needs. This enabled him to boast that no U.S. president or administration before him had done as much to safeguard Israel's security.

But behind this façade, Obama made sure that Israel's security stayed firmly in the technical-material-financial realm and never crossed the line into a strategic relationship.

That was because he needed to keep his hands free for the objective of transferring the role of foremost U.S. ally in the Middle East from Israel to Iran, a process that took into account the ayatollahs' nuclear aspirations.

This process unfolding over recent years has left Israel face to face with a nakedly hostile Iran empowered by the United States.
To pause for a second, it bears emphasizing: Today analysts are discussing Iran as the center of stability and top ally in the Middle East, referring to a "special relationship" between America and a genocidal, Jew-hating, jihadist regime. Nary anyone has stopped to acknowledge the monumental, shameful and, dare I say, treasonous implications of this fact.
Those in the Middle East however are fully awake to this metamorphosis, which is why Egypt has perhaps become Israel's staunchest ally, and why several Arab nations – which may still detest Israel's existence, but not as much as they fear their own survival -- are effectively siding with Israel against Iran.
That the Obama administration was rebuffing Prime Minister Benjamin Netanyahu several days before he was even scheduled to speak in front of Congress – that the Obama administration even had to produce talking points about its support for Israel -- evinces the Israel-Iran trade.
Nations, like friends, should not have to recite talking points to prove their allegiance. And actions speak louder than words.
***
We have two choices:
We can believe that President Obama genuinely thinks Iran -- an enemy of America since 1979, whose proxies have been responsible for countless terrorist attacks against our citizens and our interests – will cease its nuclear weapons program, and serve as a stabilizing influence in the Middle East.
Alternatively, we can believe that President Obama knows that the Iranians are committed to undermining Israel and the interests of the West.
If we conclude the former, there is slightly less cause for concern.
Yet if we conclude the latter, we must also conclude that America's president has knowingly aided, abetted or enabled Israel's worst enemies – led by Iran – in the Middle East, presumably under the logic that global social justice demands it.
Israel – a free, tolerant and modern nation – has morphed through the propaganda of the global Left into a colonialist, apartheid state. Those who seek her destruction are considered by the Left to be legitimately aggrieved, and "lest we get on our high horse," as the president likes to say, don't forget about the Crusades.
In the Edward Said, Rashid Khalidi, Saul Alinsky world of progressive elitism in which President Obama considers himself a global citizen in good standing, what is moral and just is to redistribute power from America's historical allies (the oppressors) to America's historical enemies (the oppressed).
Hence President Obama's "open hand" foreign policy towards "clenched fists," a policy declared from the beginning of his presidency under which he has aided the global jihad generally and Iran specifically.
Those who argue that President Obama's foreign policy has been one of retreat are only half right: The president has stepped back from the situations that most require American leadership and moral clarity in support of our allies against evil, while interjecting himself needlessly in other situations – implicitly or explicitly – on behalf of our enemies.
Nowhere is this better illustrated than in President Obama's trade of Israel for Iran.