California recently put into effect an updated sex education curriculum. Authored by Shirley Weber and proposed as legislative bill AB 329, the bill was signed into law this past fall.
The law, ironically titled the California Healthy Youth Act, was co-sponsored by a number of liberal organizations including Planned Parenthood, the eugenics movement disguised as women's healthcare, as well as the ACLU.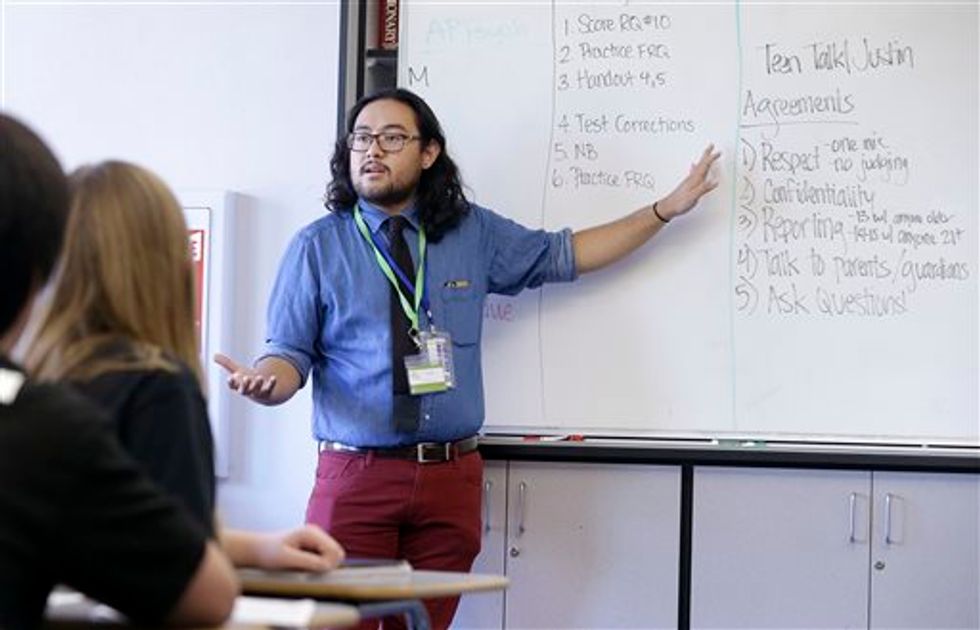 In this Oct. 8, 2015, photo, Justin Balido, peer health coordinator and senior health educator with Health Connected, speaks to a ninth-grade Teen Talk High School class at Carlmont High School in Belmont, Calif. Sex education in some American high schools is evolving beyond pregnancy and disease prevention to include lessons aimed at curbing sexual assaults. (AP/Jeff Chiu)
The document contains just about what you would expect from a progressive manifesto. Here are a few items that will be taught to children and adolescents in grades 7-12:
"Information on the manner in which HIV and other sexually transmitted infections are and are not transmitted, including information on the relative risk of infection according to specific behaviors, including sexual activities."

"Discussion about social views on HIV and AIDS, including addressing unfounded stereotypes and myths regarding HIV and AIDS and people living with HIV."

"Information about the effectiveness and safety of all FDA-approved contraceptive methods in preventing pregnancy, including, but not limited to, emergency contraception. Instruction on pregnancy shall include an objective discussion of all legally available pregnancy outcomes, including, but not limited to, all of the following... Parenting, adoption, and abortion."
Did you get all that? If you send your child to a public school in California, he or she will be taught about specific sexual behaviors and activities, the normalization of HIV and AIDS, condemnation of stereotypes regarding perverse sexual activities, contraceptive methods, abortifacient medications, and how to seek an abortion if contraception is forgotten or misused.
This demonstrates why sex education should not be taught in schools. It is sexual indoctrination at its finest.
I cannot fathom the mindset of a parent who has no problem with shipping a child off to a government-run institution where he or she will be brainwashed with sexual perversion. It appears I am in the minority here, however, as school-based sex education receives overwhelming support from parents across the country.
Call me old-fashioned, but my idea of education includes reading, writing, math, language, spelling, and science. It does not involve learning about liberal constructs such as gender fluidity and various sexual orientations. Whatever time is spent on this ideology-driven nonsense is time not spent on other, more appropriate educational items such as teaching adolescents to use reasoning skills. In addition, it is reprehensible to be taking taxpayer money to fund such agenda-driven filth. Sex education used to consist of biology only. If we can go back to that, fine. But otherwise, it's not a good idea to propagandize secondary education.
Further, it's clear that the updated educational material doesn't contain as much factual information as it purports. At least one commentator has noticed some things that were left out of the curriculum.
Moreover, the responsibility for educating children in the area of sexual behavior and morality should belong to parents alone. Just because some parents are not up for the task doesn't mean the government needs to step in and take over.
Am I so out of touch to believe that parents should be solely responsible for matters so deeply personal for their children? Indeed, our sexuality is one of the deepest parts of who we are. It's part of our very identity. Not sexual orientation or superficial fleeting urges, mind you, but actual human sexuality. It's written into our bodies, and as such it is deeply personal. Sexual activity is the most uniquely powerful and personal expression of ourselves we can offer, and pardon me for not wanting my children learning about it in a public, government-run setting.
If my children are going to be learning about their identity, I want them learning about it from their family. It is in our families that we should learn about ourselves and who we are, not from government-run systems. If I wanted my children to turn into robots, then I might consider sending them to learn about their sexuality from an indoctrination machine. But as such, that's not what I want for them.
The law represents a monumental overreach that infringes on the very duties (some would say rights) of parents. Liberals call the new educational requirements comprehensive and inclusive, and will claim that opposition to progressive sex education principles is fear-based. But my opposition to so-called "inclusive" sex education is not fear-based, it's morality driven, and those are obviously not the same thing. I want my child to avoid indoctrination not because I'm scared of it, but because I believe that the principles being taught are immoral.
Sure, some parents who wish to avoid this dilemma can simply send their child to an institution that provides education in matters of morality. But obviously, not all parents are able to do that. The California law does contain an opt-out that must be completed by parents, but this seems more like an exercise in bureaucratic control than anything else. Very little about the whole process comes off as voluntary.
While I am no longer surprised by anything that California does, I remain repulsed by the corruption happening within its school system and many other school systems around the country. When sex education reform is being promoted by a multi-billion dollar, government-funded abortion business, we'd be blind not to see the conflict of interest. I do not for one second believe that Planned Parenthood has the best interest of children in mind.
That's the trouble when you have government-run anything. There are agendas. There is corruption. There is lobbying and conflicts of interest. It seems the least we could do is not let those things spill over into the education we are providing our children. It seems that when it comes to teaching kids about the deepest and most personal parts of themselves, we could avoid contaminating the education with harmful ideologies.
But it's clear that is not possible, so maybe the best answer is to remove sex education from schools completely, and return the duty to parents and families.
Cullen Herout is a pro-life, pro-family writer. He has a passion for writing about life issues, Marriage, fatherhood, and creating a culture of life. Follow him on his brand new Facebook page at www.facebook.com/cullenheroutwriter.
–
TheBlaze contributor channel supports an open discourse on a range of views. The opinions expressed in this channel are solely those of each individual author.