At his speech to the joint session of Congress, Pope Francis weighed in on the issue of illegal immigration, saying:
"We, the people of this continent, are not fearful of foreigners, because most of us were once foreigners. … We must resolve now to live as nobly and as justly as possible, as we educate new generations not to turn their back on our "neighbors" and everything around us. … On this continent, too, thousands of persons are led to travel north in search of a better life for themselves and for their loved ones, in search of greater opportunities. Is this not what we want for our own children? … We need to avoid a common temptation nowadays: to discard whatever proves troublesome. Let us remember the Golden Rule: "Do unto others as you would have them do unto you." … Let us treat others with the same passion and compassion with which we want to be treated. Let us seek for others the same possibilities which we seek for ourselves."
The pope's rhetoric was yet another example of the demonizing directed at opponents of so-called "comprehensive immigration reform." In reminding Americans over and over to not turn their backs on their neighbor, to view others as our equal, to treat them as we would want to be treated – as if we weren't already on board with all these platitudes – the pope is essentially boiling the issue of illegal immigration down to one of bigotry. Too many Americans just don't view illegal immigrants as deserving equal respect to everyone else, and so they won't grant them a pathway to citizenship.
President Barack Obama has a less subtle version of this tactic: when he talks about reform, he denounces "anti-immigrant sentiment," and blames the Republicans for being "captive to the nativist elements in its party."
Put bluntly or subtly, it amounts to the same thing: opponents of immigration reform are bigoted xenophobes who need to be reminded that immigrants are people, too.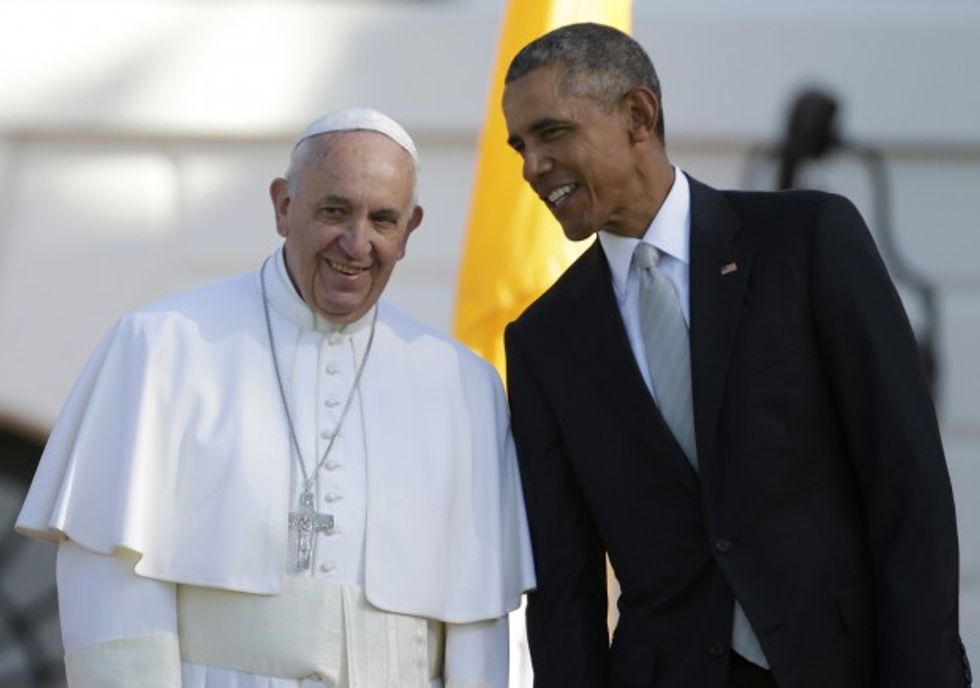 President Barack Obama leans over to talk to Pope Francis during a state arrival ceremony on the South Lawn of the White House in Washington, Wednesday, Sept. 23, 2015. (AP Photo/Pablo Martinez Monsivais)
Of course, one of the main arguments against comprehensive immigration reform is that it gives illegal immigrants more than just equal treatment, it gives them an advantage over immigrants who have come here (or are trying to come here) in accord with the existing laws. For all the talk about providing a "pathway" for the 11 million or so illegal immigrants in the U.S., the fact is that there has always been a process for them to become legal residents and U.S. citizens. It involves applying from their home country the same way other immigrants have done for decades.
What comprehensive immigration reform calls for is an additional pathway to citizenship on top of the one that's already available. But not just an additional pathway: an exclusive one that applies only to today's illegal immigrants, and not to the ones who come here in the future.
What is the magic that says people who came here illegally five years ago should have a new way to "get right with the law," but not the ones who do so five years from now? Aren't future illegal immigrants people, too, who ought be treated with compassion?
I understand the strategy: if you can make opposition to comprehensive immigration reform look like racism, then you can get people to feel ashamed for not supporting it.
But it's a cheap tactic. It's demonizing. And while it's no surprise when to see American politicians using it, you would have thought the pope would be above it. Whatever happened to "do unto others"?
–
TheBlaze contributor channel supports an open discourse on a range of views. The opinions expressed in this channel are solely those of each individual author.