Since Pope Francis was elected, more and more conservatives have made it their business to defend a liberal against conservatives. With this week's papal address to Congress, it is clear that Pope Francis's defenders have been led astray.
Speaking to a Congress which, with the complicity of leaders from both parties, insists on funding Planned Parenthood with $500 million in taxpayer dollars, and which defends the brutal practice of late-term abortions, Pope Francis uttered not a word about abortion in his address.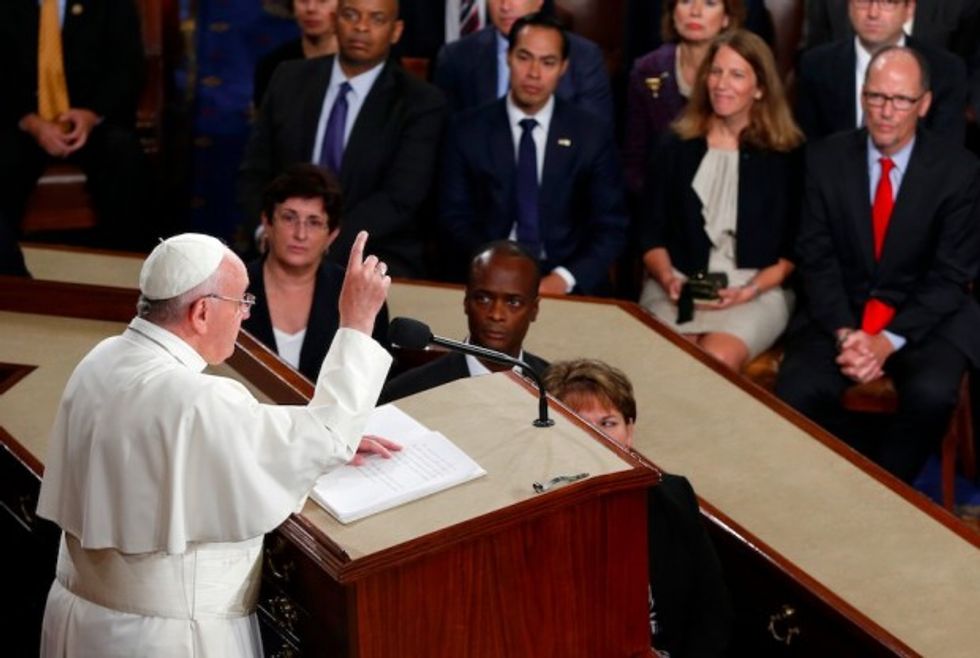 Pope Francis addresses a joint meeting of Congress on Capitol Hill in Washington, Thursday, Sept. 24, 2015, making history as the first pontiff to do so. (AP Photo/Evan Vucci)
Instead, he used his bully pulpit to condemn the death penalty, war, and border security (in the past he smeared conservatives as "racist and xenophobic"), and to call for more aggressive environmental and economic legislation.
Some conservatives insist that the mainstream media cherry-pick the pope's addresses to suit their agendas. Actually, it is conservative defenders of Pope Francis who do the cherry-picking.
What the mainstream media report on Pope Francis is exactly what the Holy Father emphasizes. What is more, he is perfectly consistent.
Taking just the issues of gay "marriage" and abortion as examples, consider the following elements.
To put it generously, Pope Francis spoke only vaguely about abortion.
At the very end of his musings about the Golden Rule, he remarked that it "also reminds us of our responsibility to protect and defend human life at every stage of its development." This remark served only to segue into the topic of the death penalty, which he condemned by name in no uncertain terms.
Beleaguered Christian and conservative news sources trumpeted these paltry words: "Pope Francis brought a consistent pro-life message to the nation's leaders." In fact, he did not. At most, he threw conservatives a bone before offering a feast of red meat to Democrats.
Not only does Pope Francis emphasize causes such as wealth redistribution and climate change law; he hires zealous proponents of abortion as advisors on these issues. When Catholic intellectuals and policy analysts question him, his spokespeople are by no means subtle in their contempt for the pro-life cause.
In response to questions from pro-life analyst Stefano Gennarini, Pope Francis's Chancelor of the Ponitifical Academies of Science and Social Sciences, Archishop Marcelo Sánchez Sorondo, had this to say: "The Tea Party and all those whose income derives from oil have criticized us, but not my superiors, who instead authorized me, and several of them participated."
The archbishop chided that pro-lifers, who "claim" to be pro-family, ought to be "happy" about the Vatican's working with pro-abortion advisors because they offer "access to family planning and sexual and reproductive health and reproductive rights," which helps poor families.
Margaret Archer, the President of the Pontifical Academy, was even less forgiving, and accused pro-lifers of a "travesty of Catholic Social Teaching:" being "uninterested" in helping the poor by means of aggressive wealth redistribution. She even used the old pro-abortion cliché, "Is your sole concern with human dignity confined to the period between conception and live-birth?"
Invoking Pope Francis, she pointed out that "I am appointed by the pope and responsible directly to him. I'm afraid that leaves you and your cohort out in the cold," she venomously concluded, adding "which lobbyists meet your salary bill?"
What Pope Francis said about "marriage" and "family" was equally inadequate.
Pope Francis's comments on marriage and family were clearly not calculated for use in a worldwide war over the redefinition of marriage at the hands of pro-gay elites.
Again, Christian news sources desperately claimed Pope Francis gave a ringing defense of natural marriage, while the mainstream media took courage from the fact that he made no mention of gay "marriage" and did not define marriage as between a man and a woman. And again, it seems the liberals get Pope Francis right, while conservatives are left to cherry pick.
But Pope Francis certainly did speak about the "richness" and "beauty" of marriage, and it is important to note the extremely troubling fact that many in his Vatican would apply such adjectives, and perhaps even the title "marriage," to same-sex relationships.
Amid the flurry of responses to Pope Francis's wildly popular address to Congress, British journalist Edward Pentin reported that a pro-gay cleric, Cardinal Godfried Danneels, has admitted to belonging to a club of cardinals who formed an aggressive plan to oust conservatives like Pope Benedict XVI from the Vatican, and to lead the Church in a "much more modern" direction.
Another member of this "club" was Cardinal Walter Kasper, who has made a name for himself by pushing the "Kasper Proposal," an effort to loosen the Church's teaching on the indissolubility of marriage.
Both Danneels and Kasper have spoken out in favor of homosexual relationships. In response to Ireland's vote to recognize gay "marriage," Kasper insisted "if the majority of the people wants such homosexual unions, the state has a duty to recognize such rights."
For his part, Danneels wrote a letter of "congratulations" to an official in Belgium when same-sex "marriage" was first recognized in that country. As Edward Pentin reports: "The cardinal expressed satisfaction over the disappearance of 'discrimination' against LGBT couples after legislation was passed approving same-sex 'marriage' in 2003."
It should come as no surprise that these left-wing cardinals were hand-picked by Pope Francis as leading voices in the upcoming Synod on the Family: Penten reports that "The group wanted a drastic reform of the Church … and for Cardinal Jorge Bergoglio to head it." For those who may not know, Cardinal Jorge Bergoglio is now the Pope of the Roman Catholic Church.
–
TheBlaze contributor channel supports an open discourse on a range of views. The opinions expressed in this channel are solely those of each individual author.