The problem with conservatives is that they don't want government to regulate the private sector; the problem with liberals and progressives is that they don't want anyone regulating the government.
These are caricatures, but they're the kind of caricatures that come to mind after reading President Barack Obama's recent interview in The New York Review of Books, in which he complained about people who are skeptical of government:
Whenever I hear people saying that our problems would be solved without government, I always want to tell them you need to go to some other countries where there really is no government, where the roads are never repaired, where nobody has facilitated electricity going everywhere even where it's not economical … or kids don't have access to basic primary education. That's the logical conclusion if, in fact, you think that government is the enemy. And that, too, is a running strain in our democracy. That's sort of in our DNA. We're suspicious of government as a tool of oppression. And that skepticism is healthy, but it can also be paralyzing when we're trying to do big things together.
Directing skeptics to look at the nearest state of anarchy is just Obama's way of knocking over a straw man; people who are wary of government intervention aren't logically committed to rejecting all government. In fact, advocates of small government are typically in favor of things like roads, electricity and education, as well as some sort of government role in providing them.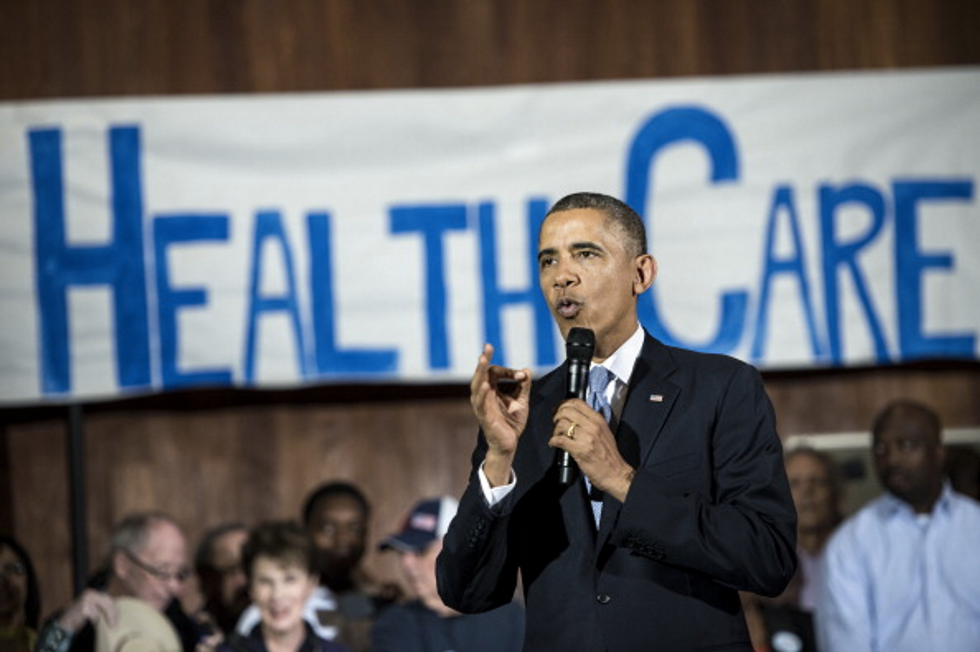 Brendan Smialowski/AFP/Getty Images
But they want that role to be as minimal as possible, because government has unique ways of screwing things up, as history neatly illustrates (feel free to forward the details along to President Obama to help remind him):
For one, government makes promises that don't get kept. Sometimes these are implicit promises carried in phrases like "the war on poverty" or "for Social Security purposes — not for identification." But sometimes they're more explicit, as in "if you like your health care plan, you can keep it" or "a typical family's health insurance premium will be cut by up to $2,500 a year."
There are plenty of "big things" that the government tries to do, but fumbles — say, when it directs millions of people to visit HealthCare.gov without bothering to first find out whether or not the website is even functional. Or spending $8.3 billion — enough to build a space telescope or a particle collider — on a Medicare "demonstration project" that hasn't demonstrated anything.
But government sometimes screws up the small things, too. Like when you spend an hour on the phone trying to reach someone at the IRS, only to discover that the previous IRS worker sent you to the wrong department. Or when the State Department lets a government employee set up a personal email server to handle U.S. diplomatic communications, without bothering to verify the server's security, vet the people maintaining it or promptly archive those communications for future reference.
Stuff like that.
And then there's the ultimate problem, which is that government will regulate and punish seemingly anyone and everything but itself. Those in government office often violate any number of rules with little or no repercussions.
Didn't let people keep their health care plan, or cut their premiums by $2,500? Lied to a grand jury investigating sexual harassment? Accidentally stuffed classified documents down your pants? Left your date in an upside-down car at the bottom of a tidal basin?
No worries. Your fellow government allies will make sure you don't pay any real price as a matter of solidarity among those who believe in doing "big things."
Of course, if you do something like that and you're not on the government payroll, look out — "big things" are likely to happen to you.
Frankly, Mr. President, a lot of us find "paralysis" to be preferable.
–
TheBlaze contributor channel supports an open discourse on a range of views. The opinions expressed in this channel are solely those of each individual author.