RT's (Russia Today, the Kremlin's media arm to the outside world) press coverage of the U.S. presidential primaries has been uniformly favorable towards Bernie Sanders and Donald Trump, while Hillary Clinton and Marco Rubio have been the butt of negative reporting.
The other Republican candidates have received little coverage, either positive or negative. I guess the Kremlin does not consider them in the mix of likely winners.
Despite budget woes, Vladimir Putin does not spare expense in getting out his message through RT and its sister outlet Sputnik. Both aim for a degree of respectability and try to refrain from the outright outlandish. There are all kinds of unofficial outlets for Kremlin garbage in social media.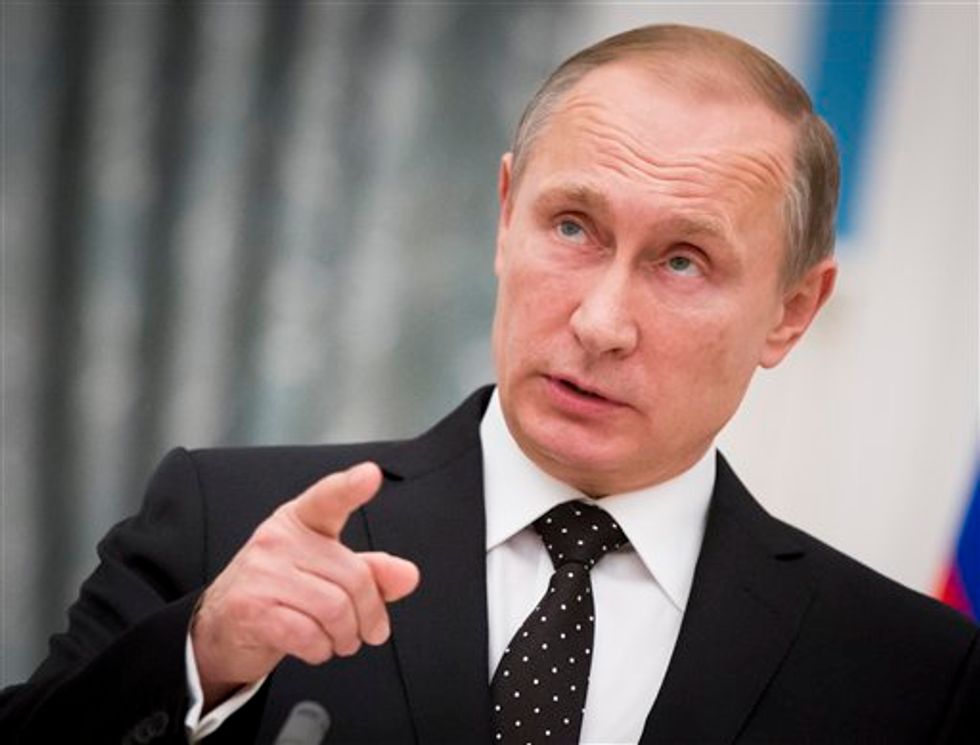 (AP Photo/Alexander Zemlianichenko)
RT portrays Sanders as a kindly, grandfatherly figure, an idealist dedicated to equality, justice, fairness, social democracy and a fighter against corporate interests, the military industrial complex, and the wealthy. Sanders followers are pictured as idealists struggling for a just society.
RT's Hillary Clinton is a flawed and unpopular figure compromised by email scandals, flip-flops, a reputation for dishonesty, grubbing for campaign contributions, cheating in town hall meetings, futile attempts to distance herself from Wall Street, and a losing battle against the humble, regular-guy Sanders.
On the Republican side, RT labels Trump as the clear front runner, an extraordinary person, who attracts enthusiastic and unprecedented crowds. RT heralds his rejection of the Iraq war, his many talents, his cutting debate style, and his respect for and defense of Vladimir Putin.
RT (and its sister publication, Sputnik) have less kind words for Marco Rubio. Among other missteps, Rubio is said to have declared the Paris massacre an act of God, his thugs have attacked protesters, he is a Wall Street insider, and wishes to cancel the Iranian nuclear deal. RT leaves it to the Kremlin's bottom feeders to label Rubio a war monger, but they ridicule him for wearing high heels to mask his short stature.
Putin's choices of Sanders and Trump require no genius to analyze. Sanders's antiwar pacifism and inexperience in world power politics make him as easy mark for Putin.
In the most recent debate, Sanders picked tiny "paranoid North Korea" as the greatest threat to America, versus Clinton's "belligerent Russia." Russia, Clinton warns, is trying to move post World War II boundaries and to set European countries one against the other. Sanders' call for a new NATO-like organization that includes Russia to combat radical Islamic terrorism must be beautiful music to Putin's ears. Putin should be confident he can run circles around the other-worldly Sanders.
Putin has an even stronger affinity for Trump. Trump satisfies Putin's pathological need for praise and respect. Trump characterizes Putin "a leader" (in contrast to Barack Obama) and defends him against charges of murdering opponents: "Putin killed reporters? Prove it."
In his annual 2015 press conference, Putin characterized Trump as "a very colorful and talented man, no doubt about that…. He says that he wants to move to another level of relations, to a deeper level of relations with Russia. How can we not welcome that?"
Trump's greatest attraction for Putin is his apparent indifference towards conflicts in which Russia is engaged. According to Trump, they are not America's business: "Let Russia fight [Islamic State], if they want to fight them … in Syria. Let Syria and [Islamic State] fight. Why do we care?"
If Trump wants others to fight Middle Eastern wars, he might decide, to Putin's delight, to let hapless and toothless Germany or France defend Ukraine and the Baltic states from Russian aggression.
Unlike Trump's isolationism with respect to European and Middle Eastern hotspots, Putin understands that Rubio has staked out a hawkish position with respect to Russia. Rubio joined his Senate colleagues in supporting stricter sanctions against Russia and in pushing for lethal military aid to Ukraine. To add insult to injury, Rubio has dared to call Putin a gangster leading a criminal regime and has dredged up the 1999 apartment bombings likely ordered by Putin to justify the Second Chechen War. Russia cannot allow a threat like Rubio to become president.
American voters support Trump and Sanders because they are angry with how Washington works. They are in good company, and they have every reason to be appalled.
Trump and Sanders supporters must, however, understand that their backing of a pie-in-the-sky socialist/pacifist or an entertainer/businessman puts them in the same camp as Russia's corrupt leader. Vladimir Putin is hoping American voters give him the opportunity to play chess against checkers amateurs as he pulls Europe apart, strengthens unsavory regimes in Iran and Syria, and seeks to restore lost Soviet territory by force.
–
TheBlaze contributor channel supports an open discourse on a range of views. The opinions expressed in this channel are solely those of each individual author.