County and city records offices across the country have been simmering for the past month due to the Supreme Court's gay marriage ruling. There are many places where county clerks have refused to provide same-sex marriage licenses, citing religious freedom. Some are being fired while others remain, however perilously, on the job.
Is there hope that public servants with a strong faith-inspired commitment to traditional marriage can persist through this crisis?
Unfortunately, the short answer is "no."
What is going on is a calculated effort by the gay lobby to intimidate people of faith in the public and private sectors to embrace same-sex marriage. Whereas those in private business may be able to defend themselves over time, it is unclear that government workers will be able to.
There has been inconsistency across the country as to how government agencies have responded to their employees refusing to issue same-sex marriage licenses.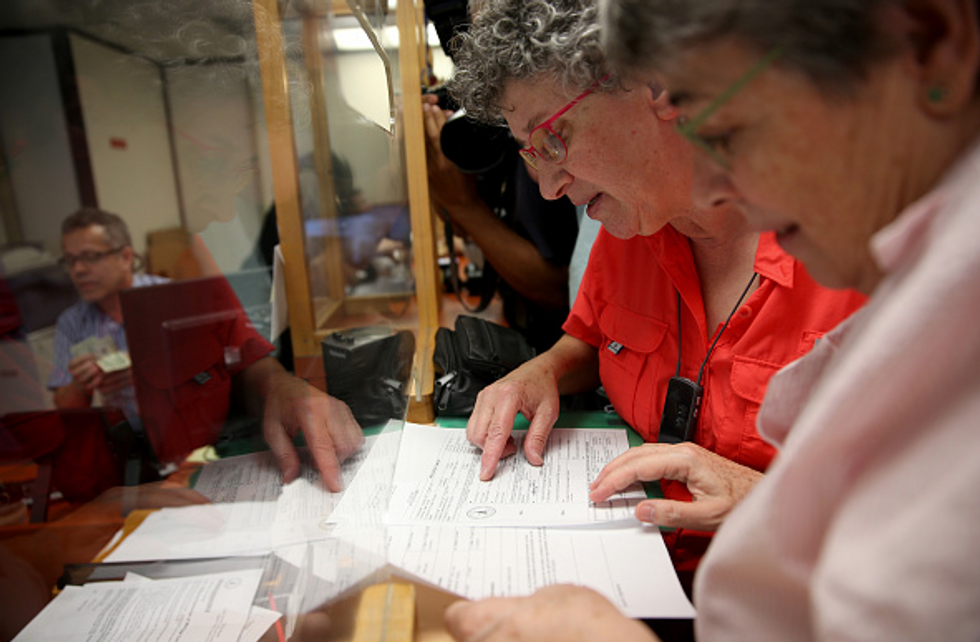 Deborah Shure (L) and Aymarah Robles apply for their marriage license at the Clerk of the Courts - Miami-Dade County Court. (Photo by Joe Raedle/Getty Images)
TheBlaze has reported on Kentucky's Kim Davis who refused to issue a license in Rowan County. In Texas, Hood County spent over $43,000 on lawyer's fees when county clerk Katie Lang refused to provide a marriage license to a gay couple (the county ultimately settled out of court and the individuals got their marriage license). According to USAToday, Indiana's Harrison County fired a clerk for refusing to issue marriage licenses. The employee was fired not for refusing two gay men at the service desk, but rather after asking her supervisor, in writing, to be exempted from providing same-sex marriage licenses.
Clearly the U.S. is in a period of flux on these issues and it is increasingly likely that public servants will be targeted by gay rights advocates. This appears to be happening in Hood County: although County Clerk Katie Lang publicly said she would not issue the licenses, she also put the public on notice that staff is available to provide such documents. Here is the text from her website:
The religious doctrines to which I adhere compel me to personally refrain from issuing same-sex marriage licenses. Nonetheless, the County Clerk's Office of Hood County will have staff available and ready to issue same-sex marriage licenses.
If Hood County was to have staff available, then why the controversy? True, in many of these cases religiously-oriented county clerks have moved slowly to comply with the Supreme Court's decision, but others in their offices are available to provide the marriage licenses.
What is happening is an intimidation campaign. These clerks are being deliberately targeted as bigots and law-breakers in order to force city and county offices to acknowledge and legitimize same-sex marriage, and thus scare off opponents.
Similarly, in the Indiana case, there were other employees apparently available to provide same-sex marriage licenses, but the county nonetheless took the draconian step of dismissing the employee. A city or county that protects its employees is likely to be attacked with expensive lawsuits, often funded by outside groups.
Gay rights activists shout slogans outside the US Supreme Court building in Washington, DC on June 26, 2013. Credit: AFP/Getty Images
What is to be done? Individuals, buttressed by religious freedom advocacy organizations, can continue to fight in the courts for religious freedom exemptions from providing same-sex marriage licenses.
Will they win? It does not seem likely. What seems far more likely is that in the next six to 12 months these exemptions in government agencies will be increasingly limited, if not eroded all together, at least for Christians.
There is plenty of work to be done in municipal offices, so one would think that the religious convictions of people like Katie Lang could be respected rather than violated in the prosecution of their duties. But, it will take smart, ethical civic leaders to manage their local bureaucracies in ways that avoid a clash between gay activists and the clerical staff behind the counter. Katie Lang deputized this function to someone without such scruples and yet Hood County was still involved in the lawsuit because the marriage license alone was not the end goal. Hence, ad hoc arrangements that protect local employees' religious convictions will not last long, except in isolated pockets.
What does that leave? It is hard to believe that Justice Kennedy's partial defense of religious freedom, or better religious accommodation, will stand up for government employees, but it makes for good reading: "it must be emphasized that religions, and those who adhere to religious doctrines, may continue to advocate with utmost, sincere conviction that, by divine precepts, same-sex marriage should not be condoned."
What is most likely is that this will apply to private citizens and their private views, not the views and behavior of government employees.
Unless a robust Supreme Court ruling (or constitutional amendment) re-affirms and extends a religious freedom doctrine on this issue, then affected government employees with a strong religious conviction on traditional marriage will have to resign or transfer.
Observers of government departments may see a wave of transfer requests, retirements, and resignations in the next 12-24 months as people with faith-inspired, traditional views on marriage depart. This would be a tragedy for communities and agencies across the country, because the U.S. is already facing a government retirement wave of Baby Boomers with too few younger people qualified and interested to meet the demands of public service. But such a purge would be perfectly acceptable to the same-sex marriage advocates. In fact, that may be their primary goal.
Eric Patterson, Ph.D. is Dean of the Robertson School of Government at Regent University.
–
TheBlaze contributor channel supports an open discourse on a range of views. The opinions expressed in this channel are solely those of each individual author.