While a coalition of attorneys general from across the U.S. are working to silence free speech and honest scientific inquiry, Sarah Palin is laying waste to the political agenda behind global warming alarmism in a manner that others should follow.
Palin, the former Republican governor of Alaska who ran for vice president in the 2008 election cycle, took part in a panel discussion that probed into the science of global warming prior to a screening of the film "Climate Hustle" on Capitol Hill this past Thursday. She was joined by Marc Morano, the film's main star and narrator, and David Legates, a geography professor and prominent climate skeptic at the University of Delaware. Brent Bozell, president and founder of the Media Research Center, served as the moderator.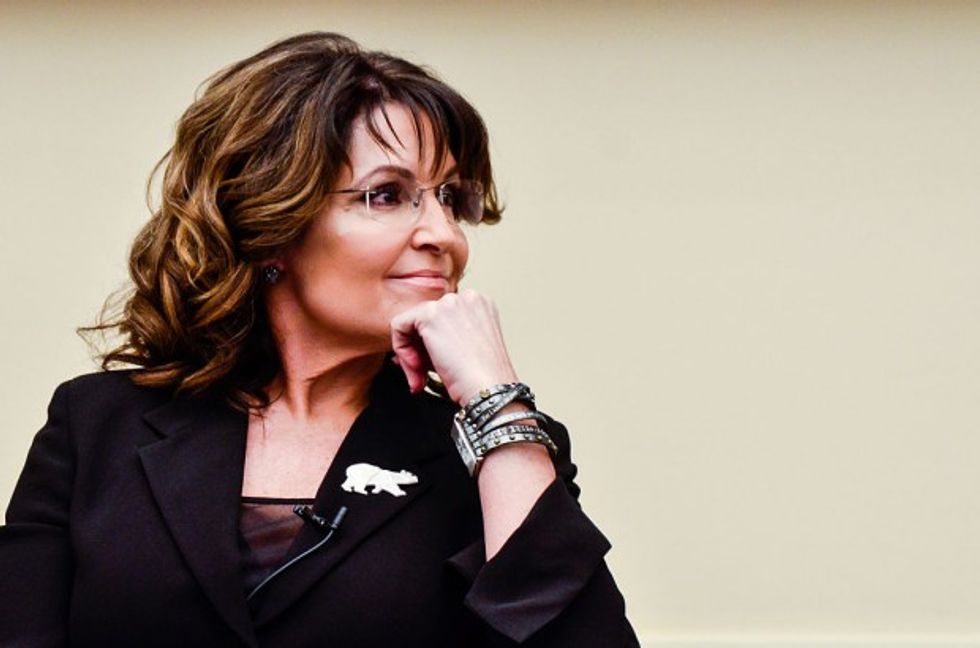 Former Governor Sarah Palin speaks during the 'Climate Hustle' panel discussion at the Rayburn House Office Building on April 14, 2016 in Washington, DC. (Kris Connor/Getty Images)
Contrary to what has been widely reported in the mainstream media, "Climate Hustle" demonstrates that the debate over climate change is far from over. The documentary includes interviews with well-credentialed scientists and researchers who doubt human activity is the primary driver of climate change. Prominently featured in the film are scientists who previously embraced alarmist viewpoints, but now identify with climate skeptics.
Bozell cut right to heart of the matter when he asked Palin what she makes of the raging controversy over climate change "from a policy perspective." Her answer is instructive because it comes at a time when high-ranking government officials have accused fossil fuel companies, free-market organizations and individual scientists of "misrepresenting" their knowledge of the science behind climate change. There's also the RICO 20 letter several taxpayer-funded climate alarmists sent to President Obama and other administration officials last fall that claims climate skeptics have "knowingly deceived" the American public. But in reality, these accusations should be turned back onto the political activists masquerading as objective scientists who know full well that alarmist projections based on faulty modeling through the United Nations have not materialized. That's the point Palin made.
"There is an agenda of those who are controlling the narrative on changes in the weather," she said during the panel discussion in response to Bozell's question. "It used to be called global warming, now it's climate change - there's a political agenda."
Palin then made the critical observation that the people responsible for pushing the political agenda know full well that they are "erroneously delivering" flawed data to the public to make them believe that they can somehow control the weather. The goal here, Palin said, is to "grow government and allow government to have more control."
She added: "There is an inherent link between energy, security and prosperity" that is jeopardized by the political agenda standing behind the "myth" of man-made global warming.
Unfortunately, the political agenda aimed at growing government under the guise of catastrophic climate change appears to be picking up steam. Legates, the climate skeptic from the University of Delaware, draws a historical parallel with what happened in the Soviet Union in the 1920s. Scientists who did not toe the government line during that era were "excommunicated" - or worse - to make way for Soviet "pseudoscience," he explained.
Back in March, New York Attorney General Eric Schneiderman joined with former Vice-President Al Gore and other state attorneys general at a press conference in New York to announce an "unprecedented coalition of top law enforcement officials" that are committed to taking action against anyone who questions alarmist theories linking human activity with global warming. Although the coalition calls itself "AGs United for Clean Power," it does not appear to be operating in the public interest and instead carrying the water for far-left green activists.
Take a good look at the coalition's membership and you will find that 16 of the 17 attorney generals are Democrats. The Virgin Island's Claude Walker is an independent. He's the one who served a subpoena on the Competitive Enterprise Institute calling on the free-market think tank to turn over documents related to its research on climate change. Meanwhile, Schneiderman has teamed up with California Attorney General Kamala Harris to prosecute ExxonMobil for allegedly deceiving its shareholders and the public about the science of climate change.
While honest scientists are beginning to push back they remain at a disadvantage inside government and the academy, Legates told audience members.
"A lot of scientists toward the end of their career will say that there really isn't a consensus after all," he said. "Science is not driven by consensus, it is driven by questioning and asking and getting different opinions. It is not simply saying we know the answer."
But that's the rub. Scientists in government and the academy feel like they can't speak up early in their careers without jeopardizing their position, Legates laments.
"Climate Hustle" takes direct aim at the notion that 97 percent of scientists agree that human activity causes catastrophic climate change. The figure collapses under careful scrutiny, according to the key figures appearing in the film. Morano, the film narrator who also edits and publishes the Climate Depot site, addressed the sleight-of-hand.
"Climatologists will say that the way the question is worded depends on whether they are included," Morano said. "We have many skeptical scientists included as the 97 percent because of the way the questions [in surveys] are asked are so vague and broadly worded…"
The 97 percent figure is a "bogus figure" that does "influence group think" among too many state lawmakers who should be asking more questions, Palin said. "The peer pressure among lawmakers is very strong and they don't want to go rogue."
Show times for Climate Hustle are available on its home page.
–
TheBlaze contributor channel supports an open discourse on a range of views. The opinions expressed in this channel are solely those of each individual author.