Two events collided this week to suggest that the Democrat presidential primary may not be so boring after all. The inevitable nominee Hillary Clinton announced that her husband's signature Crime Bill was a failure. Sen. Bernie Sanders (D-Vt.) decided that her candidacy for president wasn't so hot either.
In September 1994 Mrs. Clinton applauded as President Bill Clinton signed his signature criminal justice reform known as the Crime Bill.
Last Tuesday Mrs. Clinton was the keynote speaker at the David N. Dinkins Leadership and Public Policy Forum in New York City. She didn't reference her husband's legislation, but she did argue that justice was failing.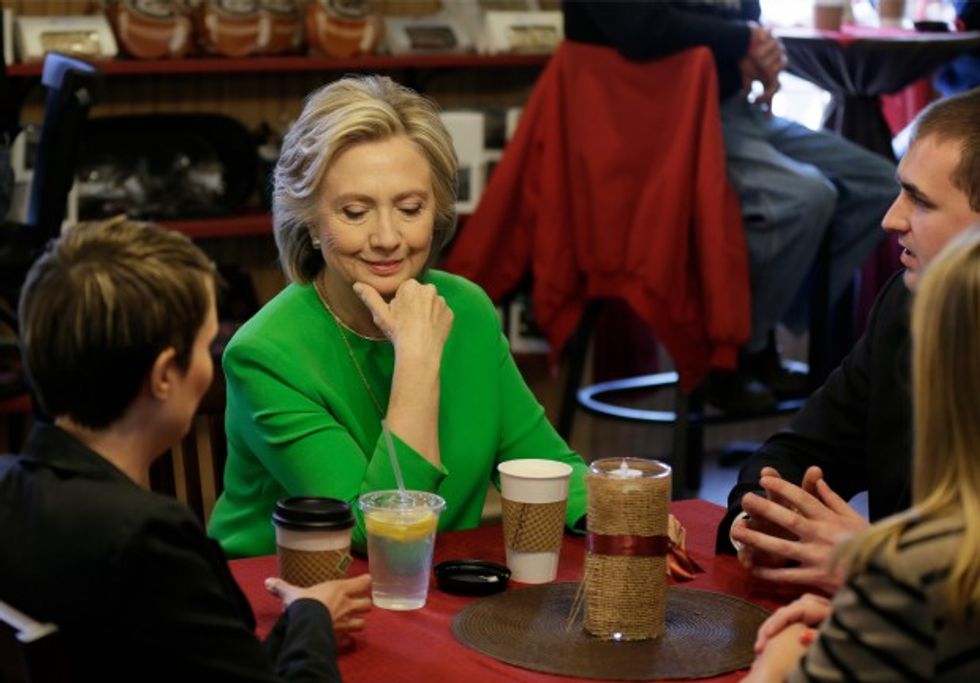 Democratic presidential candidate Hillary Rodham Clinton meets with local residents at the Jones St. Java House, Tuesday, April 14, 2015, in LeClaire, Iowa. (AP Photo/Charlie Neibergall)
The Violent Crime Control and Enforcement Act of 1994 was the most comprehensive reform of criminal law in the history of our nation. It was designed to satisfy every corner of Democrat politics.
Fifty new federal offenses were added to the books including hate crimes, sex crimes and gang-related crimes. Sixty new offenses became eligible for the death penalty.
Nineteen semi-automatic weapons were defined as "assault weapons," largely by how mean they looked, and were banned for 10 years. The tens of millions of semi-automatic deer rifles didn't look mean and were left untouched.
The Violence Against Women Act was made a part of the bill adding Safe Streets for Women and Safe Homes for Women
The Community Oriented Policing Services Act, known as the COPS Act, promised 100,000 new cops on the streets paid for by Uncle Sam for the first year.
After five years those 100,000 new dues paying union members became the responsibility of local jurisdictions.
Forty million of the money committed was for midnight basketball and became the symbol of liberal prescriptions for social ills.
As proposed, each league had to have a minimum number of teams, a minimum number of players per team with a minimum number of those players coming from areas in the community that had a high incidence of HIV/AIDS.
Liberals can fine-tune a basketball league to conquer AIDS.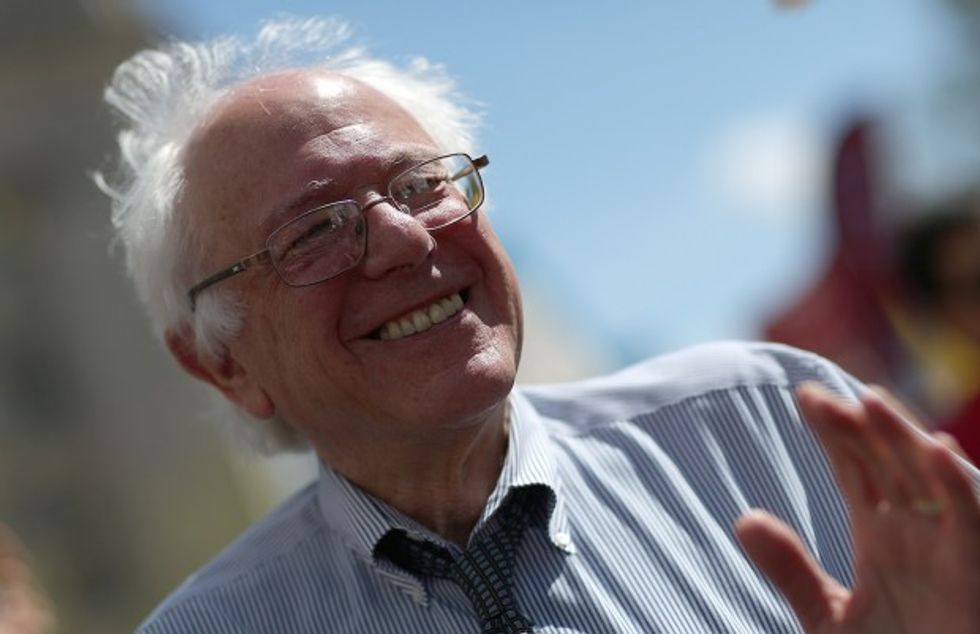 U.S. Sen. Bernie Sanders (I-Vt.) participates in a 'Don't Trade Our Future' march organized by the group Campaign for America's Future April 20, 2015 in Washington, D.C. (Photo by Win McNamee/Getty Images)
Mrs. Clinton didn't address midnight basketball on Tuesday. She did, though, suggest that our "recent tragedies" were ignorant of her husband's epic reform and urged change.
"We have allowed our criminal justice system to get out of balance. And these recent tragedies should galvanize us to come together as a nation to find our balance again."
The last 25 years, during which Mrs. Clinton was a major player, did not lack for legislation protecting certain classes of citizens. Gays and women come to mind.
During Mrs. Clinton's eight years in the senate she voted for them all and held press conferences taking credit.
Sen. Sanders voted for them too. His only argument against the Crime Bill was that it didn't spend nearly enough. He had the same problem with virtually every spending measure he confronted.
On the same day that Mrs. Clinton was talking about crime in New York, Sen. Sanders said that he would be a candidate for president.
This is going to be interesting several months. If Tuesday's speech on crime was any indication, Mrs. Clinton will try to skate through the year with gauzy platitudes.
"Mothers and fathers who fear for their sons' safety when they go off to school—or just to go buy a pack of Skittles..."

"These challenges are all woven together. And they all must be tackled together."

"How many young people can go to college without breaking the bank..."

"How many children climb out of poverty and stay out of prison..."
While Mrs. Clinton will luxuriate in platitudes, Sen. Sanders will do the opposite. He will talk very specifically about the rich and the poor; about Main Street and Wall Street; about Iraq; about money being wasted on a bloated Department of Defense.
Forty-seven years ago President Lyndon Johnson was struggling with Vietnam. Sen. Gene McCarthy (D- Minn.) ran against him demanding an end to the war.
On March 12 McCarthy got 42 percent of the vote in New Hampshire.
On March 31 President Johnson addressed the nation. He spoke about Vietnam and then said, "Therefore I shall not seek, and I will not accept, the nomination of my party for another term as your president."
McCarthy didn't have a prayer of being president and neither does Sanders. But McCarthy ended a presidency and Sanders will likely prevent one.
There is one thing that we know about inevitability. It works real well until it becomes evitable.
–
TheBlaze contributor channel supports an open discourse on a range of views. The opinions expressed in this channel are solely those of each individual author.