Jonathan Boldt
I'm a pretty lucky guy.
I am blessed to have found a wife that has kept me grounded and been there to counsel and support me in every up and down that has come our way over the past 11 years. Another source of strength and power I have relied on is prayer and the Word of God.
In Proverbs 13:20, Solomon gave the wise council "He that walketh with wise men shall be wise: but a companion of fools shall be destroyed."
Sen. Mike Lee, R-Utah, addresses the Utah Republican Party nominating convention, Saturday, April 26, 2014, in Sandy, Utah. About 4,000 Republican delegates gathered for the convention Saturday to pick the party's candidates for four congressional seats and nine legislative races. (AP Photo/Rick Bowmer) AP Photo/Rick Bowmer
As a writer/journalist, I am also lucky to have met people that "get it" and have been a source of inspiration and give me hope that we might just make it as a society. A few years ago, I wrote an article about the government shutdown and was able to interview Utah Sen. Mike Lee and I would now call him a friend.
Lee has endorsed Sen. Ted Cruz and is an honest man and strict constitutionalist. During in this crazy political season, he took a few minutes on the campaign trail to chat with me and answer a few questions I know a lot of people have.
I know I'm not the only Cruz supporter that has had to invest in truckloads of spare duct tape – to keep my head from exploding when talking to Donald Trump supporters – so I picked Lee's brain and asked him to explain just how this system works and if Cruz actually has a shot at the nomination.
I thought he might have run into the same problem so I asked if he's had trouble explaining the nuts and bolts of a contested convention.
"Not everybody is interested in the question. For those who are interested in it, they grasp it quite readily when it's explained to them," Lee said.
"I think it is important to remember there are differences from a democracy, and one of the features of a constitutional republic is that in addition to having government decisions made by people's elected representatives, there are also limitations placed on the government itself. And that's important."
He also had an interesting point on the claims Cruz is playing dirty tricks to pick up delegates.
"Some of the Trump supporters are saying 'Oh that's wrong, you stole it' – that's a good example of that we're not just a republic and not a pure democracy, more to the point, that one was about political parties and the government are two different things. A political party, in theory, can choose whatever type of candidate selection system it wants to," Lee said.
Lee also pointed out the hypocrisy coming from Trump supporters.
"It's my understanding that the Trump campaign has not complained at all about the rules in Colorado for the last year or so until they realized they were going to lose," Lee said.
Another complaint from pundits is that this hotly-contested primary season could turn into a hostile convention and cause harm to the party. Lee explained the rules are actually set up to prevent us from falling into chaos, not to cause it.
"There are certainly ways the convention could be handled that could prove destructive to the party but I don't think following the procedures we have in place should be viewed as destructive at all. That's why we have them, as a kind of safety net," Lee said.
A lot of people are fearful nonetheless, but that's just because we have gone a generation without having to experience this scenario.
"In 1976, Ronald Reagan went to the convention and it was contested, it was heated, there were emotions that ran very, very high. Even at the end of it when Ronald Reagan lost and Gerald Ford lost the election that fall, different camps had a temptation to blame the others," Lee said.
"The Reagan supporters were blaming Ford and the Ford supporters blaming Reagan for the loss, but the party still came back together. Then four years later the party nominated Ronald Reagan and he won. Contested conventions, while not the modern norm, have occurred with some regularity through history. So we shouldn't look at it with such suspicion."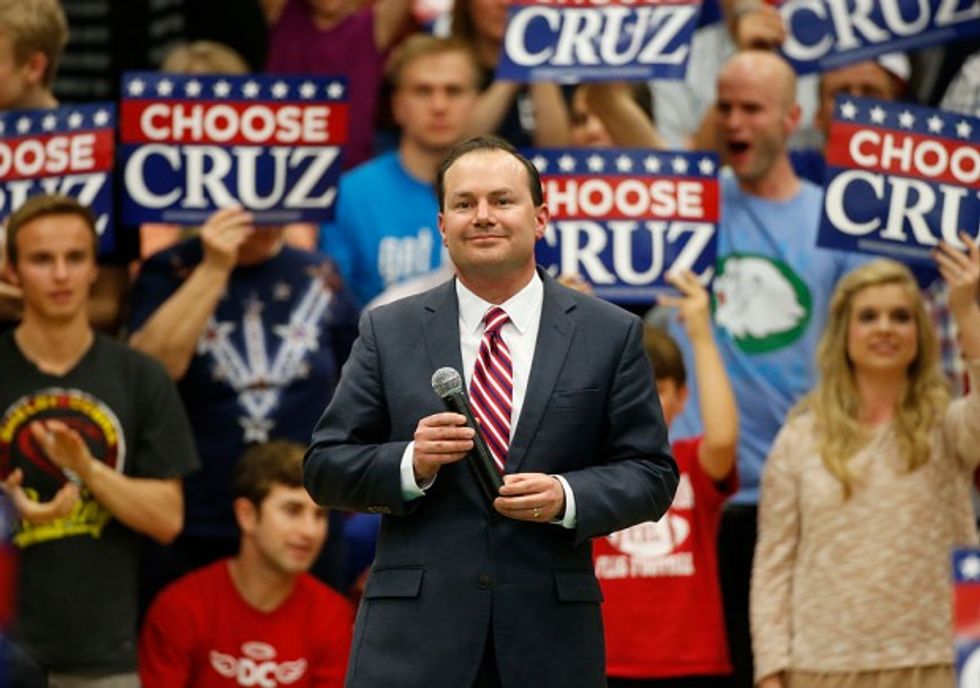 PROVO, UT - MARCH 19: Utah Senator Mike Lee, speaks at republican presidential candidate Ted Cruz campaign rally on March 19, 2016 in Provo, Utah. The Republican and Democratic caucus will be held in Utah on Tuesday March 22, 2016. (Photo by George Frey/Getty Images
Understanding history helps to see how we can navigate the future. This knowledge helped me to see this could be a huge moment in the history of our country and not necessarily something to fear. That being said, is it possible for Cruz to come out of this as a strong general election candidate? Lee was more than emphatic with his opinion.
"Oh absolutely, absolutely! Because Ted Cruz is an honest man, he is an honorable man and I think that is going to come through," Lee said. "I think that's one of the things people will see at the convention when they have the opportunity to listen to him. I think his integrity is going to stand out and he has the ability to bring the party together."
I was in attendance at a Cruz rally at Provo High School just before the Utah caucuses with Lee and Cruz's recently announced running mate, Carly Fiorina and there was something different there. My wife and I were impressed with the energy and the vibe from the supporters and the positive messages from Lee, Fiorina, Cruz and conservative radio host and TheBlaze founder, Glenn Beck. My wife, who as I said has been my wise council, was stricken at how much different the message felt in person and all doubt about Cruz was removed for both of us.
When Cruz announced his campaign last March, I felt impressed there was something different about him and he would be our next president. While things might look dire now, even Senator Lee feels there is an energy that separate's Cruz from all the other candidates.
"Yes, this is a very high energy campaign. Not just within the campaign, not just among campaign staff and volunteers but also among his supporters. It's a higher level of energy and intensity than you see in almost any other campaign anywhere. And I just think there are a lot of indications that it makes a lot of sense that he will be the nominee," Lee said.
I pray that everyone can be as lucky as me and find a spouse or significant other who will make you the best version of you. And if you can't be as lucky to find a friend like Sen. Mike Lee, find people you trust and trust your gut.
Regardless of who our next president is, no one person can make 'America Great Again' – America is only as great as her people. Work to make yourself better a little each day, keep good company and be good company and we will make the world great again.
Jonathan Boldt is a daily contributor for GlennBeck.com. He studied journalism at Utah Valley University and interned at the Deseret News in Salt Lake City. He has since worked as the sports editor for papers in Oregon and New Mexico.
–
TheBlaze contributor channel supports an open discourse on a range of views. The opinions expressed in this channel are solely those of each individual author.