**The following is an in-depth review of "Snowden" and does contain spoilers*
With Oscar season upon us, movie theaters will be flooded with indie movies and films based on true stories.
The latest in this year's run of Oscar hopefuls is Oliver Stone's "Snowden," a profile on NSA hacker Edward Snowden and how he stole hundreds of classified files from the U.S. government which proved that they were - in fact - spying on every day American citizens.
The film begins with Snowden - played by Joseph Gordon-Levitt - in basic training for the U.S. Army. The film is a little sketchy as to how far in training Snowden had gotten, but his training is cut short when he breaks his leg falling from his rack and is given a medical discharge. As it turned out, he had marched on several stress fractures for weeks and the fall from the top bunk shattered his leg to pieces.
After being medically discharged from the Army, Snowden was soon recruited by the state department as a private contractor to process intelligence information retrieved by the CIA and NSA. It was here that Snowden begins learning that U.S. intelligence organizations were not just spying on foreign targets or people with obvious ties to terrorism, but on every day US citizens doing normal every day things.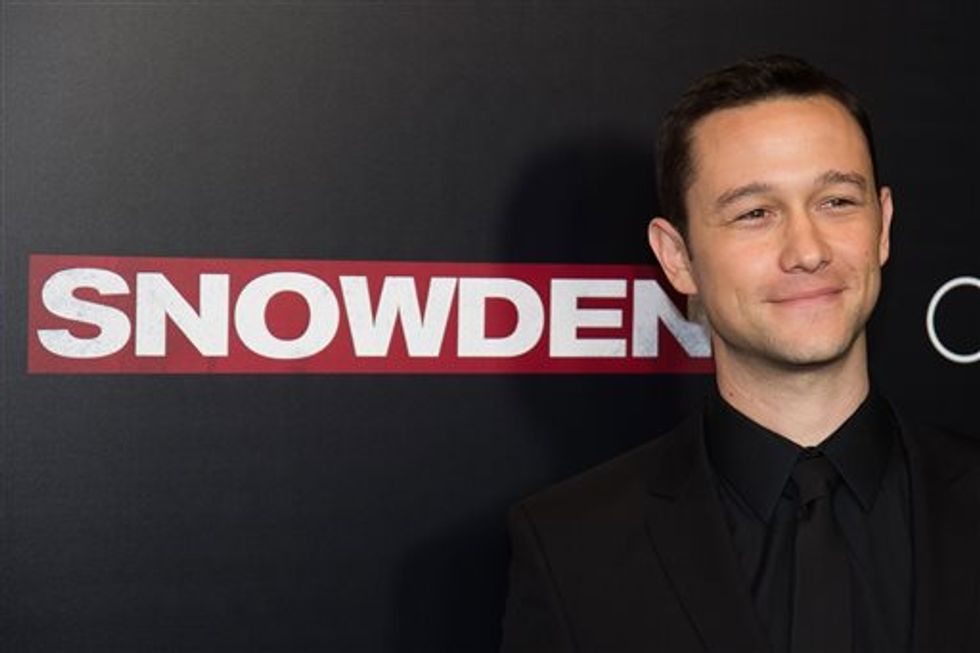 Joseph Gordon-Levitt attends the premiere of "Snowden" at AMC Loews Lincoln Square on Tuesday, Sept. 13, 2016, in New York. (Photo by Charles Sykes/Invision/AP)
Snowden is torn between his own patriotism and his feelings that reading the private emails and text messages of U.S. citizens is wrong and a violation of the U.S. Constitution. While he would like to be able to talk to his girlfriend about his inner turmoil, he can't because of the classified nature of his job. This causes problems between them.
Eventually, overcome by his convictions, Snowden decides to steal the intelligence information from the state department and go public with it. He smuggles the information - quite cleverly - out of the state department on a micro SD card hidden inside a Rubik's Cube.
Structurally, the film begins with Snowden giving his first interview to Ewen MacAskill of The Guardian. The meat of the story is then told in flashbacks as he relates his story to the journalist. This structure is pretty much par for the biopic course, and "Snowden" doesn't really bring the audience anything new in that regard.
Thematically, the film is the story of a reluctant hero. A lowly IT guy who only wants to serve his country and discovers the evil plots of the US government and against all odds does everything he can to bring that information to the people. The Snowden of the film comes off as extremely humble and mild-mannered. The film portrays Snowden who was only looking out for the best interest of his country, and by country he meant the people and not the government.
As with many Oliver Stone movies, "Snowden" can be rife with inaccuracies that serve to build the narrative Mr. Stone wants to tell. The film portrays Snowden as someone who wrestled with his conscience for years until he just couldn't take it anymore and pulled off his information liberation with one big heist and in under five minutes. The truth is, Snowden had been funneling information out of the NSA for almost a year before he went public.
The film definitely wants to frame Snowden in a particular right. What Snowden's real motives were remain known only to Edwards Snowden himself. Maybe he is a reluctant hero who only wanted to expose the severe lack of transparency within the government. Maybe he had more nefarious motives. We will probably never know the truth.
What is important, however, is that the mass surveillance of the entire country by the government is something that needed to be brought to light. That is probably the film's greatest strength: it's a story that needs told. The simple fact is that Edward Snowden just isn't that interesting of a person, and the film reflects his this. It can, at times, be an extremely boring and uninteresting film.
"Snowden" portrays itself as a political espionage thriller. It most definitely isn't. It's a drama, and only a mildly interesting one at that. Perhaps a tighter film could have been constructed with a much shorter run time. As it is, the audience tends to lose interest in the middle, but gets perked up again when Snowden actually begins to carry out his information heist.
"Snowden" isn't a bad film, but it also isn't a particularly good film. It's a pretty standard biopic about a mostly less than extraordinary person, and it fudges the facts to create a one-sided narrative. The film does have a message that needs to be seen, but the exact facts presented should mostly be taken with a grain of salt.
Whether it was intentional or not, "Snowden" could stand to hurt Hillary Clinton in the upcoming presidential election. Hillary was - after all - the head of the state department during the brunt of Snowden's time as an NSA analyst, and she is the only candidate who voters can hold culpable for the scandal. Oliver Stone is known for the liberal bias in his films, but he makes no attempt to shield Hillary from blame in this one.
"Snowden" currently holds a 59 percent on Rotten Tomatoes.
William Avitt will be appearing at Cincinnati Comic Expo in Cincinnati, Ohio on Saturday September 24. He will be hosting a panel on film criticism at 11am in Rm. 233 and will be on the convention floor all day.
–
TheBlaze contributor channel supports an open discourse on a range of views. The opinions expressed in this channel are solely those of each individual author.