Gen. John Allen endorsed Hillary Clinton at the Democrat Convention. He said that with her "our international relations will not be reduced to a business transaction."
Really? Is it possible that a four-star general doesn't know that former-Secretary of State Hillary Clinton approved the transfer of 20 percent of our uranium to Russia in return for millions of dollars in donations to the Clinton Foundation?
He reminded me that there are two types of generals – war-fighters and politicians. Allen is not a war-fighter.
Nearly 20 years ago I sat through an unusual meeting to discuss war. Sitting on my side of the table were seven members of the Republican leadership in the House of Representatives. Sitting across the table were then-Secretary of Defense Bill Cohen, Secretary of State Madeleine Albright and Chairman of the Joint Chiefs of Staff Hugh Shelton. A top Bill Clinton White House official had escorted them to the speaker's office.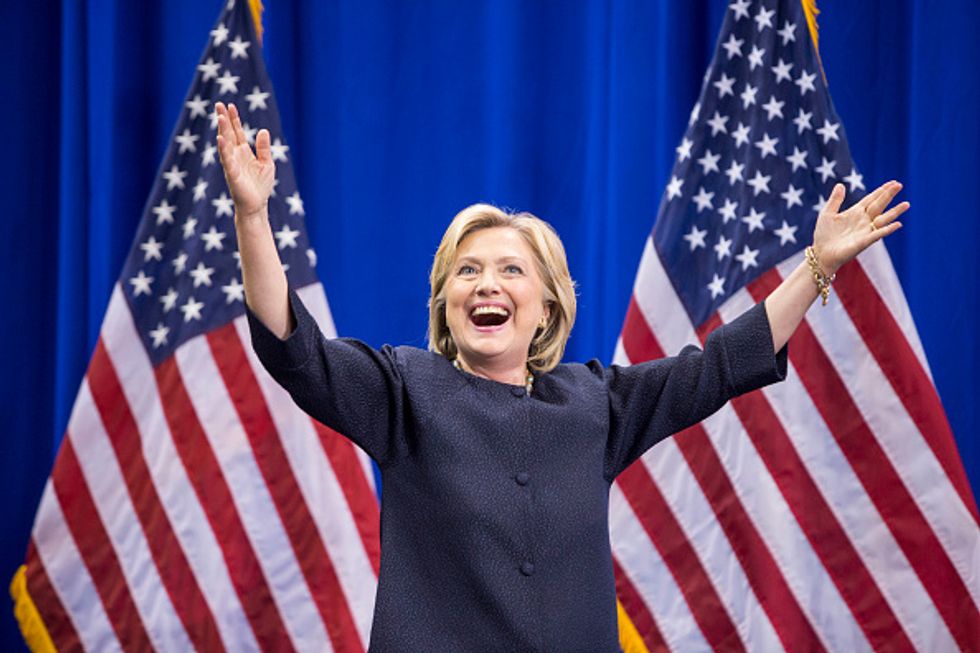 Hillary Clinton speaks at an event. (Scott Eisen/Getty Images)
They had come to explain that we bombed an aspirin factory in Sudan believing that it was a facility for making chemical weapons. The attack came three days after President Clinton was deposed about Monica Lewinsky and on the very day that Ms. Lewinsky testified for the second time before the grand jury.
Appropriations Committee Chairman Bob Livingston nearly came out of his seat. "THIS IS WAG THE DOG!" He roared. Bob was never very nuanced.
Some of the questions from our side of the table were in anger and some were in disbelief. My judgment was that this meeting should not have taken place. We didn't believe anything they said.
These were some of the top leaders in our nation. I wondered how they could stoop to this. Finally, I looked at Gen. Shelton and Secretary Albright and said, "I'm embarrassed for you."
Actually I wasn't that embarrassed for Albright. She was a political operative and was just doing her job.
Gen. Shelton's role was different. He had spent a lifetime in service to his country. He had been a war-fighter. He earned the Bronze Star in combat. He had been the Commander in Chief of the U.S. Special Operations Command. And now he was just another apologist for a political act.
The war-fighter had become a politician.
Allen's endorsement of Hillary Clinton is only the most recent example of politics in our military.
Sometimes war-fighters are confronted with politics in a very personal way. I had a friend who served a lifetime in the Army. He was Airborne. For those of you not familiar with that - it's a big deal.
He had fought in Korea and Vietnam and went on to important positions in the Pentagon. He was a graduate of all of the War College courses.
General John Allen (Photo Credit: AP)
Finally he received the notice that his service had earned for him a star. He was to become a general.
Then he got a letter saying that he was being removed from the list. After some inquiries he discovered that he was removed because higher-ups wanted more African American generals. Sorry about that.
Chairman of the Joint Chiefs Gen. Martin Dempsey defended the political decision to not go to the aid of Americans under fire in Benghazi. He said we didn't have enough information to send troops in.
In fact the C-110, a team of 40 men trained for situations exactly like Benghazi, was training in Croatia and could have been in Benghazi in a few hours. They couldn't get the approval from the State Department.
There are not two other commanders in the military who would defend not going to the aid of Americans under fire. War-fighters don't ask when. They ask where.
It was just 56 days before the 2012 election and Dempsey saluted presidential politics.
Putting women in foxholes with men in battle is another decision that political generals applaud and war-fighters reject. The claim that this makes us stronger is just silly on its face.
Now we are hearing from the political generals that putting mentally confused transgendered people on the front lines would be good for our national defense.
These generals are thinking about being appointed to the Joint Chiefs, not winning wars.
Our problem is we have too many generals and admirals who see themselves as the next chairman of the Joint Chiefs.
With 1.3 million men and women in uniform we have 1,000 flag-rank officers commanding them. At the end of World War II we had 12 million in uniform and 2,000 generals and admirals commanding them.
It's time to retire about three-fourths of our flag-ranked officers. It's time to get back to politicians seeking political power and generals seeking victory.
If you would like to be added to John Linder's distribution list please send your email address to: linderje@yahoo.com or follow on Twitter: @linderje
–
TheBlaze contributor channel supports an open discourse on a range of views. The opinions expressed in this channel are solely those of each individual author.