While promoting the new film "Star Trek Beyond" in Australia, actor John Cho - who plays Hikaru Sulu, the character originally played by George Takei - revealed that his character will become the first openly gay character in the Star Trek franchise history.
This revelation would seem to contradict Star Trek canon, which explicitly stated Sulu made time for a family and has a daughter in "Star Trek Generations." While some think the choice to make Sulu gay was made to pay homage to the original actor (who is an openly gay activist) many fans of the franchise aren't taking it very well.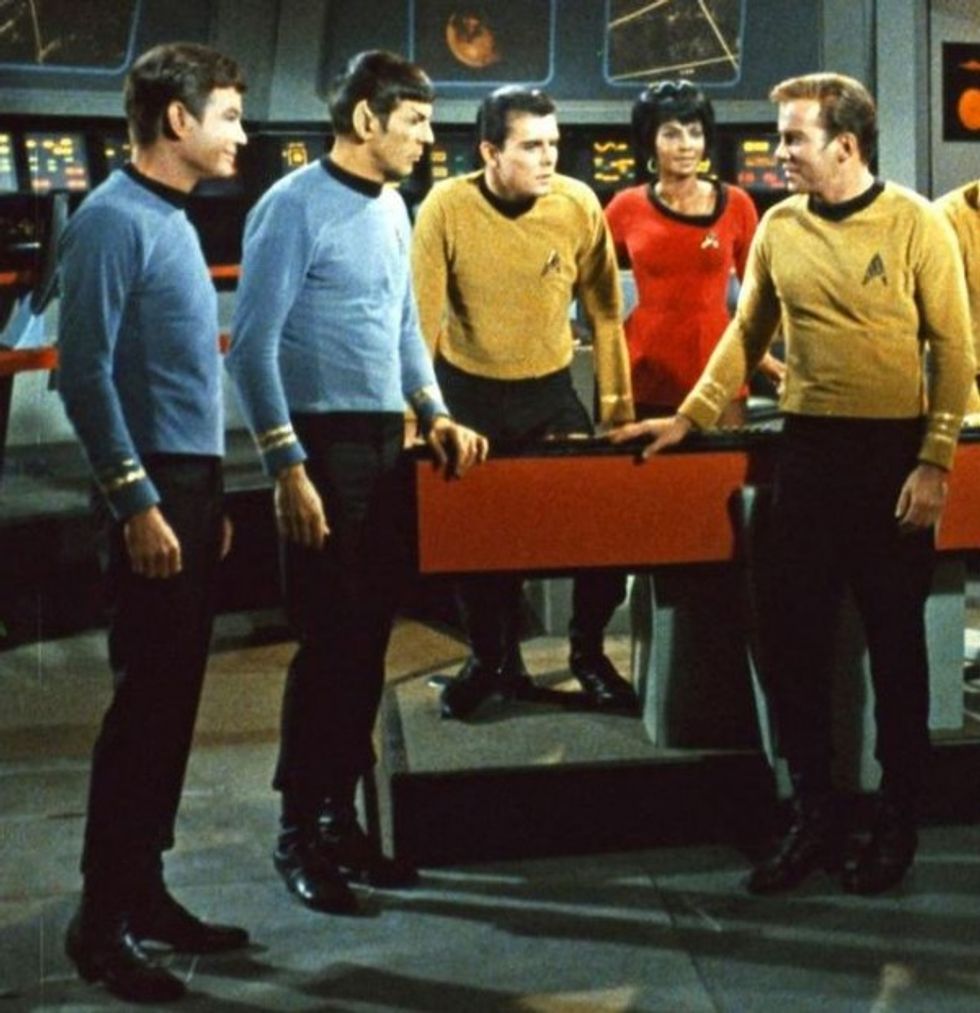 This undated In this undated file photo released by Paramount Pictures, DeForest Kelley, left, Leonard Nimoy, second left, Nichelle Nichols, second right and William Shatner, right, appear in a scene from the TV series "Star Trek." (AP Photo/Paramount Pictures, File)
This isn't the first time fans of a popular franchise have felt cast aside for the sake of forced diversity and pushing of social justice agendas.
The all-female "Ghostbusters" reboot - which was clearly made for the sake of pushing a feminist agenda - comes immediately to mind. The racially bent casting of popular caucasian characters - such as Jimmy Olsen on "Supergirl," and Johnny Storm in the most recent "Fantastic Four" film - as well as the pushing of agenda-driven hashtags on social media have become more and more prevalent in recent years.
Those on the left claim that these decisions are natural and that protestors are only opposed to having more diversity in popular culture. They want you to believe that the social justice movement is about equality, but their actions don't bear this out. These are the same people who had a collective cow when Scarlett Johansson was cast to be play a traditionally Japanese character in the film adaptation of "Ghost in the Shell." When a white actor is cast to play an ethnic character, suddenly it becomes white washing and cultural appropriation.
Seriously, though, is the left just incapable of making a consistent case for anything?
Either it's about the best actor getting the part or it's about staying true to the characters. You don't get to have it both ways when it suits your personal agenda.
Normally, such a subtle tribute like this one to a former actor would be celebrated by everyone. Unfortunately, this kind of thing is happening so often these days that it's hard for fans to see this as anything other than just more of the same. Paying tribute to George Takei in such a manner becomes all the more problematic when you're reminded of Takei's racist tirade against Supreme Court Justice Clarence Thomas, when Takei called the justice "a clown in blackface."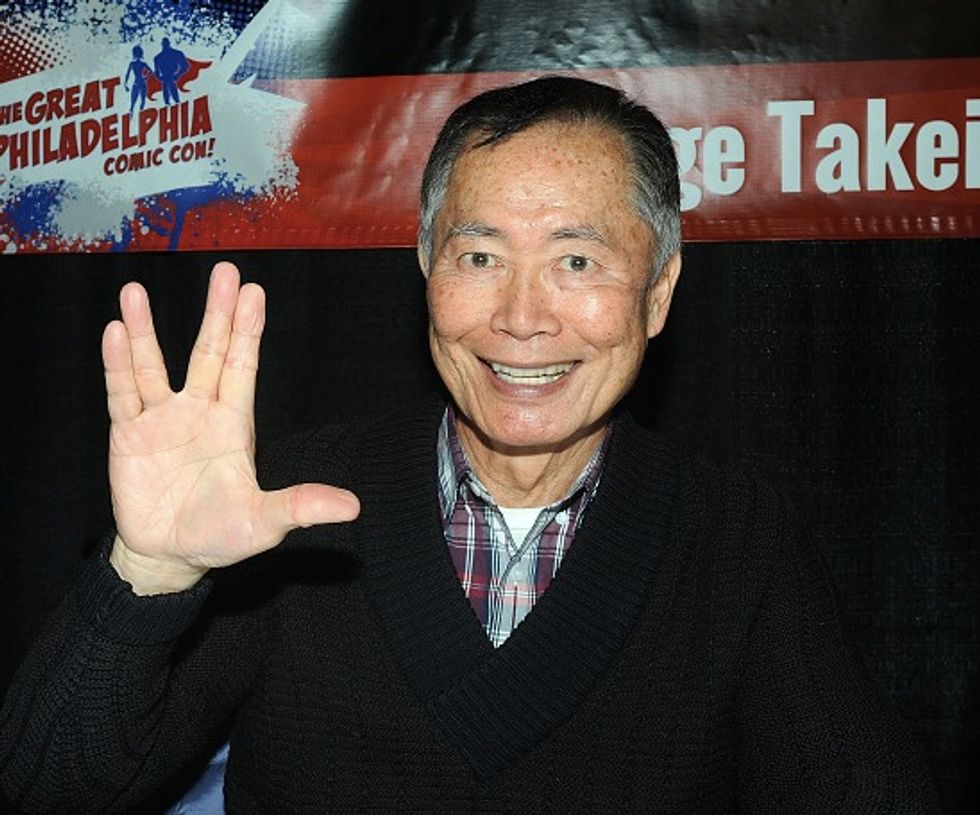 George Takei attends the 2015 Great Philadelphia Comic Con at the Greater Philadelphia Expo Center on April 4, 2015 in Oaks, Pennsylvania. (Photo by Bobby Bank/WireImage)
One is left to wonder if William Shatner would be celebrated after making such comments.
The social justice movement is doing themselves more harm than good in these endeavors. With their inconsistencies and cries of racism or sexism or homophobia - of course without any evidence to back it up - it becomes increasingly difficult to take them seriously. In fact, the only group who has remained consistent on these issues has been the fans.
Those on the left are quick to call geek culture fans sexists or racists, yet they are the only group to consistently decry these types of things when they go against the characters. The same people who were upset about a black Human Torch were also upset over the casting of Scarlett Johansson in "Ghost in the Shell." They rail against hashtags such as #GiveCaptainAmericaABoyfriend while also complaining that "Deadpool's" pansexuality isn't really mentioned in the film. Fans are the only group who seem to mean everything they say and are willing to back it up.
While casting the best actor for a particular role should be paramount when making a movie, the left makes it so much harder to defend those decisions when they go around with this kind of nonsense almost non-stop. It begins to become less about equality or making the best product possible and more about punishing fans and characters alike for the crime of being straight, white males.
"Star Trek Beyond" is scheduled for release on July 22, 2016.
–
TheBlaze contributor channel supports an open discourse on a range of views. The opinions expressed in this channel are solely those of each individual author.