The buzz all weekend has been that Sen. Ted Cruz (R-Texas) would be making a big announcement.
Cruz made the announcement that he will be running for the office of the president in 2016 shortly after midnight on Sunday Eastern time, in a short video message from his Twitter account. He reinforced that with a speech at Liberty University on Monday morning.
Cruz boldly proclaimed that it is "Time for Truth." He also said that it would require "courageous conservatives to help make America great again," and that he was ready to stand with Americans "to lead the fight."
[sharequote align="center"]Rather than ignore the Constitution and reach for a pen, Cruz is more apt to work with Congress[/sharequote]
Before we focus on the naysayers on the Left and the Right who are opposed to his candidacy, shall we briefly pause and soak in the splendor of the words of a leader that many Americans believe have been missing for the past six years?
Now, back to statements made by those who tried to discredit Cruz even before he announced that he would be running in 2016.
The Left immediately attacked him on several fronts. They criticized the location he picked to make the announcement, his Christian beliefs and his involvement in shutting down the government.
One article indicated that Cruz would be announcing his candidacy at Liberty University, described as "the birthplace of the Moral Majority, the Jerry Falwell-founded" university.
The article also gave little credence to Cruz's belief that God called him to politics and that he was justified in the actions he took to try and derail Obamacare. Instead, Cruz's beliefs were mocked when the article stated, "After all, the only way to top shutting down the government is to try and run the government into the ground himself."
It's what you would expect the Left to do when they want to convince those that don't listen to the candidate's own words that he shouldn't be taken seriously.
Some on the Right have also begun their rhetoric to diminish an otherwise great candidate by saying that Cruz "hasn't done anything." What they really mean is, let's not elect another president like President Barack Obama who had no experience to prepare him for the job as president.
Cruz, unlike Obama, was a constitutional litigator, federal official and Solicitor General of Texas. While he has never been a governor of a state, as some would have you believe is a pre-requisite to being a good president, Cruz is in good company with President Abraham Lincoln who was also never a governor. Lincoln was deemed by many as being a successful president, nonetheless.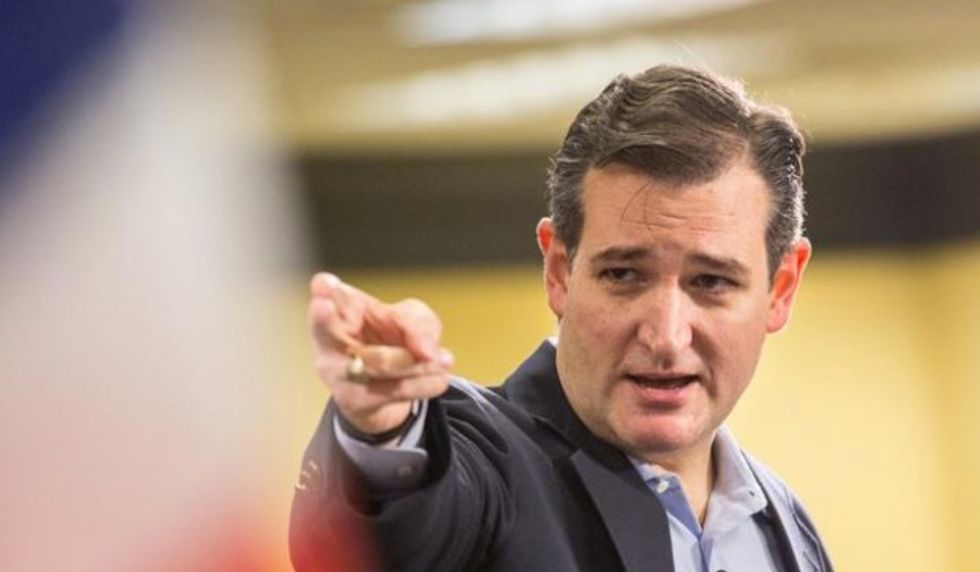 Senator Ted Cruz (R-TX) speaks to the South Carolina Tea Party Coalition convention on January 18, 2015 in Myrtle Beach, South Carolina.  Credit Richard Ellis/Getty Images
I believe that Cruz understands the U.S. Constitution and the limits placed upon the executive branch in performing its function. Rather than ignore the Constitution and reach for a pen, Cruz would be more apt to forego executive orders and seek the assistance of Congress.
If he can get past all of the attacks to become the 2016 nomination and eventually the president, I believe Americans will see new life breathed back into a document that Obama has referred to as being "flawed, a charter of negative liberties, and one that places essential constraints on the government's ability to provide positive economic rights."
However, Cruz will face an additional battle from new "birther" claims that he is not eligible to become president because he does not fall within the definition of a "natural born citizen" under the Constitution.
Cruz under the current provisions of the Constitution, along with the Naturalization Act of 1790, which expanded the class of citizens, is a natural born citizen. Due to the fact that at the time of his birth his mother was an American citizen, this fact alone makes Cruz eligible to be president regardless of his father's citizenship or whether he was born in America.
Should he clear all of these hurdles, he will need to raise money during his campaign that will allow him to continue on the road to the White House. Cruz will attempt to raise between $40 million and $50 million and will rely heavily on tea party voters who supported him during his Senate campaign in 2012.
Time will tell whether the American people will support a leader who believes in the principles on which this country was founded or whether they will attempt to dismiss a man and his desire to lead America back to the respected country and principles that made America great!
–
TheBlaze contributor channel supports an open discourse on a range of views. The opinions expressed in this channel are solely those of each individual author.