Hillary Clinton was confronted by Black Lives Matter activists this week in a tense exchange that was caught on camera.
Given how defensive Hillary appeared, one might think this is Hillary's first brush with the topic of race but the fact is her husband, Bill Clinton, has been denigrating African Americans for decades.
According to The New Yorker, when Bill Clinton was courting Sen. Ted Kennedy for a Hillary endorsement during the 2008 presidential election Bill Clinton remarked about then-Sen. Barack Obama: "A few years ago, this guy would have been carrying our bags."
Bill Clinton reportedly made another disparaging remark about Obama, which was recounted by the late host of Meet the Press Tim Russert; the remark was also revealed in the book Game Change by Mark Halperin and John Heilemann:
[A]s Hillary bungled Caroline [Kennedy], Bill's handling of Ted was even worse. The day after Iowa, he phoned Kennedy and pressed for an endorsement, making the case for his wife. But Bill then went on, belittling Obama in a manner that deeply offended Kennedy. Recounting the conversation later to a friend, Teddy fumed that Clinton had said, 'A few years ago, this guy would have been getting us coffee.'
One can't possibly believe that Bill Clinton thinks #BlackLivesMatter today if just a few years ago he thought black lives would better be served if they were "carrying our bags" or "getting us coffee."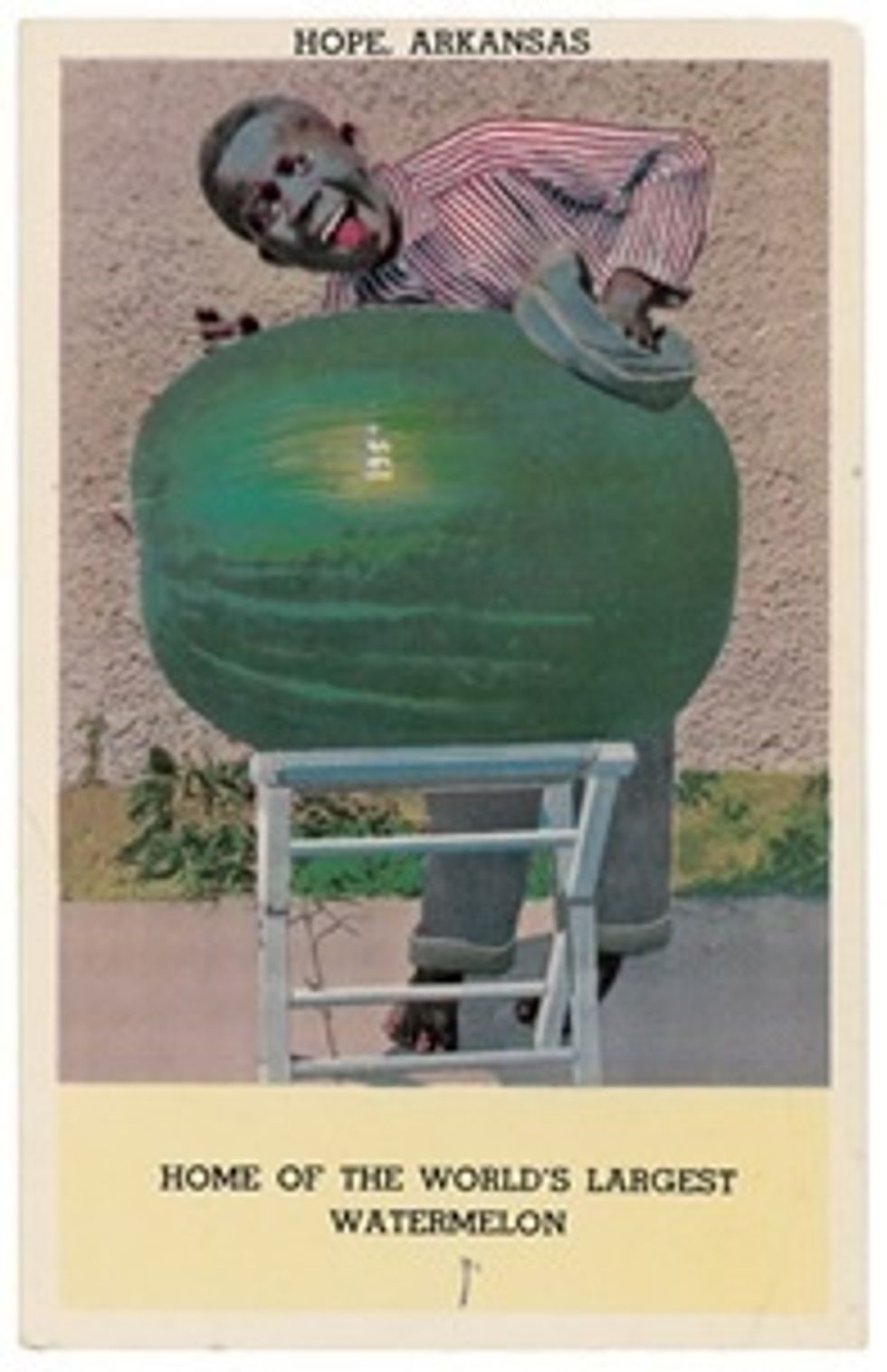 A postcard sent by Bill Clinton in 1966 at the height of the Civil Rights Movement, as reported by Black Entertainment Television. The postcard was for sale in 2007 at the auction site RR Auction, a site similar to eBay which sells Presidential memorabilia. (Source: RR Auction, RRAuction.com )
Perhaps this sort of racism is in Bill Clinton's blood or perhaps it runs in his family. After all, it was he who sent a racist postcard to his grandmother in 1966 at the height of the Civil Rights movement, just one year after the voting rights march at Selma, Alabama. The postcard, which has been reported by Black Entertainment Television, displayed his hometown of Hope, Arkansas as "Home of the world's largest watermelon," complete with a photo of a grinning black man polishing a watermelon. Bill Clinton referenced the postcard as being among several that his grandmother had sent him and admitted he was putting them to good use. According to the date on the postcard, Clinton was "of age" -- 19 years old and a sophomore in the esteemed halls of Georgetown University, presumably educated enough and old enough to know that a postcard of this nature was not appropriate especially in the midst of the Civil Rights movement.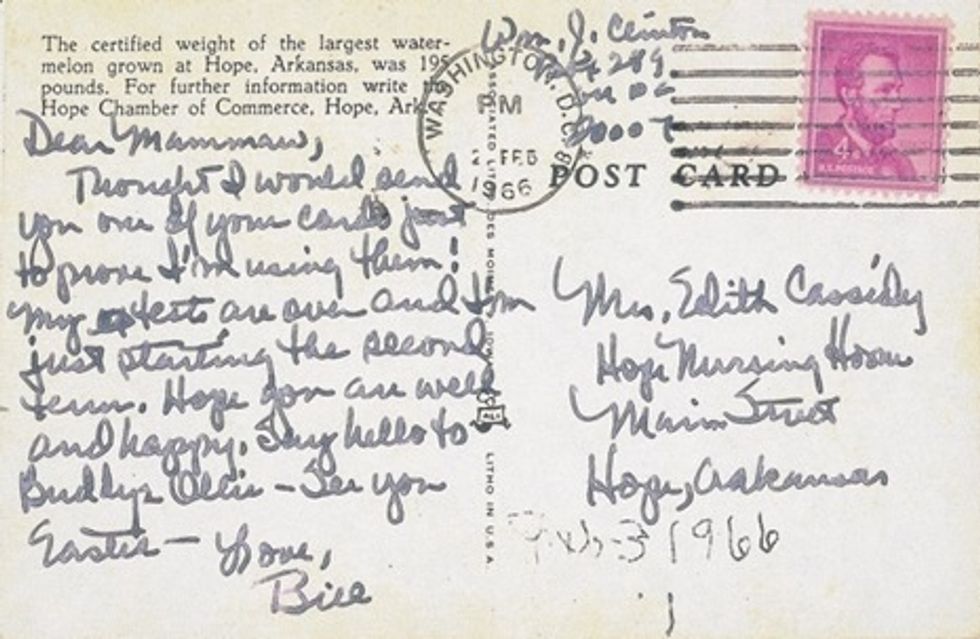 Postcard signed by Bill Clinton in 1966. (Source: RRAuction.com )
Two decades later as president, Bill Clinton also produced a mixed record on race despite ironically being called America's "first black president."
Even liberal publications now report that despite helping the stock market, Bill Clinton did little economically for African Americans in the 1990s.
He also launched the now-infamous "War on Drugs" which even he has now admitted was a failure. While perhaps not racially motivated, the anti-drug campaign had the latent effect of incarcerating a large number of African-American men. Because of Bill Clinton's policy, more African-American men are in the prison system today than were in captivity during slavery.
Even Bill Clinton's admission this summer that the policy was a failure seemed more politically motivated than a sincere apology to African Americans. He made the announcement only after Rand Paul criticized Hillary Clinton repeatedly on the issue, promising to go after Mrs. Clinton on how she could justify her husband "putting a generation of black men" behind bars.
Democratic presidential candidate Sen. Barack Obama, D-Ill., right, sits on the stage with Sen. Hillary Rodham Clinton, D-N.Y., and her husband former President Bill Clinton during the memorial service for Rep. Stephanie Tubbs Jones D-Ohio, at the Cleveland Convention Center in Cleveland, Saturday, Aug. 30, 2008.(AP Photo/Alex Brandon)
Even this year's tragic, racially-motivated church shooting in Charleston, South Carolina highlighted the Clintons' leadership, or lack thereof, on the issue of race. In light of the hateful crime, Republican Gov. Nikki Haley ordered the Confederate flag be taken down in South Carolina, proclaiming it had been an eyesore for the state for too long.
While the Washington Post and MSNBC reported that as many as seven other states still had flags that represented the Confederacy, neither those outlets nor the Clintons uttered one word about the state flag that flew for multiple years in Arkansas when Bill Clinton was governor. Even today in the face of political correctness, Arkansas' own website at the secretary of state's office describes the flag as "rich in symbolism." For many years, it contained three stars in the center of the flag to represent the three countries it has once belonged to (Spain, France, and the United States.) However, in 1924 the flag was redesigned to feature a Confederate star first and foremost above the state's name, and the three other stars were placed below it presumably placing the Confederacy above all other nations. The flag still flies over the statehouse today.
What the record shows in black and white is that in matters of race, Bill Clinton -- and Hillary as first lady of both Arkansas and the U.S. -- did very little to lift up African Americans. In fact, Bill Clinton's private comments demonstrate that he actually went out of his way to degrade them.
As the Black Lives Matter movement appears to have staying power and as Hillary Clinton struggles to hold together Obama's 2008 and 2012 predominately-African American electoral coalition, the issue will become increasingly more scrutinized in the race for the White House in 2016. –
TheBlaze contributor channel supports an open discourse on a range of views. The opinions expressed in this channel are solely those of each individual author.