"A vote for that bank is a vote for jobs, a healthy economy, the prosperity of American families and the defeat of the Islamic State," said Senate Minority Leader Harry Reid said in support of reauthorizing the Export-Import Bank.
OK, so I just threw that last one in there, but it was as realistic as the first three. In fact a vote to extend the life of the Ex-Im Bank will extend the practice of crony capitalism. Nothing more. Nothing less.
The Export-Import Bank is a relic of the New Deal and was intended to provide financing to facilitate the export of American goods during the Depression.
[sharequote align="center"]The time has come for Congress to allow this relic of the New Deal to quietly go away.[/sharequote]
Congress chartered the agency in 1945. It has been reauthorized several times since, but its charter expired on June 30.
Rather than shutter the agency, as the law requires, Chairman Fred Hochberg shows up for work every day like the Maytag repairman waiting for his phone to ring telling him that Congress has saved his job.
Majority Leader Mitch McConnell tried to do that by allowing the Senate to vote to add it to the highway bill last week. The House rejected that approach so Hochberg will have to wait for another day.
In recent speeches Hochberg has featured the banks' success stories such as finding a certain small business that has only "limited" options for export financing, and thus is "relying on Ex-Im Bank" to expand its business.
That "small" business is Space X whose founder is Elon Musk who, according to Forbes, is worth $13.9 billion. Its 4,000 employees manufacture and launch rockets for delivering payloads to the International Space Station.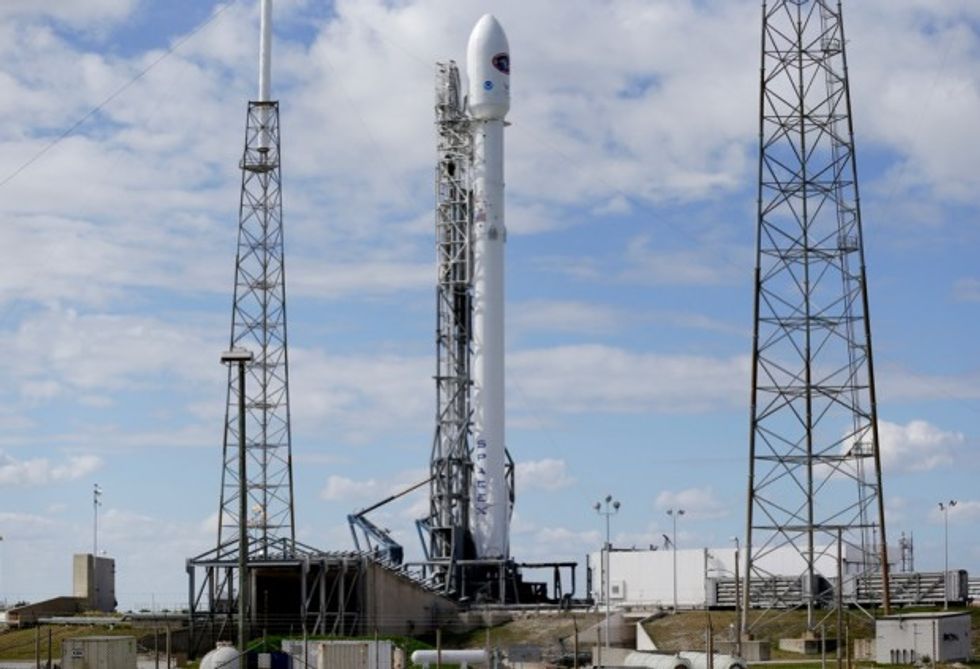 A Falcon 9 SpaceX rocket stands ready for a sunset launch from complex 40 at the Cape Canaveral Air Force Station in Cape Canaveral, Fla., Sunday, Feb. 8, 2015. (Image source: AP/John Raoux)
In fact, little of Ex-Im's money goes to small businesses. In 2013, 93 percent of the loan guarantees benefited five companies. Boeing was the beneficiary of about 20 percent of all commitments.
Ex-Im has given hundreds of millions of dollars in loan guarantees to state-owned Russian bank Vnesheconombank (VEB). VEB finances Russian arms exporter Rosoboronexport which is the principal weapons supplier to Bashar al Assad in Syria as well as supplying advanced missile systems to Iran.
Between 1997 and 2014, companies in China, Venezuela and Pakistan received billions of dollars in Ex-Im's taxpayer-backed assistance.
Foreign companies routinely step up to the window at Ex-Im and are routinely rewarded, often at the expense of American companies.
Cliff's Natural Resources is a Cleveland, Ohio company that, among other things, sells iron ore pellets mined in Minnesota and Michigan to the steel industry.
They compete with Roy Hill Mining of Australia in selling ore to China.
G.E. and Caterpillar sell equipment to Roy Hill and lobbied Ex-Im to help the Australian company get $650 million to facilitate those sales.
Cliffs went to Washington, D.C. to urge our government not to subsidize their competition, but G.E. and Caterpillar spend far more money in Washington than Cliffs.
President Barack Obama's stimulus package of 2009 was also agnostic as to American versus foreign companies. The bill included billions of dollars in grants and loans to "green" energy companies.
Solar panel manufacturer Solyndra was one of the larger recipients getting nearly $500 million.
As Solyndra was crashing, the Department of Energy pressured the bank to rush $10 million in loan guarantees to a Belgian company that had already installed the panels in its solar farm in Belgium.
Solyndra bankrupted leaving the American taxpayer holding the bag.
In this Sept. 16,2011 file photo the Exterior of solar-panel manufacturer Solyndra is seen in Fremont, Calif. Republicans overseeing the investigation of the federal government s investment of the bankrupt solar-panel maker have concluded that federal agencies identified a variety of red flags about the soundness of a now-bankrupt solar panel manufacturer, but allowed the government s investment in the company to proceed anyway, eventually leaving taxpayers on the hook for more than $500 million. (Photo: AP)
Speaking of holding the bag, when you are holding bags full of other people's money to pass around, the bureaucrat with the authority to decide who gets the bags becomes very popular and very powerful.
Popular and powerful bureaucrats become targets for the attention of those who would like the bags of money.
Between October 2007 and March 2014, there were 792 reported claims of fraud involving the Export-Import Bank and 124 investigations initiated by the bank's Office of Inspector General.
These and other investigations resulted in 85 indictments for fraud, bribery, or other wrongdoing, with 48 criminal judgments issued since 2009.
Former Ex-Im loan officer Johnny Gutierrez pleaded guilty to federal bribery charges in April. There are an additional 31 fraud investigations currently active.
Hillary Clinton recently expressed support for keeping the Ex-Im alive in a campaign event in New Hampshire. That is understandable since the largest loan in its 81-year history, nearly $5 billion, is remarkable for its many connections to Clinton friends, donors, organizations and acolytes.
The time has come for Congress to allow this relic of the New Deal to quietly go away.
–
TheBlaze contributor channel supports an open discourse on a range of views. The opinions expressed in this channel are solely those of each individual author.