We have been inundated with news about whether Apple will yield to pressure from the government to create access to the data in the county-owned iPhone used by the San Bernardino terrorists.
It appears that Apple is being asked to fix a mistake caused by the FBI when they instructed the county to change the passcode.
Apple argues that the only way to achieve what the government wants is to create new software that will certainly get copied and would mean every iPhone sold will be accessible to hacking by others, including terrorists, to use and abuse all of our data.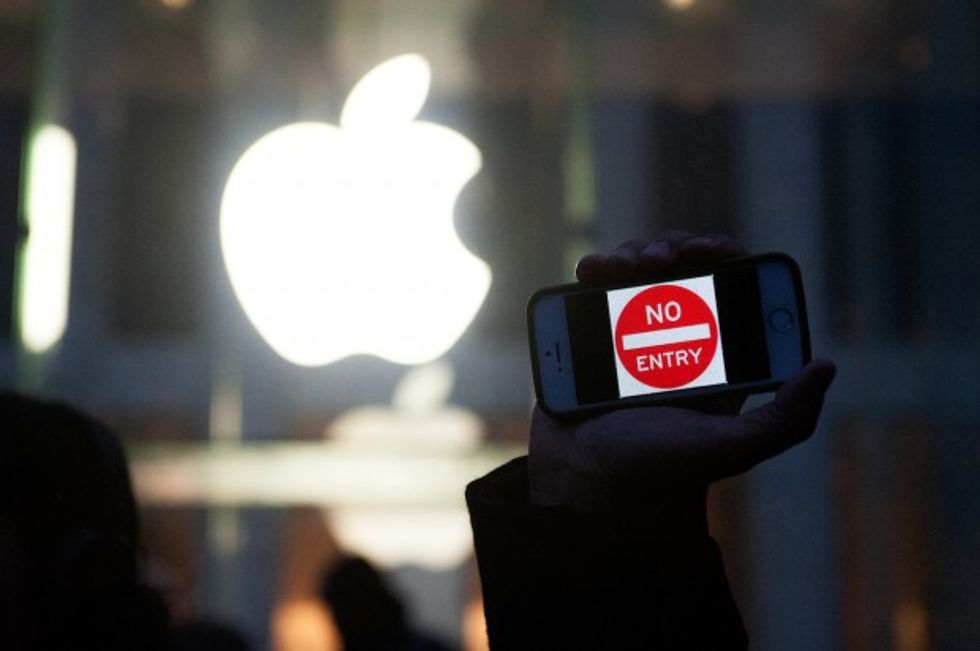 Bryan Thomas/Getty Images
Our government hacked former CBS reporter Sharyl Attkisson's personal and work computers when they were turned off in her home in order to see what she was writing about. Surely they should be able to handle this.
It does make me think that the FBI is more interested in Apple creating a "back door" to their operating system so that it could eventually be used more broadly.
If one iPhone can get the attention of our government on the suspicion of terrorist contacts that may or may not be there, why is the administration so anxious to force states to accept the resettlement of 100,000 Syrian refugees?
Islamic State terrorists traveling on bogus Syrian passports were embedded with the refugees flowing into Europe. There is no reason to think they would not do the same in those coming to America.
Nor is there any reason to think we can establish a program to detect terrorists in the Syrian refugee invasion. FBI Director James Comey testified to Congress that there are simply no records in the Middle East against which to vet the new refugees.
Illegal immigration at our southern border has already included terrorists from the Middle East. We have stopped known Islamic radicals from Syria, Iraq and Iran.
Judicial Watch reported a year ago that the Islamic State operates a training camp eight miles into Mexico from our border near El Paso, Texas.
Homeland Security officials have recently informed Congress that they have intercepted communications indicating that Islamic State terrorists were planning to enter the United States through our porous southern border.
Two years ago we watched an invasion that ultimately brought 240,000 illegals across our borders including 90,000 unaccompanied minors. We anticipated that invasion and were prepared with housing, transportation and care. Charitable organizations were readied for the thousands of migrants and addresses of where they would be relocated were known. Why we knew to prepare for this has never been explained.
In order to accommodate the influx of migrants our government ignored long-standing health regulations. Following the relocation of these migrants an outbreak of a polio-like virus occurred in several locations across the county simultaneously.
US Border Patrol agent Jerry Conlin looks out over Tijuana, Mexico, behind, along the old border wall along the US - Mexico border Thursday, June 13, 2013, where it ends at the base of a hill in San Diego.. Credit: AP
From mid-August to Nov. 12, 2014, CDC or state public health laboratories confirmed a total of 1,116 people in 47 states and the District of Columbia with respiratory illness caused by EV-D68. Twelve children died.
Some unaccompanied minors were turned over to human traffickers who put them on an egg farm in Ohio where they were forced to work in squalid conditions for $2 a day. A recently released United States Senate report cites additional instances of the failure of the Office of Refugee Resettlement with the placement of minors.
Apparently we learned nothing from that experience. The Department of Homeland Security has just removed the proscriptions against the entry of migrants who have one of three different sexually transmitted infections.
This follows the recent decision to allow the entry of those with HIV/AIDS.
We are now bracing for another invasion by children from Latin America. Perhaps we can ease the problems at the border this time with the new Central American Minors Refugee/Parole Program.
Those in Guatemala, Honduras and El Salvador who are under 21 and related to any permanent U.S. resident, parolee or illegal immigrant are eligible for a U.S. taxpayer-paid airline ticket, resettlement assistance and taxpayer benefits. Their children and spouses are also eligible.
The State Department and Department of Homeland Security will jointly administer the program. The State Department official who spoke on the record admitted that he had no idea what it would cost.
We have opened our borders to illegals. We have waived health rules. We are welcoming up to 100,000 Syrians with the near certainty that terrorists will be among them. We are prepared to spend $4.5 billion to resettle them.
And we are worried about a damn iPhone?
If you would like to be added to John Linder's distribution list please send your email address to: linderje@yahoo.com or follow on Twitter: @linderje
–
TheBlaze contributor channel supports an open discourse on a range of views. The opinions expressed in this channel are solely those of each individual author.