One can feel it.
It's a frustration that clings to the back of Republican insiders like chill wet leaves. We had this. The GOP had this. How maddening must this be for a GOP consultant?
Very rarely has a political party been dealt such a great hand on the cusp of a general election. Here are the talking points that, tweaked or not, are close enough for government work as they say when relaying the facts of two terms of a hard-left Democrat in the White House.
We are in the eighth year of what by any objective measure is a pathetically weak economic recovery (unless 1 percent growth is the new normal). It is a recovery that, thanks to free money from the Fed in the form of zero interest rates, has seen an unprecedented, albeit predictable, pursuit of yield in a booming stock market that has left the poor, lower and middle class schmuck stuck with a non-yielding savings account rather than stock portfolio or 401(k) in the dust. The wealth gap is growing as wages remain stagnant.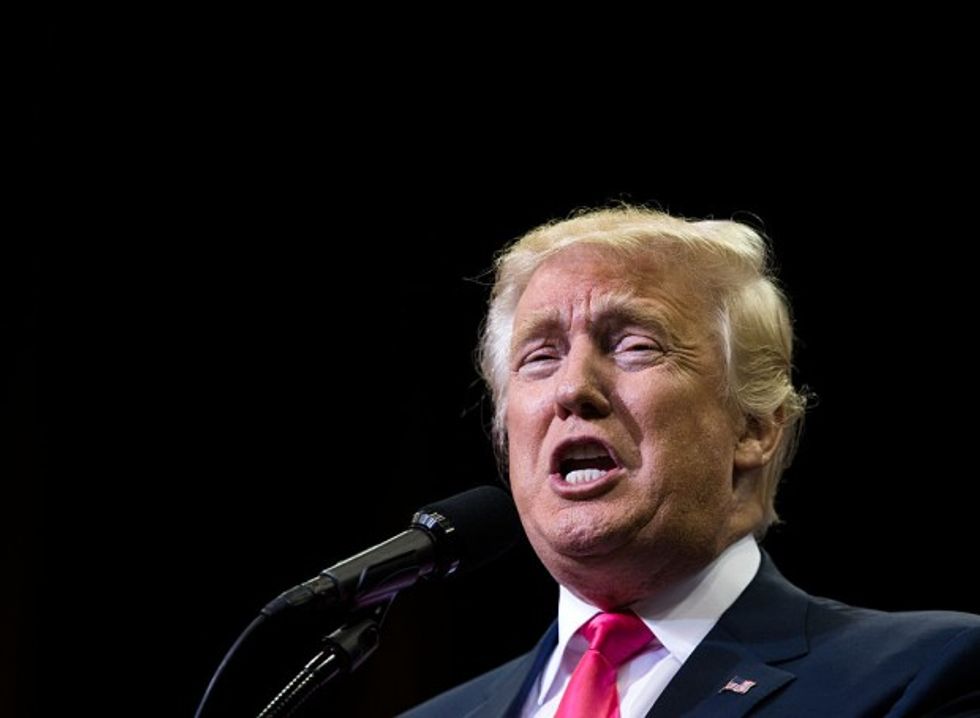 JACKSONVILLE, FL - AUGUST 03: Republican presidential nominee Donald Trump speaks during a rally at the Jacksonville Veterans Memorial Arena on August 3, 2016 in Jacksonville, Florida. Trump has had to answer concerns from inside the Republican party that his campaign is in disarray. (Photo by Mark Wallheiser/Getty Images) 
It has seen African Americans fall farther behind in all measures and their concerns stoked by a president who both abandons them—unless one happens to be named Jay-Z—while at the same time uses their frustrations to stoke up racial animus that better solidifies his party "base."
We have seen the world set aflame in the Middle East as Islamic terror metastasizes far beyond the Levant and into the streets of France, Belgium, Germany and the United States…yet we have an administration that even refuses to call it what it is so shackled by PC is the left.
Obamacare is cracking as one insurer after another abandons this program that forgot that mathematics is indifferent to political ideology.
Despite an $830 billion stimulus our infrastructure is crumbling.
Ambassadors were killed and dragged through streets…and the American people, including the parents of the fallen, were lied to about the circumstance in the interest of political cover.
Race relations haven't been this bad since the 1970s…despite a supposed African American "healer" in the White House.
And this is just the Democratic rule overall. Heck, pile on top of this litany of failure the Democrat's standard-bearer and 2016 should have been the time for the GOP to rise again. Especially given their gains in the midterms that show genuine dissatisfaction with the status quo in which an astonishing 68 percent of Americans feel we are on the wrong track.
And no one represents the status quo as does Hillary Clinton. A blindly ambitious, amoral, mendacious, political insider whose every so-called accomplishment (which in Washington parlance means ascension from one political office to the next) was achieved because of the man she married. A man for whom running interference in return for favors in the form of ever more powerful positions in government has been her achievement arc. She rode into power on Bill's coattails, covering his infidelities and worse for the good of the Party from Little Rock to Washington, And now she will ride them again into the Oval Office.
Why?
Because despite enough personal and political baggage to crush the back of Hodor, Because of being viewed unfavorably by 54 percent of the American people, because of being called incompetent and untruthful by the FBI director, not to mention the Clinton cash machine masquerading as a charity…she is going to be the next President of the United States.
Because the only way someone like Hillary could possibly win in 2016 is if someone like Donald Trump is her opponent. Only someone who behaves is if they want to lose the election could in fact lose the election. One wonders if this is the case with Trump.
I don't get it. Trump's not dumb. I don't care what anyone says, one doesn't survive and flourish in the cut-throat Manhattan commercial real estate game (regardless of the relatively small stake his father staked him with) without having something going on under the burning bush coif. The oldest financial cliché is the man who made a small fortune in real estate…but started out with a large fortune.
He is not unlearned or isolated. He travels the world and has investments scattered across the globe. So how is it that he didn't know that Russia annexed Crimea?
He is not politically deaf as negotiation is all about reading the signs. So how does he not get that, even if they attacked you personally, you do not go after Gold Star Families! Period. You go after the people who cynically threw them in front of millions to act as bait. Maybe you mention who killed their son (he was not slain by Seventh Day Adventists) and you mention that their son might be alive but for the very foreign policy your opponent not only represents but had a hand in crafting.
He's not a militant. So why wax reflexive on what a gun owner can do to right the wrong of a progressive Supreme Court? Just pound home over and over again the vision of a country lurching farther left into a legal structure that derives its wisdom not from the Constitution but rather grievance groups, identity preferences, and political interests.
And for God's sake defend yourself when you're right. Trump is right in that to take any weapons system 100% off the table, even nukes, and declare that under no circumstance ever would they be used is to neutralize their deterrence. MAD (Mutually Assured Destruction) is only a valid concept if there is teeth to the "mutual" part…meaning if you push me off the ledge I will grab your leg and take you down with me.
That half of this piece at all could be devoted to putting out Trump's fires rather than hammering home that the Democrats have nominated the sleaziest candidate for President since, well, her husband, who will continue the leftist surge of this country that is an existential threat to the United States of America illustrates the growing sense of bewilderment angst within the party.
The GOP simply cannot get out of its own way. In putting all its eggs in another Bush basket at the outset (a moment of stunning disconnect) they left the door open for an unseasoned demagogue who now seems to have grown tired of his new toy which is the Presidency and can't wait to get back to Mar-a-Lago in November…the climate's better there anyway that time of year. The frustration of the GOP is palpable. But it is 100% self-inflicted.
Perhaps the motto of this campaign should not be "Make America Great Again" but rather: "Snatching Defeat Out Of The Jaws Of Victory...Again."
Brad Schaeffer is an energy broker, columnist, historian and author whose writings have appeared in the Wall Street Journal, NY Daily News, Zerohedge, and Breitbart. Drop him a note at: shafemans@yahoo.
–
TheBlaze contributor channel supports an open discourse on a range of views. The opinions expressed in this channel are solely those of each individual author.