**The following is an in-depth review of "The Intern" and does contain spoilers.**
"The Intern" is the latest film from writer/director Nancy Meyers, best known for the films "Father of the Bride," the 1998 remake of "The Parent Trap," and "What Women Want." The film stars Robert DeNiro, Anne Hathaway and Rene Russo.
"The Intern" tells the story of Ben Whitaker, a retired 70-year-old widower. With his wife gone and most of his friends dying off around him, Ben is faced both with his own mortality as well as a strong sense of loneliness. Wanting something to do to occupy his time, Ben decides to apply for a special internship program aimed at senior citizens.
After being awarded the internship, Ben is assigned to Jules Ostin, the "dragon lady" CEO of an online clothing retailer. While Jules is a very hard task master, Ben takes to his new duties and does whatever he can to please her. At first, Jules is put off by Ben's powers of observation and requests that he be transferred, but the more she works with him she begins to appreciate his helpfulness.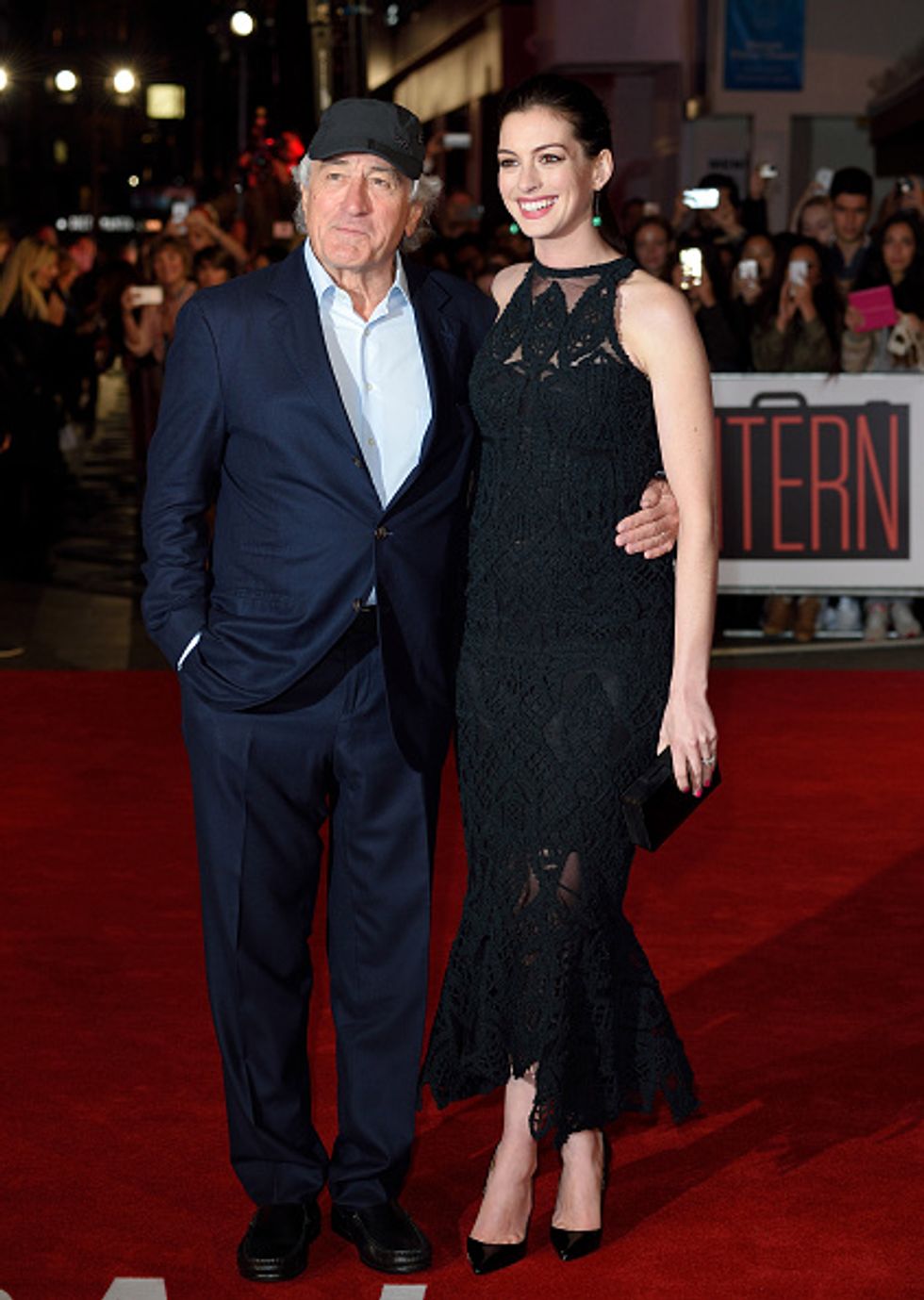 Robert De Niro and Anne Hathaway attend the UK Premiere of 'The Intern' at Vue West End on September 27, 2015 in London, England. (Photo by Karwai Tang/WireImage)
At first, the film seems to be targeted at an older audience, much like "Last Vegas" or "Cocoon." The audience is introduced to Ben, told the story from Ben's perspective, and pretty much made to feel as if Ben is the character they are meant to identify with.
As Ben becomes more comfortable in his job, however, and he gets to become more a part of Jules' world, the focus of the film subtly switches to Jules. This is a switch that you really aren't even aware of until it is complete and you suddenly find yourself seeing the world through Jules' eyes instead of Ben's.
It is soon revealed that the reason Jules seems so gruff and hard to work with is because of the stress of building an online empire in 18 months. It is even stated at one point that they reached their five-year goal in that first 18 months. Because of her high stress levels, and how fast everything has grown, the investors have requested she hire a CEO to take some of the load off of her shoulders.
One thing the film does extremely well is that it isn't predictable. You think it is, but it isn't. Every time you're sure you know how movies work and you know what is going to happen, "The Intern" takes a slight turn, just enough to throw you off.
With Ben's experience and eagerness to learn, as well as his personal wisdom and ability to understand Jules in a way that no one else seems to be able to, the audience is left with the impression that Ben will end up being promoted to CEO. This is reinforced by Jules' absolute dissatisfaction with every CEO candidate she meets with. This, however, does not turn out to be the case.
Another thing that seems to come out of nowhere in the film is its apparent conservative stance on gender roles, and the adverse effects of feminism on men. Most of the characters are established as being very liberal and while the film doesn't seem to have any agenda to it, it does come off as being told from a very left-wing perspective. Then, while out celebrating after a mini-heist, Jules refers to Ben and his fellow interns as "boys" and it seems to dawn on her how inappropriate that is.
Jules comments on the irony of females going from "girls" to "women" as to what is the accepted way to refer to them, but males have gone from "men" to "boys" in the same timeframe. She also begins to point out how men Ben's age and men in their 20s - like the other interns - are almost a completely different breed.
In a roundabout way, "The Intern" presents a commentary on how feminism has stripped men of everything that truly made them desirable to women. No longer do men carry handkerchiefs for the sole purpose of loaning them out to women who happen to be in emotional distress. No longer do men take pride in their appearance, wearing suits and ties. Jules compares the way modern men dress to the dress of small boys as opposed to grown men.
This is actually a very poignant message, delivered with sincerity and honesty, and one can only hope the message doesn't fall on deaf ears.
"The Intern" also presents a well thought out commentary on how success can be damaging to the family. It is revealed that Jules' husband - who gave up his career so that Jules could concentrate on hers - was having an affair. While the film never tries to justify Jules' husband, Matt, for having the affair it does try to offer insight into the mindset of a man who does find himself making the decision to cheat.
Matt tells Jules that he felt like he was losing her. That her career was consuming every part of her, and that he felt lost. He lamented giving up his career, stating that he tried but he couldn't be the man he promised her he would be. This, again, could be seen as a very anti-feminist commentary.
Overall, "The Intern" is a very funny movie with actors who turn in wonderful performances all around. While it would most certainly be classified as a "chick flick," "The Intern" offers a surprisingly refreshing commentary and provides insights and life lessons that should make anyone stop and examine their life just a little more closely.
–
TheBlaze contributor channel supports an open discourse on a range of views. The opinions expressed in this channel are solely those of each individual author.