The debate about whether or not to let Muslim Syrian refugees into the U.S. is basically an argument about profiling.
In the same way that we argue about whether race is being (or should be) used by police to identify criminal suspects, we're now arguing whether religion should be used as a means to predict who might be a terrorist.
Much as President Barack Obama – sadly, but predictably – wants to use this as an opportunity to demonize Republicans as xenophobes supporting an un-American "religious test" for refugees, there can be good reasons to resort to profiling. After all, some of the Islamic State terrorists who attacked Paris seem to have slipped in to France amidst the Syrian refugee crisis, and the group has threatened to do the same to the U.S.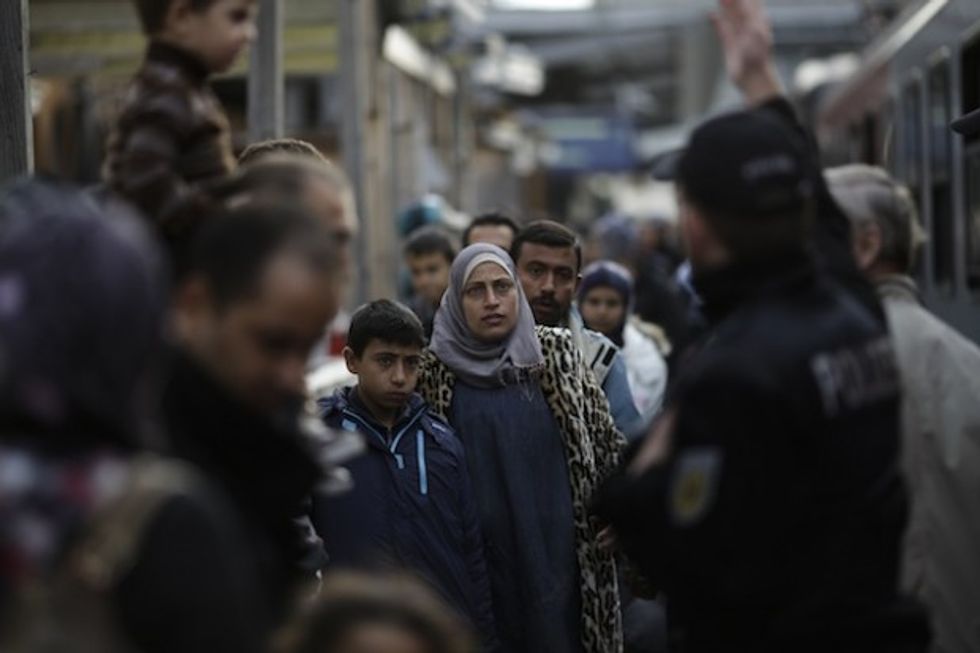 A police officer, right, advise refugees to follow him after they were pulled out of a train by German Federal Police at the train station of the south German border town Passau, Germany, Wednesday, Sept. 16, 2015. (AP Photo/Markus Schreiber)
Naturally, the Islamic State profiles with a religious test of their own: "be Muslim or else." There are no Christian or Jewish terrorists belonging to the Islamic State, only Muslim ones. (The tip-off is the world "Islamic" in the phrase "the Islamic State.") And, yes, Islamic ones are the bulk of the terrorists out there right now. So, by only accepting Christian refugees, you're eliminating the possibility of letting in any Islamic State terrorists. That's the basic idea.
But, like all profiling, it's not perfect. Terrorists could simply pretend to be Christian.
While that's a legitimate concern, I think it's overblown. The U.S. government's process for admitting refugees is more involved than a job interview. I understand people being skeptical about our government – and the Obama administration in particular – when it comes to vetting people entering the country. But we wouldn't just ask people, "Are you Christian? What day does Easter fall on?"
The process for vetting refugees – the U.S. takes in about 70,000 each year – typically runs 18-24 months. And, rather than asking about their theology or to quote the Bible, refugees would likely have to prove their membership in a Christian community: what church did you belong to? What was its address? Who were the clergy? Can you name other members of the congregation?
If a terrorist couldn't fake their way through these sorts of questions – no easy thing to do – they'd not only get shut out of the U.S.; they'd be revealed as an imposter and put on a watch list, marking them as a risk to be let into any country whatsoever.
No, the bigger problem is that we'd be shutting out innocent Muslim refugees who sincerely need help. And that's why I'm ultimately not in favor of having a religious test for accepting Syrian refugees. The same vetting process that would separate out real Christians from fake ones can be used to separate out genuine refugees from imposters. Over the course of a year-and-a-half (or more), we should be able to figure out which Syrians are part of communities that were fleeing violence, and which are potential threats.
Keep in mind, the U.S. is only accepting 10,000 Syrian refugees, a vastly smaller number than the more than 800,000 that have entered Europe. In such huge numbers, European nations have understandably had trouble vetting everyone. The U.S. will accept less than two percent of that number, and they'll have to go through a rigorous screening and cross an ocean. We're not looking at an anonymous mass of humanity scrambling across a fence (you're more likely to find that at the border with Mexico).
The U.S. can manage such a small number of refugees safely. And we would do well to contrast ourselves with nations like Qatar, the United Arab Emirates, Saudi Arabia, Kuwait and Bahrain, who – despite sharing religion, geography, language and culture with Syria – are accepting a grand total of zero refugees.
The Persian Gulf states have a fairly succinct refugee test of their own: we don't care who you are, we don't want you.
Let's show the world that our competence rivals Europe, and that our compassion vastly surpasses the Islamic nations of Arabia.
–
TheBlaze contributor channel supports an open discourse on a range of views. The opinions expressed in this channel are solely those of each individual author.