**The following is an in-depth review of "The Man from U.N.C.L.E." and does contain spoilers.**
"The Man from U.N.C.L.E." is the latest opus from Guy Ritchie, based on the 60s spy television series and starring Man of Steel's Henry Cavill and The Lone Ranger's Armie Hammer.
The film follows the exploits of secret agent Napoleon Solo, a suave and dashing former criminal who the CIA recruited in lieu of sending him to prison for his crimes as a black market art dealer. In the thick of the Cold War, he is in East Berlin when he runs up against a seemingly unstoppable KGB assassin named Ilya Kuryakin. Solo's mission is to rescue a woman named Gaby who works in an underground chop shop and has ties to a Nazi terrorist plot to build a nuclear weapon; Kuryakin's mission is not to let the woman escape Soviet Germany.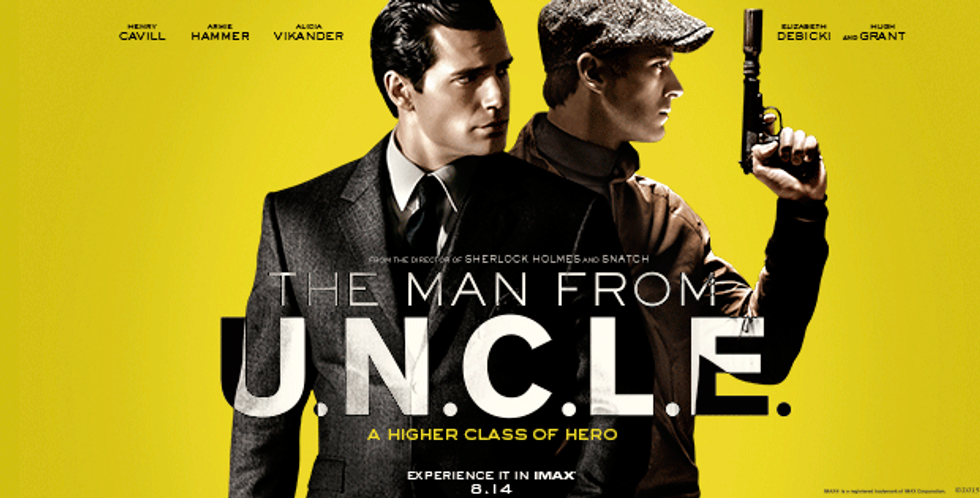 Screenshot
While he is barely able to escape to West Germany by the skin of his teeth, Solo is outraged to find out the next day that the CIA has formed a limited partnership with the Soviet Union to prevent the terrorists from completing their bomb, and that he is going to be partnered up with Kuryakin.
"The Man from U.N.C.L.E." sets itself apart from other feature film adaptations of James Bond-inspired 60s television series by actually retaining its original 1960s Cold War setting. "Mission: Impossible," "I Spy" and "Get Smart" were all updated to a modern setting, but "U.N.C.L.E." is able to maintain all the charm and cultural context of the cloak and swagger 1960s, making for a nostalgic ride through the genre as it was created.
While "U.N.C.L.E" isn't the blatant comedy that "Get Smart" and "I Spy" were before it, it does have an air of humor about it. It is often very tongue-in-cheek, not really parodying but certainly satirizing the spy genre of the period. Still, the film manages to take itself seriously when it comes to the action and the suspense. Much as Ritchie did with his Holmes films, "U.N.C.L.E." boasts fantastic car chases and brutally balletic fisticuffs.
The stand-out performance here comes from Henry Cavill, who is most certainly a star on the rise. Based on his performance in this film, Idris Elba may have some competition for the role of James Bond if Daniel Craig should decide to step down after "Spectre." Of course, with his current duties as Superman in the DC Entertainment Multiverse he may not have the time to take on the illustrious role of 007, even if he wants to.
Interesting side note: "The Man from U.N.C.L.E." actually has two Superman connections. Napoleon Solo is played by Cavill, Superman himself, in the film, while in the original television series he was played by Robert Vaughn. Robert Vaughn played villain Ross Webster opposite Christopher Reeve in "Superman III."
"The Man from U.N.C.L.E." does a fantastic job of satirizing not only the spy movie genre, but also the Cold War itself. Solo and Kuryakin spend much of the film trying to one-up each other and prove their nation's superiority.
In one scene, Solo discovers that Kuryakin has left Soviet bugging devices all over his hotel room. When Solo confronts his "partner" with the devices and that they were Russian made, Kuryakin casually retrieves several American made bugging devices which he found all over his room, also stating that the American devices weren't very technologically advanced. This tête-à-tête makes for much of the film's humor.
The film would have benefitted greatly from a little back-story for Kuryakin. Kuryakin is said to be mentally unstable, with something of a short temper. You're shown this many times throughout the film, but never really told why. As it is, the audience is left to assume that the KGB programmed Kuryakin, but being told that and not having it remain so open to interpretation would be nice.
One thing the film does absolutely magnificently is that there is no love triangle between the main characters. Solo manages to get romantic with every woman he comes into contact with except for Gaby. There is a romantic subplot between Gaby and Kuryakin, but Solo seems uninterested in her from the start. This does kind of contradict everything you're told about Solo's womanizing character, but as far as modern movies go, it does make for a refreshing break.
Armie Hammer turns in a good performance as Kuryakin, in spite of his stock movie Russian accent, which would fool no one who has ever actually talked to someone from Russia. He's believable as a semi-psychotic hot head, but he also manages to come off as completely likeable.
The movie does have it's slow periods, mostly during the second act. This doesn't, however, detract from the overall enjoyability of the film itself. Also - apart from being set in the 1960s - it doesn't really offer up anything unique. It's a formula spy film, and that's all it's really trying to be.
From start to finish, "The Man from U.N.C.L.E." is a thoroughly enjoyable film, if extremely formulaic. Definitely see it, just don't expect it to be the best movie of the year.
–
TheBlaze contributor channel supports an open discourse on a range of views. The opinions expressed in this channel are solely those of each individual author.