When Hillary Clinton announced during last week's presidential debate that Donald Trump may not have paid taxes for years I immediately assumed that she had illegally received copies of Trump's tax returns.
Thus it came as no surprise that the New York Times would publish a copy of Donald Trump's 1995 tax return. The only question unanswered is whether the Times gave the information to Clinton or she gave it to them.
We knew this would happen. The moment his tax returns became an issue in this race it was a given that someone in the Obama administration would illegally retrieve and deliver that information before the election.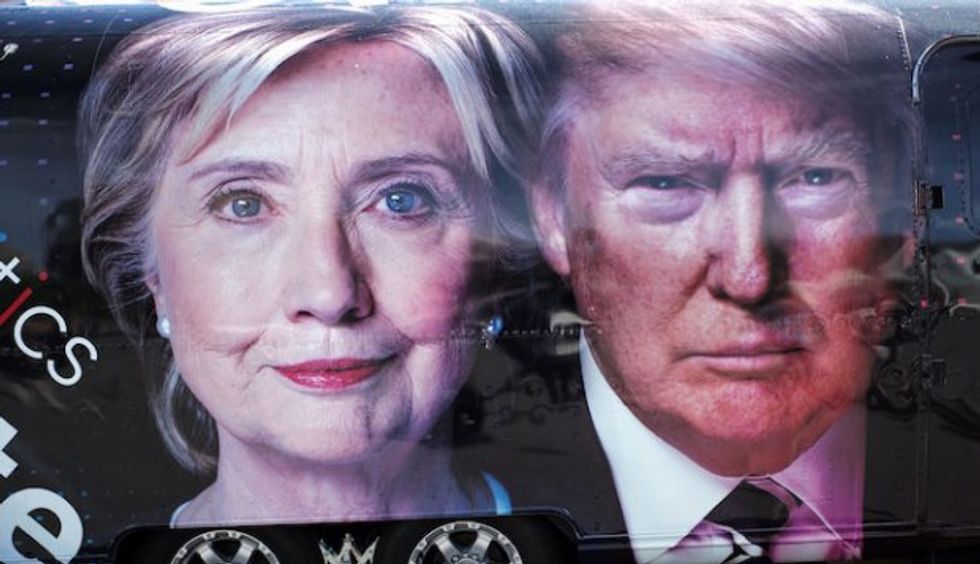 AFP / Jewel SAMAD
Trump's returns have been reviewed by tax experts for the Times and appear to show that Trump had a $916 million loss in 1995, which would be a significant loss carry forward to reduce or eliminate tax obligations in future years. There is no suggestion that Trump did anything illegal.
Minimizing one's tax obligation is not a crime. The New York Times paid no taxes in 2014 despite a $29 million pretax profit. It appears that they have good tax lawyers also. They just didn't find it newsworthy.
Mrs. Clinton's attacks on Trump for taking legal deductions, struck me as unseemly coming from a woman who spends several million dollars each year of tax-deductible money flying on private jets.
This wasn't the IRS' first foray into politics. In 2013 it was disclosed that the Service was harassing conservative groups for political reasons. In a Congressional hearing on the matter the responsible IRS manager took the fifth.
Once the Democrats decided that Hillary Clinton was to be their candidate the entire apparatus of the Obama administration was at her disposal.
First, they had to dispose of Bernie Sanders and his armies of "basement dwellers." The entire Democrat National Committee was mobilized on Clinton's behalf.
The unknown Sanders was kept from being exposed to a broader audience by scheduling debates on obscure channels in the dead of night. They considered using his atheism against him and kept from him getting access to Democrat voter files to which he was entitled. A WikiLeaks email dump the week before the Democrat nominating convention exposed it all.
Democratic National Committee Chair Debbie Wasserman-Schultz took that fall and in return was named a honorary chair of Hillary Clinton's campaign.
Then the Department of Justice disposed of Hillary Clinton's legal troubles caused by her illegal handling, and subsequent destruction, of classified information on an unapproved private server in her home. Those who set up the private server took the fifth. Five people involved in the matter were given immunity from criminal prosecution.
The FBI interviewed Clinton three days after a private meeting on a tarmac in Phoenix between former President Bill Clinton and Attorney General Loretta Lynch. The FBI ignored federal law, criminal investigation procedures and established interview protocols to find a way to not prosecute her.
Then came the media, a public relations arm of the Democrat National Committee, to make their contribution. During the presidential debate Mrs. Clinton mentioned the name of a winner of the Miss Universe title twenty years ago as an example of women who suffered abuse by Donald Trump.
The next morning fully researched and footnoted front page stories appeared about this obscure Venezuelan woman who was unknown just 24 hours earlier. She was scheduled on morning television shows and a full, prepackaged social media campaign was launched.
Since those stories were published some less savory aspects of her life have been disclosed, none of which found its way into the media's explication of her life. It is as though the outcome of this election is so important to the media that they are willing to destroy what little dignity they had left.
With the election just five weeks away the last piece is falling into place. Secretary of the Department of Homeland Security Jeh Johnson proposes that his department take over the management of the election.
Johnson sees a national security risk with the possibility of outside forces hacking election computers. Having failed to stop the hacking of the Department of Defense, the State Department and the White House the Obama administration assures us it can handle 50 different state elections.
All of the above fits neatly into the category: "Blow The Damn Thing Up!" It is the very reason that a large segment of America is willing to give the presidency to a political neophyte. America cannot tolerate much more "experience."
WikiLeaks founder Julian Assange has promised more emails that he claims will get Hillary Clinton indicted. Don't hold your breath.
Assange has been living in the Ecuadorian Embassy in London for the past 6 years to escape extradition to Sweden to be questioned about an alleged rape. He would like to get out of London. You already know that he has been promised asylum in the United States if he destroys the emails.
They're gone.
If you would like to be added to John Linder's distribution list please send your email address to: linderje@yahoo.com or follow on Twitter: @linderje
–
TheBlaze contributor channel supports an open discourse on a range of views. The opinions expressed in this channel are solely those of each individual author.