The Republican presidential contenders may have protested media bias at the CNBC debate, but that doesn't mean it's gone away. In fact, three of the leading candidates are going to find that it poses an insurmountable obstacle.
Republicans and conservatives are hounded by the media for acts of name-calling in a way that Democrats, liberals, and progressives aren't. Barack Obama gets a free pass when he demonizes Republicans, saying that their policies are rooted in "anti-immigrant sentiment;" he went unscathed for falsely accusing John McCain of being willing to have "another 100 years of war in Iraq;" and the media never demanded that he repudiate Jimmy Hoffa's anti-Tea Party call to "take these S.O.B.s out."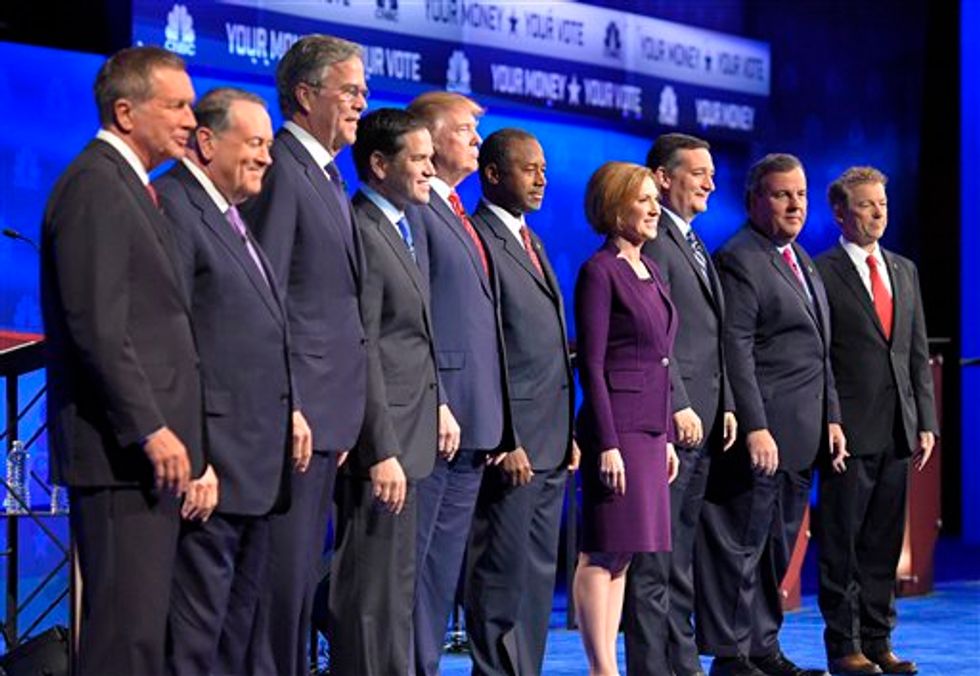 (AP Photo/Mark J. Terrill)
It's unfair: politicians left or right should all be pursued equally for their invective. But the media's selective attention guarantees that three GOP contenders can't win the general election. As Republican voters realize this, they'll abandon these candidates as lost causes.
Here's who's going to be sunk:
1. Donald Trump
There are plenty of problems with Donald Trump's candidacy, such as his policies, like trying to get $1 billion a week (or much less) from the Islamic State's oil wells, and his support for Medicare as-is.
But, the more Trump climbs in the polls, the more the media will focus on the slew of outrageous comments he's made, like:
Every time Trump complains that his remarks are being misinterpreted, he'll be reminded that he's the one who advertised himself as politically incorrect, so why shouldn't we assume he's being offensive?
The media will never let him live down his rhetoric, and he'll never be electable.
2. Ben Carson
He may be soft-spoken, but Ben Carson has his own history of over-the-top rhetoric, like his claim that Mahmoud Abbas, Ayatollah Khamenei, and Vladimir Putin went to school together, or that being gay is a choice.
As with Trump, the media will have no trouble digging up quotes that Carson will be hard pressed to defend, such as:
3. Ted Cruz
After Trump and Carson, Ted Cruz is many people's first choice for the Republican nomination. He has a solidly conservative record, and a successful history arguing before the Supreme Court.
But he doesn't mesh well with his fellow GOP senators. And he's made it a point to avoid criticizing Trump's offensive rhetoric, a tactic that – while it may win him some of Trump's supporters – will also land him with Trump's problems: "Why didn't you condemn Trump for saying illegal Mexican immigrants were rapists and criminals? How could you describe his remarks as 'colorful'?"
And Cruz has a long list of his own quotes that will cause him trouble, including:
Cruz, when challenged on his remarks, will try to attack the question as biased and "liberal," but that will only make him appear evasive.
Who Republicans Are Left With
I know some won't be convinced that Trump, Carson, and Cruz are fated to lose. But look at each of these quotes, and imagine how the candidate will defend them – more to the point, how the media will cover it – in a way that doesn't result in a wince of embarrassment.
Face it, it's not going to go well. The defining media trope of conservatives is that they're apocalyptic bigots: Cruz, Carson, and Trump only feed that caricature.
Once GOP voters realize these three are a no-go, they'll likely gravitate toward Marco Rubio. Yes, Rubio is unpopular among some conservatives for supporting a pathway to citizenship for illegal immigrants. But he's since backed away from that position, and a running mate like New Mexico Gov. Susana Martinez would likely smooth things over.
More importantly, he's not Jeb Bush, and his rhetoric doesn't fit the media caricature that will most certainly be used to defeat the other leading GOP contenders.
–
TheBlaze contributor channel supports an open discourse on a range of views. The opinions expressed in this channel are solely those of each individual author.