At the GOP National Convention, Donald Trump will officially secure the Republican nomination and the soul of the Republican Party. But contrary to the deluded impressions of Trumpist sycophants, he has not won, nor does he deserve, the individual souls of Republican voters in the general election.
Losing an election does not require subjugation under the winning party's ideology. Nor does the winner have any claim on the individual support of members of his own party. Despite this fact, Trump supporters that are now demanding unification have decided that Republicans who don't immediately fall in line behind the presumptive nominee should be punished.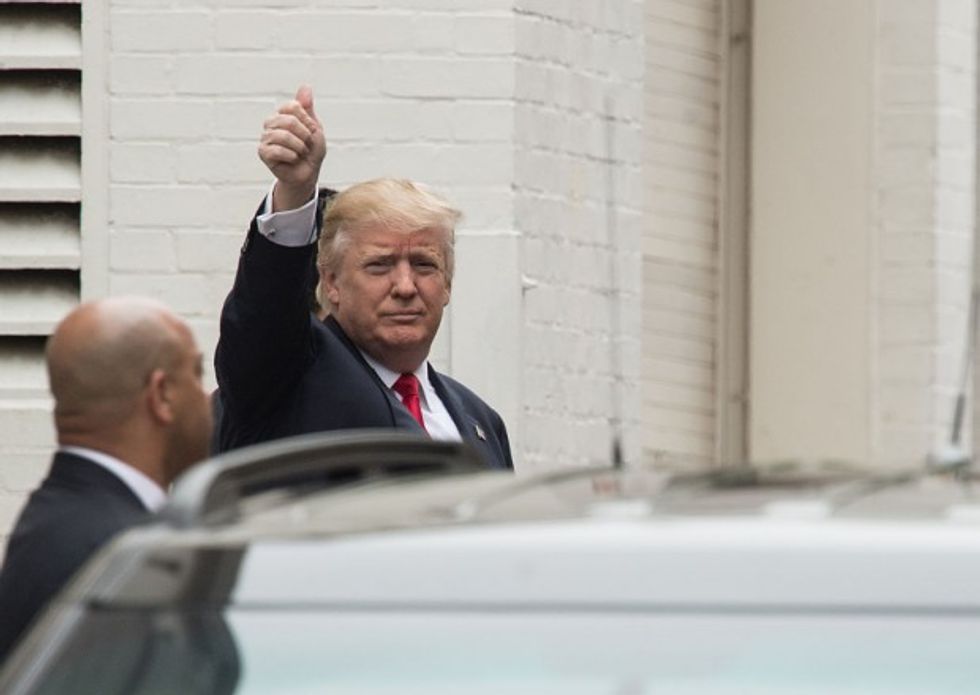 US Republican presidential candidate Donald Trump arrives at the Republican National Committee (RNC) headquarters on Capitol Hill in Washington, DC, on May 12, 2016 to meet with House Speaker Paul Ryan. / AFP / Nicholas Kamm (Photo credit should read NICHOLAS KAMM/AFP/Getty Images)
Sean Hannity and others in the conservative media have taken it upon themselves to proclaim Paul Ryan unfit to lead the House of Representatives because of his hesitation toward Trump. Sarah Palin intends to use her status as a once-respected Tea Party icon to try and defeat the speaker in his primary election.
The tactics being directed at Ryan and other Republicans slow to jump on the Trump train are nearly identical to the heavy handed approach used by John Boehner when he was Speaker of the House. The rhetoric also mirrors that used by Mitch McConnell, Harry Reid, and Nancy Pelosi to bully congressmen into walking a strict establishment line.
I am no fan of Ryan, but he can hardly be criticized for his conservative credentials by people backing a man that spent his life voluntarily funding and espousing extreme liberal ideology. It is also hypocritical to threaten the same types of retributions these party "outsiders" once criticized the Washington establishment for using against its most conservative members.
The Washington establishment has used coercion, intimidation, committee participation, campaign funds and other party resources to punish members who failed to toe the party line.
Trumpism has become the new establishment, so it would be incredibly naive to believe Trump is above the politics of shutting down and destroying conservatives who refuse to support the entirety of his political agenda.
But none of this should be the least bit shocking.
The rhetoric used by Trump against Cruz and other constitutionalists in the Republican Primary was only a preview of things to come. Sens. Rand Paul, Mike Lee, Ted Cruz and others will all eventually be attacked in similar fashion by the Trumpist establishment any time they attempt to stand in the way of the more liberal parts of his agenda.
If these types of authoritarian actions are what we have to look forward to under "unification," conservatives should flatly reject it.
The fact that conservatism suffered such an overwhelming defeat to authoritarian populism within the Republican primary was sickening. Trump may have won the primary, but my vote and my choices belong to me. Choices are individual, meaningful, and dare I say sacred. I don't intend to throw away my vote on someone I don't believe in.
I know full well my vote will not make much of a difference in an election where the vast majority of voters will be driven to vote for the lesser of two evils. At least I will sleep well knowing my choice will be meaningful and driven entirely by moral and constitutional principles.
What happens with the election, happens. I personally did what I could to try and warn people of what Trump is. The people have made their choice and now I am entitled to mine. I don't owe the Republican Party or Trump anything.
#NeverTrump.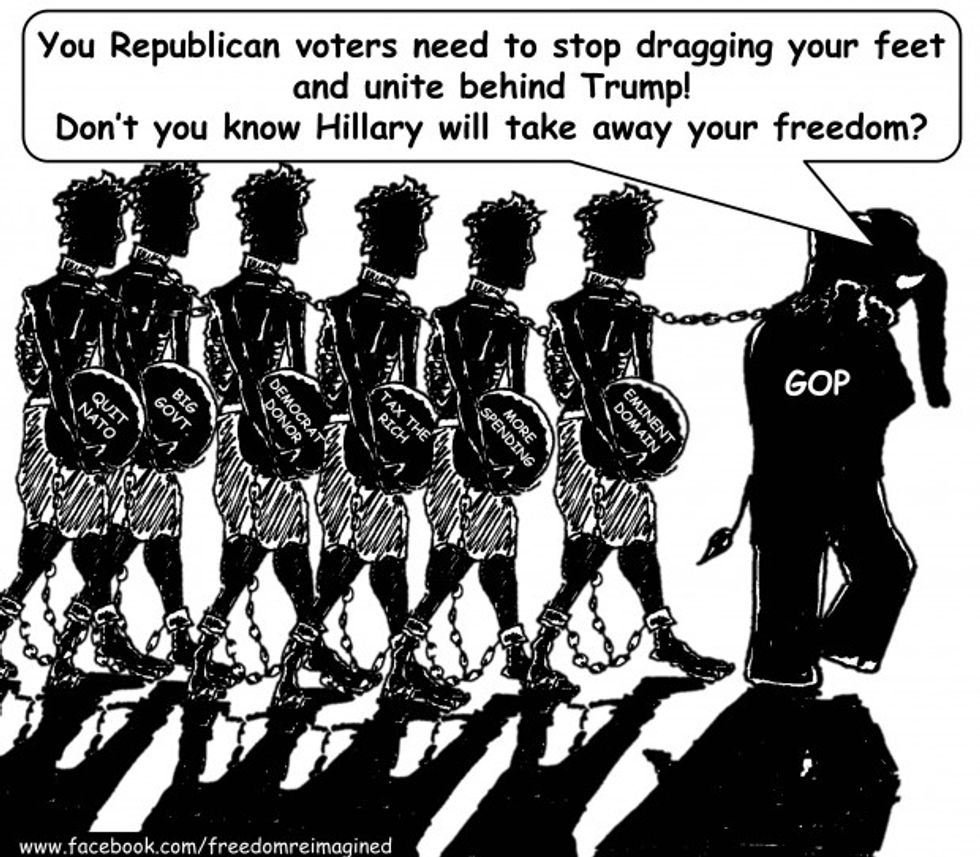 (Karl Knighton)
–
TheBlaze contributor channel supports an open discourse on a range of views. The opinions expressed in this channel are solely those of each individual author.