Donald Trump is a power-hungry, unprincipled and narcissistic disaster. He represents nothing of virtue nor principle. He is the worst.
But, he is teaching conservatives something we've needed to learn for a very long time: We really need Marketing 101. Badly.
NEW YORK, NY - OCTOBER 12: TV Personality Donald Trump attends the 'Celebrity Apprentice All Stars' Season 13 Press Conference at Jack Studios on October 12, 2012 in New York City. Credit: Getty Images
As Trump continues his campaign to completely adulterate any vestige of the conservative brand, conservatives' milquetoast response has consistently failed to stop the Trump train as it steams toward the GOP nomination. Principled, proven conservatives continue to be annihilated by him, leaving Ted Cruz the only remaining GOP hope in the fight against Trump. But so far, Republicans have shown they're willing to buy the sleek Charlatan Snake Oil peddled by Trump, rather than the generic medicine so blandly offered by Cruz. And while everyone will eventually find out what Trump is really made of, for now, his pitch is working all too well.
Trump: the Disgusting, Debt-Ridden, Overconfident Motorcycle Guy
Trump is the confident vagabond who rides up to your house on a new, oversized motorcycle he doesn't own and hits on your wife. He doesn't mention he's riddled with disease and has no plans for where they'll go, but he looks like an adventure.
Your wife turns to you: "Well?"
Here's your response if you're a Republican political candidate:
"Well, Marleen, I earn an above-average salary of $94,564 per year—clearly demonstrating that I am a capable provider, and I believe anyone that looks broadly at my consistent record as a husband and father will see that I am clearly better than this guy. Come on, honey, let's go play some Backgammon inside and talk it over."
…and your wife rides off into the sunset with the motorcycle guy.
Here's what you should do:
Walk up to the guy, punch him in the face, drag his unconscious body away from the motorcycle, start it up, and take your wife for a surprise ride to Vegas for the weekend.
You've got to take the "it" factor from the motorcycle guy.
Elections Aren't Really About Being Conservative
We've got to stop believing that it's just about being conservative or being consistent—it isn't. It's about the message, the feeling. And that's why the attacks about his consistency, Christianity, or Democratic donations will never work.
We're bringing a notecard to a knife fight.
Trump's winning because he still has the persona of a sucessful businessman. The left generally understands this, which is why John Oliver's recent video about Trump was mainly about destroying his persona of success—not Trump's political record.
You're Wrong about Ronald Reagan
It was marketing. Go watch highlights of Reagan right now. He was entertaining, inspiring, hilarious, strong, and a huge breath of fresh air.
He spent his career in media. He was lighthearted and knew how to deliver a great line. Reagan would rest his hands on the podium while he told a great joke. He was human. You wanted to be around him. You'd love him as your grandpa, neighbor, boss…or president.
He wasn't the most conservative guy we've ever had. Not by a long shot—he was a Democrat until 1962. But he was conservative enough, and is now a political legend.
What Good Marketing Is…and Isn't
Trump is rich, talks tough, speaks human, and is very politically incorrect. And many are willing to overlook the bad in Trump to support his successful persona.
We live in a Twitter world. No one is holding voting-records-review parties or tax-plan-viability shindigs. So, candidates, stop talking about your consistent conservatism and budgeting success—no one cares. Well, not enough people care. Principle doesn't always win, as Trump is showing. So learn the game.
Some Basics for Cruz
Let me give a few examples of how Cruz can improve his marketing game:
Speak human. Convincing rhetoric is more persuasive than a consistent record.

Pick an emotion. After delivering an otherwise-powerful line, don't break into an awkward chuckle or awkward smile. The body language ping-pong is confusing and strange.

Throw punches and lead the attack. Paint Trump as a clueless celebrity who knows how to create jobs as well as Paris Hilton. Plainly demand Kasich get out of the race. Tell Hillary Clinton that killing Bin Laden was not a hard decision for anyone who loves America.
Ruffle some feathers, get the media time, and create momentum. By doing so, you'll have the repute of a fearless leader—not just the congressional record of one.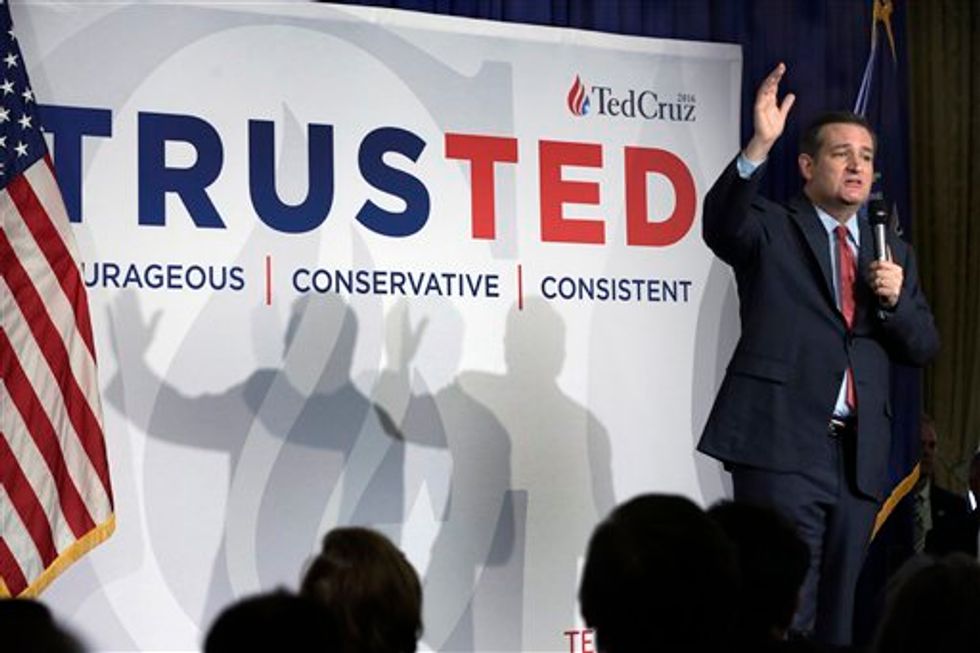 Republican presidential candidate, Sen. Ted Cruz, R-Texas speaks at the Women's National Republican Club in New York, Wednesday, March 23, 2016. (AP Photo/Richard Drew)
Some Basics for All Conservatives
We need to have inspiring, likeable, and strong messengers who know how to make the pitch. Here are a few examples of how to do it:
On religion and faith: "You're too busy looking in the mirror to see God around you, Donald. You're obsessed with yourself and have no core beliefs or principles. Name the first five books in the Old Testament."

On the military: "Donald, you're not tough—you're a soft celebrity. And now you're interrupting. How can you ever oversee a potential nuclear conflict if you don't have the patience to listen to a 20-second answer you don't like?"

On abortion and Planned Parenthood: "Any organization that kills babies for money and sells their organs is evil. We can find another way to hand out birth control without murdering millions of innocent babies."

On Affirmative Action: "I believe all races are capable of success in America. Affirmative action is insulting, and anyone who says you need some politician's help to get a job is not your friend, because affirmative action is just racism with a smile."
Regarding Trump, make his perceived strength be seen as a weakness. After all, Trump supporters don't mind when he interrupts, because they perceive it as strength and dominance.
A Final Plea to Conservatives: It's not The System
Our problem with Trump is not the timing of the primaries or some other desperate political excuse. It is a complete failure on the part of Conservatives to effectively brand ourselves. We have candidates who can make a logical case to a judge, but not an emotional appeal to a voter.
So while Republican voters should do a better job in seeing through candidates' political smokescreens, our candidates also need to be far more effective in making the pitch. To do that, we first need to acknowledge that neither conservatism nor consistency wins elections. Trump proves that. And while he is one heck of a salesman, his product is outright terrifying.
Nathan McBride is a business executive who specializes in managing very fast-growing companies, and is passionate about the effective proliferation of conservative values and constitutional principles. Contact him at natemusings@gmail.com.
–
TheBlaze contributor channel supports an open discourse on a range of views. The opinions expressed in this channel are solely those of each individual author.