Billionaire real estate tycoon, reality television star, and Republican presidential candidate Donald Trump is not a conservative.
At one time or another, Trump has advocated for gun control, liberal immigration policies, partial-birth abortion, and a slew of left-wing politicians, including the Clintons and Rep. Nancy Pelosi (D-Cali.).
Trump has, of course, moved much further to the right on many of these issues over the years, but if you're looking for a trustworthy, proven constitutional conservative, Trump—a candidate who has switched his political affiliation at least four times—isn't your guy.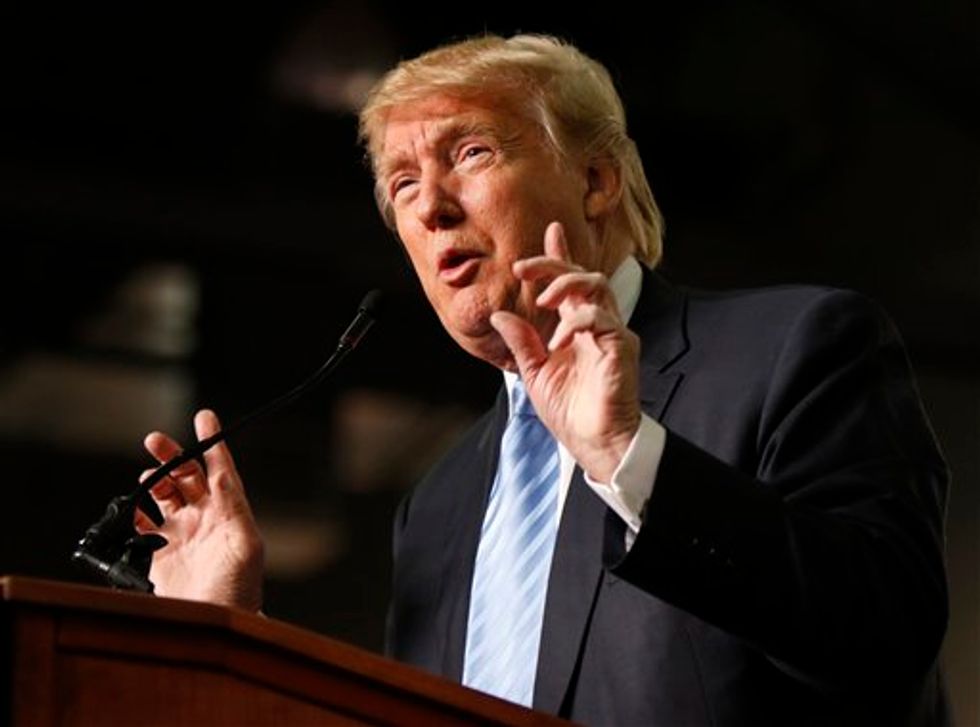 Republican presidential candidate, businessman Donald Trump speaks during a rally at the Greater Columbus Convention Center in Columbus, Ohio, Monday, Nov. 23, 2015. (AP Photo/Paul Vernon)
Even now that Trump has reached "conservative" status in the minds of many, he continues to advocate for blatantly leftist, authoritarian, or unconstitutional policies truly conservative candidates would never consider for even a moment.
For instance, in August Trump argued the United States should adopt a policy that would effectively declare the more than 300,000 children born to illegal immigrants each year as non-citizens, despite the fact the 14th Amendment has always been understood to include all people born on U.S. soil.
Trump's most recent outrageous policy suggestion is his plan to temporarily prevent American Muslims currently overseas from re-entering the country—a policy his campaign quickly reversed after Trump received significant backlash from countless prominent members of his own party. Trump has continued to call for a temporary ban on non-American Muslim immigrants.
Despite his endorsement of leftist policies, Trump continues to lead the GOP field, with one recent Reuters poll indicating Trump is currently backed by 35 percent of Republican voters, beating out Sen. Marco Rubio (R-Fla.) by nearly 20 percentage points. Pundits and policy experts have attempted to explain the odd political phenomenon of self-proclaimed conservatives voting for a candidate that has historically supported liberal policies.
Although the reasons for supporting Trump vary from voter-to-voter, the underlying foundation upon which the entire Trump movement has been built is, quite ironically, the strong reaction against untrustworthy liberal Republicans who have dominated the party's politics for decades. If Trump is a political monster, the proverbial Dr. Frankenstein is the group of promise-breaking, say-anything establishment Republicans such as Karl Rove, John Boehner, and Mitch McConnell.
Even the staunchest conservative Trump opponent can sympathize with many of his supporters' frustrations. Since the end of Ronald Reagan administration, Republican politics have only had brief moments of true conservatism, and they have often been surrounded by countless liberal policy decisions by allegedly "conservative" Republicans that would make Woodrow Wilson proud.
The expansion of Medicare and reckless government spending under President George W. Bush; the failure of countless Republican-led Congresses to deal with the United States' nearly open borders; the nominations of moderate (or liberal, depending on who you ask) presidential candidates John McCain and Mitt Romney; the "Gang of Eight" immigration deal and other similar compromises in Congress; and the seemingly endless string of defeats on the legislative, court, and media battlefields with President Barack Obama have culminated in the formulation of a political environment where a candidate like Trump actually has a chance of winning the GOP nomination.
But why Trump?
Sen. Rand Paul (R-Ky.), Sen. Ted Cruz (R-Texas), and Dr. Ben Carson would all almost certainly be truly conservative presidents, and it's hard to imagine any of them would ever support the kind of liberal policies Trump has openly proposed in the past.
The real reason Trump has surged while his more conservative GOP opponents remain stuck in neutral is not because the Republican Party is moving further to the left; it's because after more than two decades of poor Republican leadership and a failure to implement free-market, pro-liberty reforms, voters no longer trust anyone in the Republican Party—no matter how conservative they have been in the past—to get the job done in several key policy areas.
You may be wondering why a failure in the Republican leadership would lead to trust in Trump. It's true one does not necessarily lead to the other, but Trump, seizing on the opportunity granted to him by Bush, McConnell, and Boehner, has been able to formulate what many voters now see as an iron-clad promise to accomplish several important tasks, including closing the U.S.-Mexico border, standing up to the tyrannical Russian President Vladimir Putin, fighting against radical Islamic terrorism, ensuring the United States does not get abused in future international trade agreements, and simplifying the federal tax code.
Certainly many of Trump's Republican opponents are making similar promises to primary voters, but Trump is the only candidate who has developed a two-pronged political strategy to reinforce his commitment to these causes in the minds of the voters. The first way Trump has accomplished is by promising to personally finance the majority of his general election campaign. Trump is the only Republican candidate in the field (and in recent memory) to be able to pledge what could be more than a billion dollars of his own money toward his campaign. This isn't about having enough money to win the election, however. This is all about trust. Because Trump can raise his own cash, he doesn't need special-interest groups' cash, which means in the minds of many, Trump can't be bought.
Second, and perhaps most importantly, Trump's constant assault on America's absurd politically correct culture has made his promises more believable. Voters feel as though they can know Trump will stick by his word because he's proven he's willing to stand by his incredibly offensive (in the minds of academics, pundits, members of the media, and many citizens) statements. Trump has proven he's willing to take a beating from the media to support what many believe are reasonable ideas, and he's earned a deep commitment from his supporters because of it.
While his opponents are on the campaign trail pinky-swearing their commitment to the conservative cause, Trump is sealing his promises with what amounts to a political blood oath—a strategy that may very well lead to a Republican nomination, however frightening that may be.
–
TheBlaze contributor channel supports an open discourse on a range of views. The opinions expressed in this channel are solely those of each individual author.