© 2023 Blaze Media LLC. All rights reserved.
Utah Residents Take on Rodents - In Their Front Yards and in Washington
Anyone who doubts that the federal government is on a relentless march to regulate and restrict nearly every aspect of American life should consider the plight of the folks in Cedar City, Utah.
Jonathan Wood is a staff attorney with Pacific Legal Foundation. He represents property owners of Cedar City, Utah, in their challenge to the constitutionality of ESA regulations for the Utah prairie dog.
-
Anyone who doubts that the federal government is on a relentless march to regulate and restrict nearly every aspect of American life should consider the plight of the folks in Cedar City, Utah.
This small town in the southwestern part of the state is under seige from a proliferating population of rodents – the species known as the Utah prairie dog. Farm fields and homeowners' lawns are riddled with prairie dog holes. Tunnels and mounds have damaged parks, playing fields, golf courses – even the cemetery and the airport's runways.
At the same time, residents are also under assault by federal environmental bureaucrats who block them from controlling this varmint.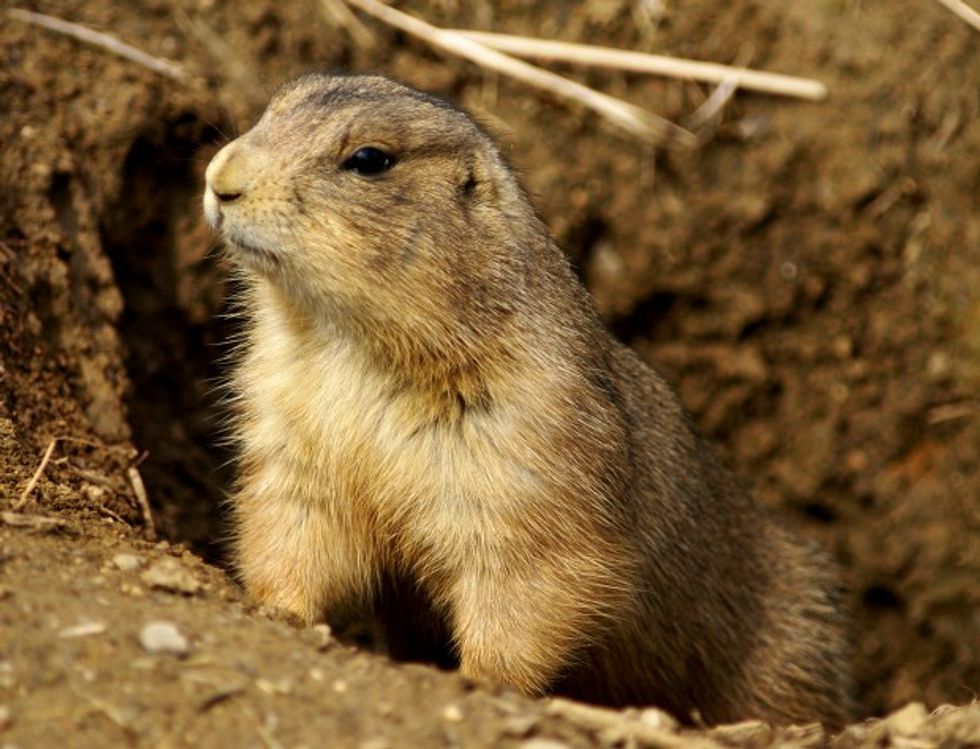 Prairie Dog. Photo Credit: Wikipedia.
There are more than 40,000 Utah prairie dogs in the region. But that hasn't stopped the U.S. Fish and Wildlife Service from labeling the animal as "threatened" and imposing Endangered Species Act regulations to protect it.
The ESA is one of the most heavy-handed environmental laws. When an animal – including a rodent – is declared to be in peril and covered by the ESA, federal officials can micromanage people's land and their lives in the name of species protection.
In Cedar City, the locals have been forbidden from doing anything that would amount to a "take" of prairie dogs, under the ESA's broad definition of that term.
Anyone who harms a single prairie dog -- or even catches one to move it, say, from the city cemetery to a conservation area -- can suffer crushing fines, and even prison time.
Pockmarked lawns and gardens aren't the only result. The economy has been undermined, because ESA restrictions leave construction projects in limbo.
Small business owner Bruce Hughes, for example, wanted to build a small office complex on a parcel he bought as a retirement investment. He's out of luck, because prairie dogs moved onto the land.
Although federal officials offered him a "deal," it came with a steep price: He could remove the prairie dogs if he paid the government $34,000.
"If I didn't pay, and I happened to kill one prairie dog, it would be a $10,000 fine and five years in federal prison," Hughes said. "I could have robbed a convenience store and gotten off easier than that."
However, if you're shaking your head in frustration or fury, don't lose heart.
The people of Cedar City have taken a stand for their freedoms, and if they're successful they could win a victory for everyone who values constitutional principles.
Sick of being stepped on by the feds, Bruce Hughes and scores of other residents -- homeowners, business people, farmers and local officials -- formed People for the Ethical Treatment of Property Owners (PETPO), and headed to court.
Represented by Pacific Legal Foundation, a national property rights organization, PETPO is challenging the federal government's authority to regulate for the Utah prairie dog, because it is not an "interstate" species and it isn't bought or sold in commerce.
The Constitution's Commerce Clause may give the federal government a lot of power, but it has limits. Those limits are violated when the government asserts the power to regulate any activity – regardless of whether it's commercial – that could harm a species with no appreciable tie to the nation's $17 trillion economy.
Good news: PETPO won the first round of this legal fight. In a historic decision late last year, a federal judge ruled against the federal government and its use of the prairie dog to, in essence, take over Cedar City.
Federal power is broad, U.S. District Judge Dee Benson acknowledged, but, according to his ruling, "If Congress could use the Commerce Clause to regulate anything that might affect the ecosystem (to say nothing about its effect on commerce), there would be no logical stopping point to congressional power under the Commerce Clause."
Federal officials can be as aggressive as they like in protecting the prairie dog on federal land, which constitutes about two-thirds of Utah. But they have no business abridging private property rights, or usurping the land-use authority of local governments, for a species with no interstate-commerce connection.
Judge Benson's ruling was ground-breaking. It marked the first time a court had held that the Commerce Clause sets limits on the scope of the ESA.
Now, the case heads to the 10th Circuit, after federal officials recently announced their appeal. Ultimately, an appeal to the U.S. Supreme Court, by one side or theother, is probable.
This is a major development because the ESA has destroyed jobs and dashed dreams from coast to coast, by robbing people of the basic right to use their land productively and responsibly.
Nationwide, approximately 1,500 species are on the ESA list. Nearly two-thirds are single-state species with no commercial impact. Judge Benson's ruling says the responsibility to regulate and protect such species lies with states and localities -- not with bureaucrats in Washington, D.C.
The need to enforce constitutional limits becomes more urgent all the time, because ideologues never stop pushing to impose ESA controls on more and more land. Using the notorious "sue and settle" technique, environmental activists pressure the federal government to add species to the ESA list by the hundreds.
For example, during a 2013 congressional hearing, an Arkansas official noted that such settlements could leave as much as 40 percent of that state under federal control.
Elsewhere, ESA regulations threaten to curtail the natural gas boom, one of the bright spots in a still sluggish economy. One example: Protections for the lesser prairie-chicken could block production on more than 4 million acres in the Southwest.
In California, farms are left fallow by ESA edicts. Federal protections for a tiny fish -- the Delta smelt -- have drastically curtailed water deliveries to the San Joaquin Valley, one of the most productive agricultural areas in the world. We are all, literally, paying more to put food on our tables because of unconstitutional federal regulations for a fish that, like the Utah prairie dog, has no discernible connection to commerce.
If Judge Benson's ruling eventually reaches the nation's highest court and is upheld, it could free property owners and small businesses across the country from crippling regulatory burdens.
If so, we can thank the folks in Cedar City for having the gumption to fight for their rights -- and everyone else's.
–
TheBlaze contributor channel supports an open discourse on a range of views. The opinions expressed in this channel are solely those of each individual author.

Want to leave a tip?
We answer to you. Help keep our content free of advertisers and big tech censorship by leaving a tip today.
more stories
Sign up for the Blaze newsletter
By signing up, you agree to our
Privacy Policy
and
Terms of Use
, and agree to receive content that may sometimes include advertisements. You may opt out at any time.