**The following is an in-depth review of "War Dogs" and does contain spoilers.**
"War Dogs" is the real-life story of Efraim Divoreli and David Packouz, two gray market arms dealers trying to make a name for themselves in the world of US Defense Department supplier contracts.
Efraim and David grew up together in Miami, Florida during the 1990s. Sometime between childhood and the founding of AEY, Incorporated Efraim had left Miami to work with his uncle. Divoreli's uncle - BarKochba Botach - owned a law enforcement supply company in South Central, Los Angeles. It was while working for his uncle in California that Divoreli learned the firearm supply business and obtained a Class 3 Federal Firearms License.
Upon returning to Florida after a fallout with his uncle, Divoreli recruited his former childhood friend to help him expand his fledgling arms dealership. Divoreli taught Packouz how to search for the "crumbs" of federal contracts via the FedBizOpps website, which the film describes as "Ebay for government contracts."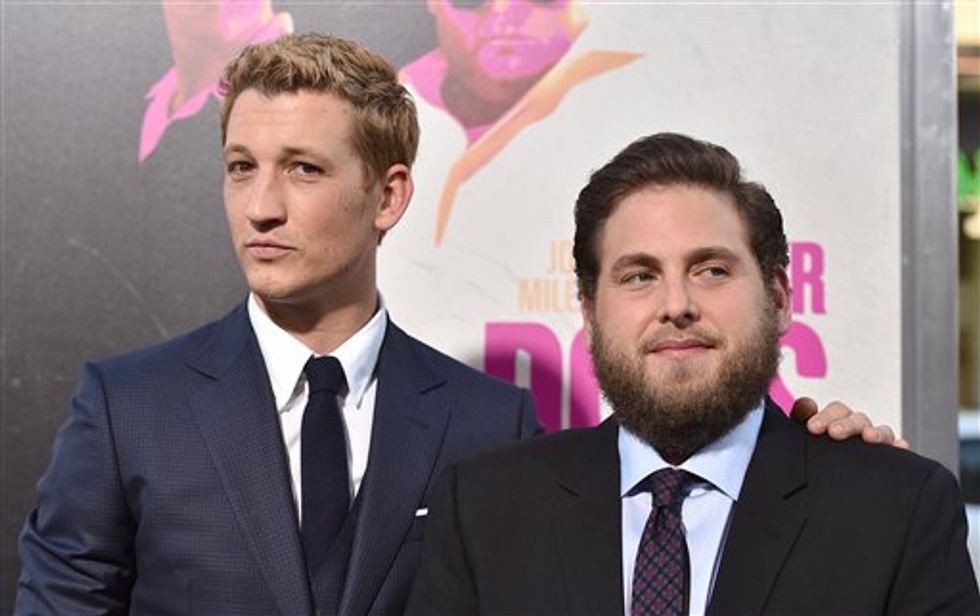 Miles Teller, left, and Jonah Hill arrive at the Los Angeles premiere of "War Dogs" at the TCL Chinese Theatre on Monday, Aug. 15, 2016. (Photo by Jordan Strauss/Invision/AP)
The film follows the pair as they grow AEY into one of the biggest government arms suppliers in the country, and as they slowly get in way too deep and over their heads.
In their overzealousness to win a $300 million contract known as "The Afghan Deal" - a contract by which the US would arm the entire Afghan army - Efraim and David are forced to do business with less than scrupulous characters. This is when their story truly begins to go south.
Once Efraim and David secured the Afghan Deal, they quickly learned that they just didn't have the contacts to fill the massive order. So they turned to Henry Girard, played by Bradley Cooper, who claimed he could fill the entire order himself. While the Girard character appears to have been created for the film and no record of this man appears to exist, he is most likely a fictionalized version of a real unknown person - or amalgamation of several persons - who did exist in real life.
Girard fills the order, but when David and Efraim take possession of the merchandise they come to a horrible realization. The AK-47 ammunition is from the Cold War and was manufactured in China, making it illegal to sell to the United States. Up until this moment, nothing Efraim and David had done had been illegal. They now found themselves in the position of defaulting on the contract and losing everything they'd built, or plunging deeper into the depths of illegality and hope they get away with it.
"War Dogs" is a wonderfully executed - if not incredibly poignant - movie. Director Todd Phillips, mostly known as director of "The Hangover" and its sequels, had planned this to be his "Wolf of Wall Street." Sadly, an opus it isn't. What it is, however - and what Phillips should be proud of - is a smart and humorous look into government incompetence.
The highlight of the film is the performance turned in by Jonah Hill. Jonah Hill's wheelhouse seems to be the shy, nerdy fat kid and Efraim Divoreli is far from that. Hill exudes such a sleaziness in his performance that you almost want to take a shower after watching the movie, and it's wonderful seeing Hill step outside his usual type and show his range.
The movie does feel longer than it actually is, but oddly enough this seems to work. The movie comes in at just under two hours and takes place over the course of three years, and you really feel as though you are on this three-year journey with the characters. Nothing in the film feels rushed, and while the movie feels full it doesn't really drag. It holds your attention throughout.
While "War Dogs" isn't by any stretch of the imagination a perfect movie, it is a fun movie and well worth a look.
"War Dogs" currently holds a 59 percent on Rotten Tomatoes.
–
TheBlaze contributor channel supports an open discourse on a range of views. The opinions expressed in this channel are solely those of each individual author.