What do entrepreneurs and a pastor dressed as Han Solo have in common? A lot actually.
One of the great things about my job is getting to talk with incredible entrepreneurs and leaders about the strategies and values that make their organizations thrive. I recently had the privilege of interviewing my friend Tim Lucas, who launched a "Cosmic Christmas" campaign at his church, and the results have been incredible.
Tim is a pastor, but he's also a savvy entrepreneur. He planted Liquid Church eight years ago in New Jersey, one of the most difficult regions in the country for church plants, and it has grown to 3,500 attendees a week.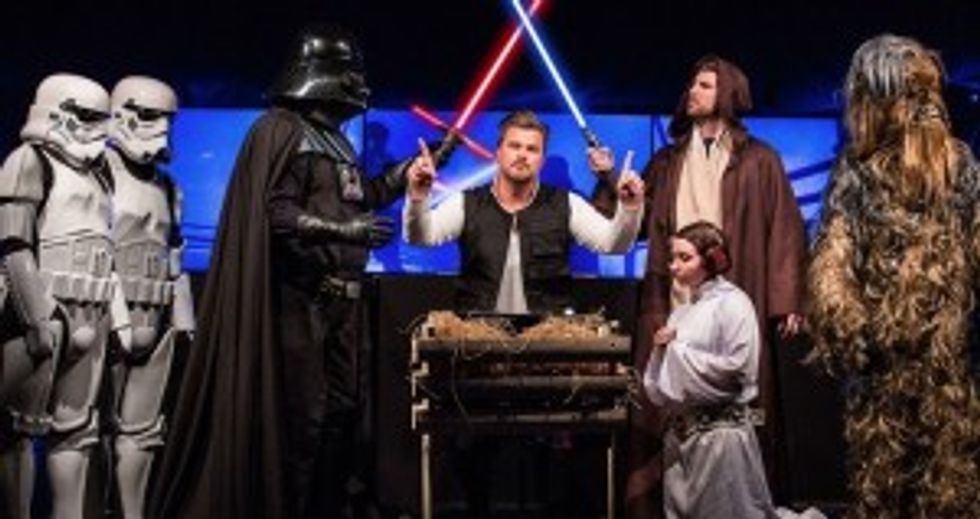 A scene from Cosmic Christmas. Image source: Liquid Church 
Like a business start-up, planting a church takes visionary leadership, the ability to time risks, resourceful strategy, and seamless team building, especially in New Jersey, where church isn't typically the most talked-about thing in town. This Christmas, however, Tim and his team at Liquid Church set out to change that.
So far, it's working. CBS, USA Today, TIME Magazine, and the Today Show are just a few of the many media outlets talking about the Cosmic Christmas buzz.
Why? Because on Christmas Eve, Liquid Church had a live nativity that replaces Mary, Joseph, and Baby Jesus with Princess Leia, Han Solo, and a Jawa. Sacrilege, right? Maybe. But the results have been hard to argue with after 7,000 people registered for their Christmas Eve service, doubling their average Sunday attendance.
What can entrepreneurs learn from Liquid Church and the Cosmic Christmas campaign?
1.Cultural Engagement
When entrepreneurs find opportunities for cultural engagement, they have the opportunity to break new ground. The beginning of that process is usually met with more skeptics and critics than friends and fans. As an entrepreneur, have confidence in the face of this skepticism by making sure that the cultural engagement you're attempting has its roots in the core of your business.
Tim's advice is to engage your target audience and consumers with things relevant to them. For Liquid Church, it's taking the popularity of the Star Wars franchise and leveraging it to show the true story of Christmas.
"It's not just a hook; we're taking three weeks of the Christian year to take a popular myth and tell the true story of Christmas," Tim said. Cultural engagement can be a hook, but its effectiveness is derived from the end product to which it eventually leads.
If your business is local, it may be good to engage with social and cultural happenings in the community around you. Look for ways to link your company to the things your target base cares about.
2. Timing Your Risks
When I first heard of Liquid Church's Cosmic Christmas, my reaction was "What?!" And that's exactly what Tim was hoping for. Tim told me, "We're trying to cut through the noise and commercialism to get people to raise the question, 'What's that all about?' Our answer is very simple. Come and see."
The risk of the collective "what?!" from the public was worth it to Tim, because it gave Liquid Church the opportunity to say "come and see."
One of the most difficult parts of entrepreneurship is constantly having to decide whether or not a risk is worth taking. The question is always, "How can I be confident in this risk?" The answer is timing. A well-timed risk can yield incredible confidence and, more importantly, results.
Tim's ability to take risks in a timely and confident manner is something that was garnered over the course of Liquid Church's eight year existence.
"We've built a trust with our user-base, our congregants. They say, 'We don't know how this is gonna fit together, and our pastor is preaching in a Han Solo costume, but we know (the risk) is going to be done with excellence, and in a way that doesn't hit people in the head - in a way that is winsome.' So we've cashed in on those chips relationally and pick our spots," he said.
You can be confident in the risks you take when you've established trust both inside and outside of your company, and when the risks are well-timed with the direction in which your business is moving.
3. Know Your Origin Story
"I think every company, church, or organization needs a good origin story," Tim said. "When people are thinking about getting onboard, they want to know your roots - your sense of place in time and history."
As an entrepreneur, what drove you to begin your business? What is your "why"? What difference is your business making in the world?
Engaging clients with your origin story fosters the idea that they are part of what you're doing. This also holds true for potential hires and investors. If they are able to see the macro-view of where you began, they will be able to see with clarity and excitement where your company is going. Sharing your story creates loyalty and a unified culture for everyone involved, which in turn will lead to word of mouth, repeat business and internal growth.
Following these three principles is a great starting point for taking your business to the next level. Take risks that are aligned with your company's overall vision and strategy, and you might find the "Cosmic Christmas" idea that will take your business to the next level.
William Vanderbloemen is the co-author of "Next: Pastoral Succession That Works" and president/CEO of Vanderbloemen Search Group, the leading executive search for churches, ministries, and faith-based organizations.