© 2023 Blaze Media LLC. All rights reserved.
The economy will be the number one issue for millennials in 2016.
With most media sources, both liberal and conservative, agreeing that the CNBC Republican Presidential debate was a wash, the bulk of the work falls on the Fox Business Network's shoulders in discovering the GOP presidential candidate's economic positions.
The economy will be the biggest issue for most Americans, but the millennial generation will hold it as THE issue of 2016 and, although, the Republicans have the edge when it comes to economy, they will need to hone their messaging to seal the deal come November 2016.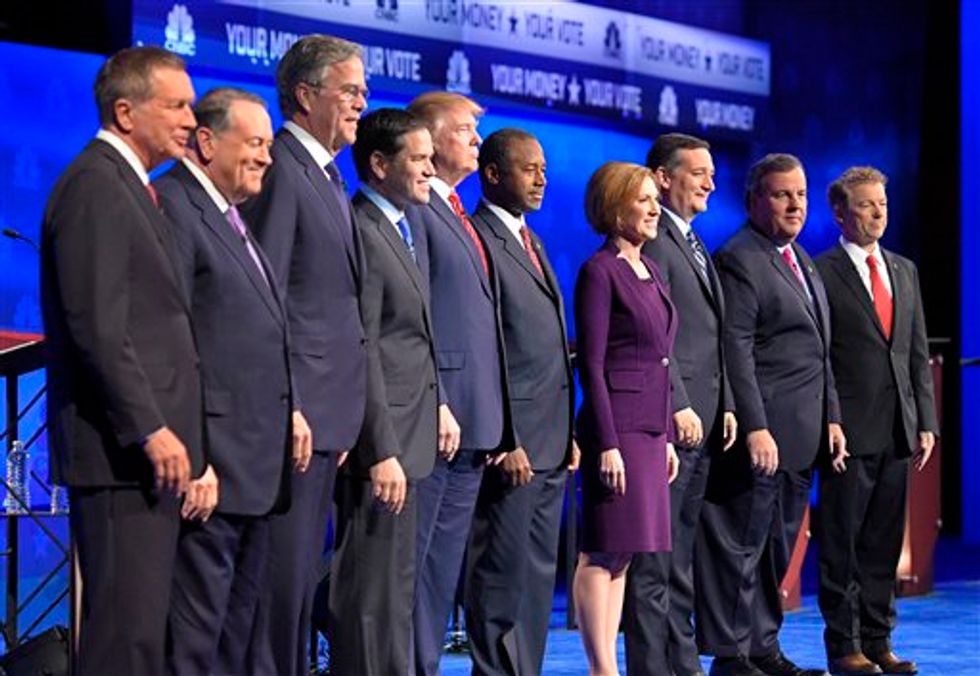 (AP Photo/Mark J. Terrill)
Over the last eight years the millennial generation has been disinherited by President Barack Obama and by both political party's in Washington, D.C. Millennials are still facing double digit unemployment, massive 50 percent underemployment, skyrocketing costs of education, $1.2 trillion in student loan debt, and the insolvency of entitlement programs. Millennials are looking for a strong leader when it comes to the economy and they give Republicans the edge in handling these issues according to the latest Harvard IOP polling.
When the Fox Business Network's GOP debate goes live November 10, many millennials will be tuned in to discover just where each candidate stands on the important economic issues and how they will create a friendly economic climate for a generation that has been forgotten by the Washington elite.
The first economic issue at the forefront of many millennials agendas is the extreme underemployment of their generation. Almost 50 percent of college graduates are working jobs that require a high-school diploma or less, and almost 260,000 are working at minimum wage.
Many minimum-wage millennials are trying not to default on their student loans, which is why a third have moved back home to save money.
The Bureau of Labor Statistics has found that the number of college graduates will rise to 19 million by 2020 and that the number of jobs requiring college degrees will rise by just 7 million. There are simply too many college graduates and not enough jobs requiring a degree.
The projected growth of college enrollment combined with the projected growth in high-skilled jobs shows the dramatic and continued worsening of the underemployment of college graduates and continued default on their student loans.
Many millennials are also saddled with crippling student loan debt. The average millennial has over $35,000 in student loan debt, with an average loan repayment amount of nearly $50,000. This type of debt is simply unsustainable when millennials are struggling to find jobs and when a majority are working minimum wage jobs.
The student loan debt problem has become such an issue that one-third of millennials would sell an organ to payoff their loans. They are looking for a solution and they are looking for one now.
The Republican presidential hopefuls will have to work very hard to stand out among the large group of candidates who all have similar policies regarding cutting personal and corporate income taxes and reforming entitlement programs. The Republicans on stage will also have to explain why their plans to rebuild and stimulate the economy for millennials are better than the Democrats Oprah inspired give-a-way of free "stuff."
Millennials want lower taxes, reform of the cost of education, refinancing of the student loan debt, more jobs that are worthy of their expensive college degrees, and entitlement programs that will be around when they need them.
Salvator is a millennial generation political author, campaign strategist, and messaging expert. For media inquires: Sal.Lamastra@gmail.com. Follow Salvator on Twitter: @SalvatorDMD
–
TheBlaze contributor channel supports an open discourse on a range of views. The opinions expressed in this channel are solely those of each individual author.

Want to leave a tip?
We answer to you. Help keep our content free of advertisers and big tech censorship by leaving a tip today.
more stories
Sign up for the Blaze newsletter
By signing up, you agree to our
Privacy Policy
and
Terms of Use
, and agree to receive content that may sometimes include advertisements. You may opt out at any time.