On the anniversary of the Islamic State's seizure of Mosul, Iraq, I interviewed a young man on my radio show, Stand For Truth Radio, about his views concerning Iraq and the future he sees for the persecuted Christians of Iraq.
First, let me tell you that Matthew VanDyke is not like everyone else. He is an American citizen from Baltimore, Maryland who was not happy sitting on the sidelines watching the struggles in the Middle East.
He decided years ago, when former President George Bush first sent military forces into Iraq, that he needed to be involved.
He was against the reasons for the United States going into Iraq and so chose not to fight with U.S. military forces.
Instead, VanDyke chose to leave his safe and familiar home in the U.S. to travel to the Middle East.
He wanted to see for himself what was really going on in the region. So, unlike most people, he hopped on a motorcycle and set out to capture the war on film. As a documentary filmmaker, VanDyke recorded the wars in Iraq and Afghanistan on videotape.
He subsequently ended up fighting as an American freedom fighter and soldier in the National Liberation Army where he eventually was wounded and taken prisoner by Mummar Gaddafi's forces. VanDyke spent six months in prison and immediately after escaping returned to fight side-by-side with Libyan counterparts.
Since then, VanDyke has turned all of his attention toward helping Christians in Iraq who are trying to defend themselves against the Islamic State. Once again, he is not sitting on the sidelines waiting for someone else to solve the problem. Rather, he is "taking up arms" to fight the Islamic State but this time he is doing it through his non-profit organization.
VanDyke, the founder of Sons of Liberty International, provides free consulting and training to Iraqi Christians so that they may learn how to protect themselves against the Islamic State. The organization is wholly dependent upon public donations to continue their mission.
Throughout his interview, VanDyke was forthright about his feelings regarding the Islamic State and their torture of Christians.
I could sense VanDyke's frustration when I asked him to describe his feelings about the U.S.'s involvement in defeating the Islamic State both in Iraq and Syria. A move that if successful, would mean that Christians in Iraq would no longer need his help.
VanDyke did not hold back in his criticisms of this administration's lack of strategy in eliminating the threat from the Islamic State.
"You have to get these conflicts finished in the Middle East quickly before jihadists show up," VanDyke said. He indicated the U.S. had used this plan in Libya to avoid a takeover by terrorists.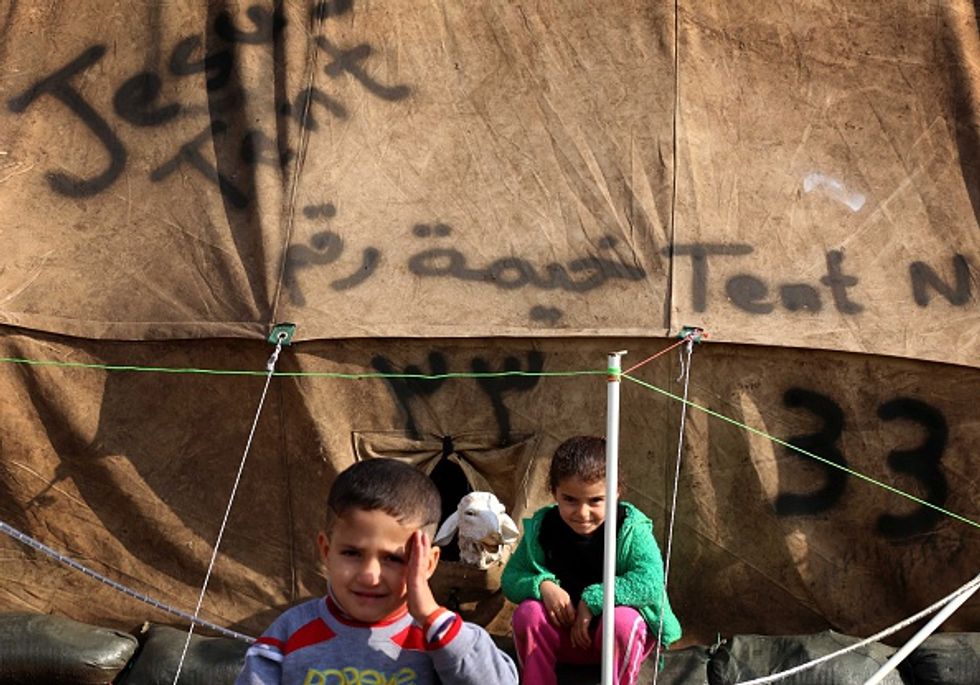 Caption:Iraqi Christian children who fled the violence in the northern Iraqi city of Mosul, sit outside a tent erected in the grounds of Mar Elias Chaldean Catholic Church where they are taking shelter in Arbil, the capital of the Kurdish autonomous region in northern Iraq on December 24, 2014. For many faithful across the region, the Christmas festivities will be tinged with sadness following a year of bloodshed marked by a surge in the persecution of Christians that has drawn international condemnation. AFP PHOTO / SAFIN HAMED 
VanDyke went on to say that Libya could have ended up like Syria had the conflict been allowed to continue but it was over before the Islamic State even showed up.
VanDyke believes the same strategy used in Libya could have been used successfully in Syria which would mean that the "Islamic State wouldn't even exist" today.
He is of the opinion that "an entire conflict and collapse of Iraq, all this could have been avoided had we just supported a moderate opposition to get this conflict ended more quickly."
"Jihadism spreads. It's like an infestation of roaches or a cancer. You have to eliminate it when it first starts or it will spread. It will spread to other countries and it becomes a larger problem the longer it's allowed to exist and that's what we see now," VanDyke said.
VanDyke's assessment of the situation regarding the Islamic State leads him to believe that since the U.S. didn't act quickly to destroy them when they had the perfect opportunity, now "another administration can't even clean it up."
The problem with the Islamic State is that it has "virtually no solution," according to VanDyke. "The Islamic State is here to stay at least for a few years."
While VanDyke explained that the general population of Iraqis have "no will to fight" because "they don't believe in Iraq," he paints a much different picture when he speaks about the persecuted Iraqi Christians.
"They actually have very high morale," VanDyke said, "They are quite exceptional for an Iraqi force." "They are very willing to fight."
He went on to describe how they are very involved in their training and readily take notes during the training.
My interview left me believing that VanDyke, while frustrated with what he perceives as a lack of support from the U.S. government in assisting him in helping the Iraqi Christians, is pleased with what his organization has been able to accomplish.
As those of us who feel at times that we aren't doing enough or that we would do more if we only knew what to do, VanDyke's organization offers Christians and anyone else who wants to become involved, an opportunity to really make a difference.
The easy part is going to the Sons of Liberty International website and making a donation.
The hard part is being willing to go to Iraq and train those that are constantly at risk of being put to death by the Islamic State terrorists.
VanDyke and his organization seem to be up for the task.
Be sure to listen to all of VanDyke's interview and what he had to say about his award winning films and his other experiences in the Middle East.
–
TheBlaze contributor channel supports an open discourse on a range of views. The opinions expressed in this channel are solely those of each individual author.