How do we protect America from the threat of cyber war? That is the question that policymakers, military analysts, national security experts and various other government officials are continuously asking.
There is little debate that the threat is real. The United States, its infrastructure, its military capacity and even corporate secrets are under constant assault from hackers in China, Russia, North Korea and even ISIS and its supporters. Some have argued we are already engaged in a secret cyber war and we are wholly unprepared to fight it.
Part of the reason we are not ready from the onslaught comes directly from the reality that our schools are not training the next generation of computer scientists. Change in educational curriculum comes slowly. Since the turn of the 1800s, math, history and language arts have been the core of learning. And rightfully so. But the creation of the computer, the growth of technology and the growing need to learn computer skills have brought us to the junction where, undoubtedly, computer science must become part of the foundation of learning.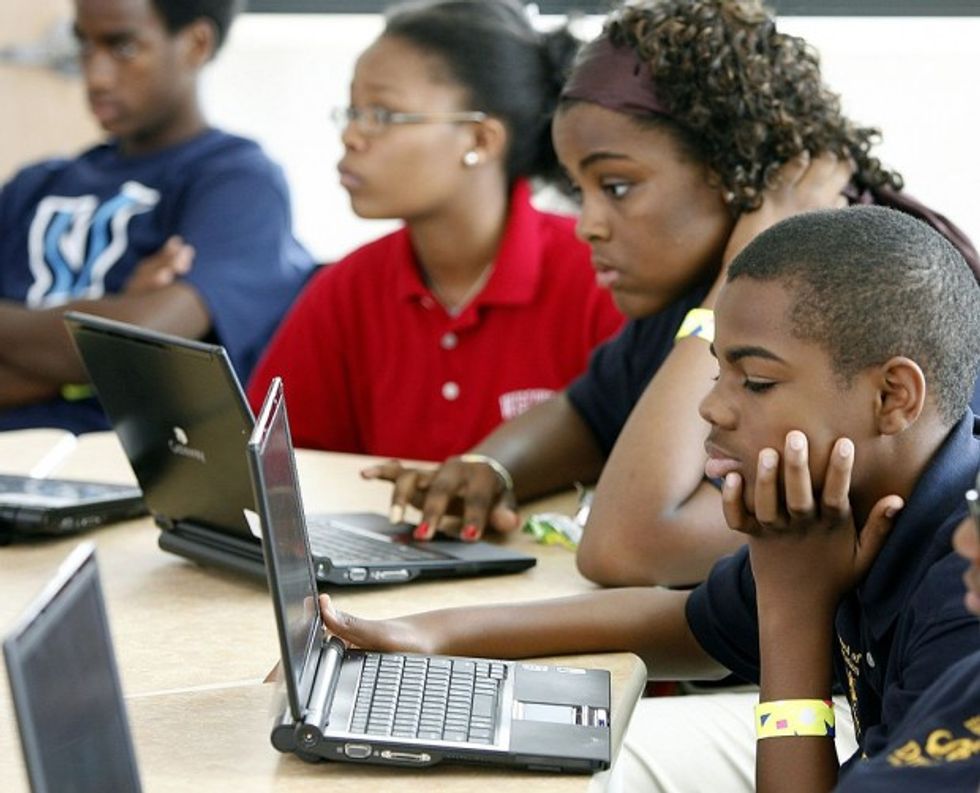 (Photo by Tim Shaffer/Microsoft via Getty Images)
The statistics are frightening. Whether we are talking about the need to protect the United States from cyber attack or just preparing the next generation for the realities of new jobs, we are falling behind the rest of the world.
Though technology is rapidly transforming how Americans live and work, less than half (40 percent) of U.S. middle school and high school students report using computers on a daily basis at school.
A Gallup survey found that:
Slightly fewer (52 percent) say computer science is taught as part of other classes at their school;

Less than half (43 percent) say their school sponsors a computer science group or club; and,

One-quarter (25 percent) report having no access to a computer science class or club at school.
TechCrunch noted: "For administrators, CS is simply not a priority. When 91 percent of parents want their children to learn CS and only 8 percent of administrators believes there is demand from parents, there's clearly an issue somewhere."
The problem is that the education infrastructure in America has not adapted to the new reality that our economy is transforming into an information, technology and computer based economy.
The irony is that you can't walk five steps without seeing a teenager on an iPhone. When you go home, kids immediately gravitate to the Xbox. And when they want to watch a show, they don't turn on the TV, they turn on a computer to stream a YouTube video, or watch Hulu or watch a show on demand on Netflix. Our kids use technology every waking moment - yet our country is not training those same kids to work for the companies that produce the products they use from when they wake to when they sleep.
In addition to not preparing our children to defend the nation from cyber threats, by ignoring computer skills, we are failing to protect our jobs from going overseas. Even today, there are currently 559,321 open computing jobs nationwide. Last year, only 42,969 computer science students graduated into the workforce. And as more basic goods and services become tied to technology, this gap will only grow wider.
Politicians can rant and rave about immigrants taking jobs or American jobs going overseas, but they need to act to ensure this problem doesn't get worse. States need to do a better job training K-12 in computer sciences. The federal government is responsible for national security and immigration policy, yet they have not taken steps that would help educate kids to address those federal issues.
Incorporating computer science into elementary and lower school curriculum is the first step toward protecting the nation from both military and economic threats. It will also make America more competitive, providing American youth with an education that can help them earn a living.
Recently, leaders of dozens of the nation's top businesses - from Apple to AT&T - called on Congress to help provide computer science education in all K-12 schools, noting that the United States needs far more students who are literate in the technologies that are transforming nearly every single industry.

–
TheBlaze contributor channel supports an open discourse on a range of views. The opinions expressed in this channel are solely those of each individual author.