Reading "Obamacare drives health insurance stock boom" reminded me of Joseph Stalin's favorite question, "Kto kvo?"
This is Russian for,"Who benefits?" We The Patients need to know, who benefits financially from Obamacare?
The stakeholders and thus potential beneficiaries from Obamacare include:
Publicly traded health stocks

Insurance companies

Hospitals

Information Technology suppliers

Consultants, lobbyists and lawyers

Bureaucracy

The president

Pharmaceutical Companies and Unions

Providers of health care

Patients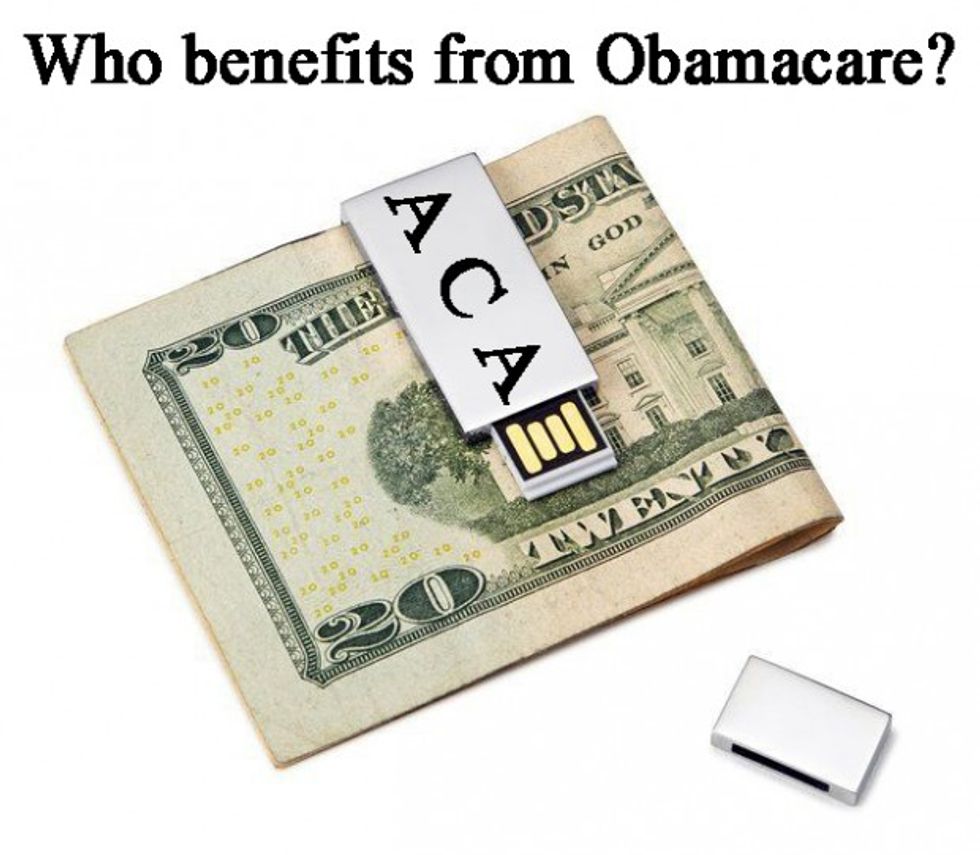 Photo Credit: Dr. Deane Waldman.
Publicly Traded Health Stocks
The price of any publicly traded stock is determined by the likelihood of future earnings. The market pays a high price for a stock that is believed to generate lots of cash in the future for the stockholders.
What does it mean when the price of the nine largest publicly traded insurance stocks went up 200-300 percent while the market rose only 75 percent? Answer: health stocks make money in an on-going recession.
As Timothy Carney of Washington Examiner wrote, "Health insurers supported the Patient Protection and Affordable Care Act and were one of the key constituencies consulted when policymakers crafted the legislation."
Conclusion: Health stocks are making money from Obamacare. They made sure of it back in 2010.
Insurance
Per Obamacare, insurance company profits are restricted to 15 percent of revenue. We all know they will find ways to get around that limitation but consider two additional facts
They are making 15 percent profit on their money, actually your money, while your savings account earns less than 1 percent in the bank. Imagine if you got 15 percent interest!

15 percent of $500 billion is $15 billion in profit. Not bad for simply transferring money from one place to another.
Insurance companies are pretty much everybody's favorite whipping boy. That is not fair. They are simply playing the game according to Washington's rules. A small change in the rules would suddenly make them our ally.
The key is aligning the incentives in the market. If we rewarded insurance companies with profits when the public gets what it wants, good health, you create a win-win scenario. When insurance companies make money as our health improves, instead of by denying us care, our healthcare system would start producing the outcomes We The Patients want.
Hospitals and Healthcare Organizations
It was no accident that the American Hospital Association supported Obamacare. Hospitals make money by billing insurance carriers. In contrast to physicians, Obamacare does not cut reimbursements to hospitals.
The more that hospitals provide services and goods to insured patients, the more money they make. When the president lauds his success in increasing the number of insured Americans, he delivers more "revenue-generating units" also known as paying patients, to the hospitals.
A woman looks at the HealthCare. gov insurance exchange internet site October 1, 2013 in Washington, DC. Credit: AFP/Getty Images
Suppliers, Especially Information Technology
Obamacare provides a huge windfall in profits to the Information Technology industry. Everyone knows about the ill-fated healthcare.gov website, but did you know the price tag will be over a billion dollars? For a website?!
Obamcare mandates the creation of innumerable other IT systems for state Insurance Exchanges, the Department of Health and Human Services, the Centers for Medicare and Medicaid Services, the IRS, every insurance carrier, all hospitals, a host of suppliers, and doctors' offices. There are new or revised codes for almost everything. The latest ICD-10 coding book, mandated by law, contains 148,000 diagnostic codes. The cost for IT services will be in hundreds of billions. These "healthcare" dollars will of course not be available for health CARE services.
Consultants, Lobbyists and Lawyers
Dante forgot to put in a special circle of Hell for consultants, lobbyists, and lawyers. To them, healthcare is a game and they play to win, regardless of what "winning" does to the rest of us.
The contemptuous and contemptible Jonathan Gruber was a key architect of Obamacare for which he was paid $400,000. He consulted for several states to implement Obamacare, including Vermont where he convinced the state government that a single payer system would work. He was paid another $400,000. In late 2014, Vermont discarded Gruber's single payer approach as unworkable.
Lobbyists have made out like bandits. Bill Tauzin, chief lobbyist for PhRMA , the lobbying organization for the Pharmaceutical Research and Manufacturers of America, received $11.6 million in 2010 for his services in pushing Obamacare while securing protections from Obamacare for his paymasters. You will see in a minute that those protections were worthless. Like Gruber, Tauzin still got paid.
How many law firms' pension plans became fully funded by legal fees arguing over what Obamcare said, meant, and did? Dozens of challenges to Obamacare have been heard in both Federal District Courts and the Supreme Court. Regardless of which side prevailed in each case, legal teams on both sides were winners: both made money. Legal fees generated by Obamacare are certainly in the billions.
As with the IT monies, these are "healthcare" dollars that provide no care for We The Patients.
Bureaucracy
If you have read "The Cancer in Healthcare," you understand that the bureaucracy always wins. Even as money is being cut (again) from doctors, Obamcare spends more money hiring bureaucrats to write, interpret, implement, and defend Obamacare.
UnitedHealth fired over 4,000 physicians due to "substantial funding pressure from the federal government," according to CEO Austin Pittman. Meanwhile, there seems to be a limitless supply of dollars to hire: accountants, actuaries, administrators, billers and coders, compliance oversight officers, consultants of various types, eligibility verifiers, in-person assisters and navigators, insurance agents, rule-writers, regulators, and probably many others I missed.
The bureaucracy is making the most money of all from Obamacare.
The President
President Obama believes that his legacy will shine forth because he succeeded where every President before him has failed. He "reformed" healthcare. I leave it to you to decide whether he deserves credit or blame.
Pharmaceutical Companies and Unions
Major pharmaceutical companies, just like unions, supported Obamacare. The president promised to protect them from adverse financial consequences. These promises turned out to be smoke-and-mirrors.
After discovering what Obamacare would do to them, leaders of three major U.S. unions, including the highly influential teamsters, wrote to the president saying that Obamacare will "destroy the foundation of the 40 hour work week that is the backbone of the American middle class."
What happened to PhRMA? In 2010, in return for $80 billion in support, President Obama promised he would not "negotiate down" drug prices and that pharmaceutical companies could keep their 12-year intellectual property protection. In his 2015 budget, the president reneged on both promises.
Obamacare's fiscal impact on PhRMA and unions remains unclear. What is clear is the effect of Obamacare on providers and patients.
Providers of Health Care
The cash cow called Obamacare is not for providers. They get "milked." Obamacare cuts $716 billion from Medicare payments to physicians. Were this reduction implemented, Medicare-accepting doctors would not be able to pay their own bills. Just as Congress has done every year since 2003, it passes these cuts but then defers them.
This is not a reversal of sentence. It is a stay of execution. Doctors still sit on Death Row financially. They know it.
We The Patients
WE are Obama's cash cow. Health insurance premiums are up, not down. Taxes–mostly hidden–are up, not down. Healthcare is less affordable, not more. Emergency Room visits are up, not down. The coup de grace is either you can't find a doctor or you wait forever to get seen.
Who benefits from Obamacare? Not you!

–
TheBlaze contributor channel supports an open discourse on a range of views. The opinions expressed in this channel are solely those of each individual author.