Virtually every Supreme Court watcher believes Justice Anthony Kennedy will be the deciding vote in the upcoming Obergefell v. Hodges decision, dealing with the constitutionality of state amendments defining marriage as the union between one man and one woman.
I agree.
Putting aside how troubling this should be for us all, that one man could have such power within our Constitutional Republic, the fact reveals to us why the Supreme Court will not impose same-sex "marriage" in all 50 states. Remember, if Justice Kennedy were to do this, he would be invalidating the vote of millions of Americans who went to the voting booth to affirm the traditional definition of marriage. Think about that: One judge versus millions of citizens. One judge against history, really.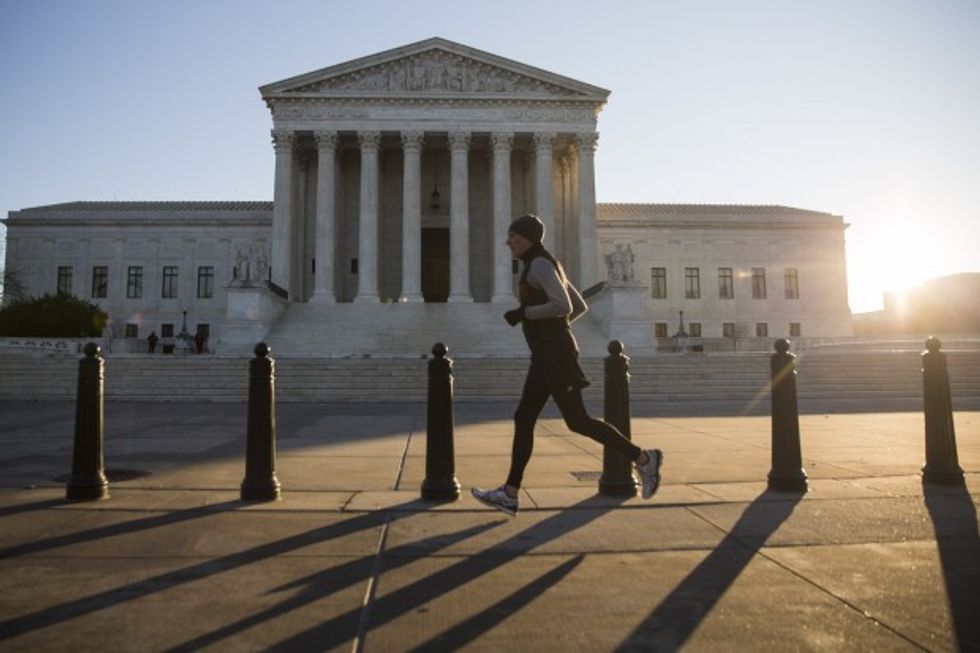 A jogger runs pasts the Supreme Court, January 16, 2015 in Washington, D.C. (Drew Angerer/Getty Images)
I can't bring myself to believe Justice Kennedy would really "pull the trigger," so to speak, on such a brazen attack on liberty. I know many will point to his untrustworthy record and laugh at the notion. But I think he is very conscious of what the LGBT lobby is asking him to do. He cannot possibly be this deluded.
He was conscious of it at oral arguments. Remember what he told Mary Bonauto, who represented the Petitioners in favor of same-sex "marriage":
[O]ne of the problems is when you think about these cases you think about words or cases, and the word that keeps coming back to me in this case is millennia, plus time… I don't even know how to count the decimals when we talk about millennia. This definition has been with us for millennia. And it ­­ it's very difficult for the Court to say, oh, well, we know better.
"Facts are stubborn things," said John Adams. And there was no answer for that simple statement from Justice Kennedy at oral arguments. There is still no answer for it today. Bonauto tried to deflect it every way she could, but it stayed on her shoulders like a giant boulder the entire time.
Since same-sex "marriage" supporters argue there is no rational basis for limiting marriage as the union between one man and one woman, except animus towards homosexuals, the argument stands in judgment of all of history. Justice Samuel Alito got to the point:
[H]ow do you account for the fact that, as far as I'm aware, until the end of the 20th century, there never was a nation or a culture that recognized marriage between two people of the same sex? Now, can we infer from that that those nations and those cultures all thought that there was some rational, practical purpose for defining marriage in that way or is it your argument that they were all operating independently based solely on irrational stereotypes and prejudice?
Bonauto tried to shake it off, but to no avail. Alito asked again: "I don't really think you answered my question. … Can we infer that these societies all thought there was a rational reason for this and a practical reason for this?"
"I don't know what other societies assumed …" came the answer.
Bonauto tried to argue it was like mixed-raced marriages, but Justice Antonin Scalia pointed out the obvious in this exchange:
JUSTICE SCALIA: [N]ot all societies banned mixed ­race marriages. In fact, not even all States in this country banned. But I don't know of any society, prior to the Netherlands in 2001, that permitted same­sex "marriage?"

BONAUTO: As a legal matter, Your Honor?

JUSTICE SCALIA: As a legal matter.

BONAUTO: I am not. I am not. At – It would not.

JUSTICE SCALIA: For millennia, not a single other society until the Netherlands in 2001, and you're telling me they were all ­­I don't know what.

BONAUTO: No. What I'm saying is setting taking that tradition as it is, one still needs ­the Court still needs a reason to maintain that tradition when it has the effect …

JUSTICE SCALIA: Well, the issue, of course, is not whether there should be same­sex "marriage," but who should decide the point.

BONAUTO: Yes, and we ­­

JUSTICE SCALIA: And you're asking us to ­­ to decide it for this society when no other society until 2001 ever had it …
Once again, there was no answer, though Bonauto tried to establish a difference on the fact that this was government's doing. Justice Kennedy again clarified:
[Y]ou said that, well, marriage is different because it's controlled by the government. But from a historical ­­ from anthropological standpoint, Justice Scalia was very careful to talk about societies. Justice Alito talked about cultures. If you read the ­­ about the Kalahari people or ­­ or ancient peoples, they didn't have a government like this. They made it themselves and it was man and a woman.
Finally, Justice Stephen Breyer had enough and had to intervene, to see if he could procure an answer:
JUSTICE BREYER: I would like to hear the precise answer to the question you've been asked several times.

BONAUTO: Okay.

JUSTICE BREYER: And to me, it takes the form, the opposite view has been the law everywhere for thousands of years among people who were not discriminating even against "gay" people, and suddenly you want nine people outside the ballot box to require States that don't want to do it to change what you've heard is change what marriage is to include "gay" people. Why cannot those States at least wait and see whether in fact doing so in the other States is or is not harmful to marriage? Now, that same question has been put in many, many ways in the briefs on our subject. You've received it in three or four different ways. I would like to know, so I can hear and understand it, just what your response is.
But no answer came; because there is no answer.
What the proponents of same-sex "marriage" want the Supreme Court to do is to declare that all throughout history, every society has decided to keep marriage as the union between one man and one woman in order to punish homosexuals. They want the Court (Justice Kennedy particularly) to say there is no rational basis for keeping marriage as every society has thought it best throughout all of history. They want the Court and us to believe that no society really thought about children and the best model for their civilization; they just hated homosexuals.
This is so patently false, it is truly inconceivable for any impartial jurist to say it. Justice Kennedy's statement still reverberates at the chambers of the Supreme Court today. Will they simply say, "We know better"? Will Justice Kennedy show such grand contempt for all people throughout history, so as to believe he stands above them all? I find it hard to believe he will.
–
TheBlaze contributor channel supports an open discourse on a range of views. The opinions expressed in this channel are solely those of each individual author.