Here's a simple question the media has managed to avoid asking Bernie Sanders:
For nearly two decades, socialism has been implemented in a variety of ways in Venezuela. Have the results been good? If not, how would you, as a socialist president, avoid those same results here in the U.S.A.?
In case you haven't heard, Venezuela under the United Socialist Party is suffering one of the worst economies on the planet. GDP is falling and inflation is skyrocketing. There are shortages of everything from food and diapers to car batteries (as illustrated in a great article by Nick Casey). In a not-so-surprising diagnosis, indexes of economic freedom rank Venezuela at the bottom of the pack, along with Zimbabwe and Cuba. Venezuela's crime rate is also among the world's worst.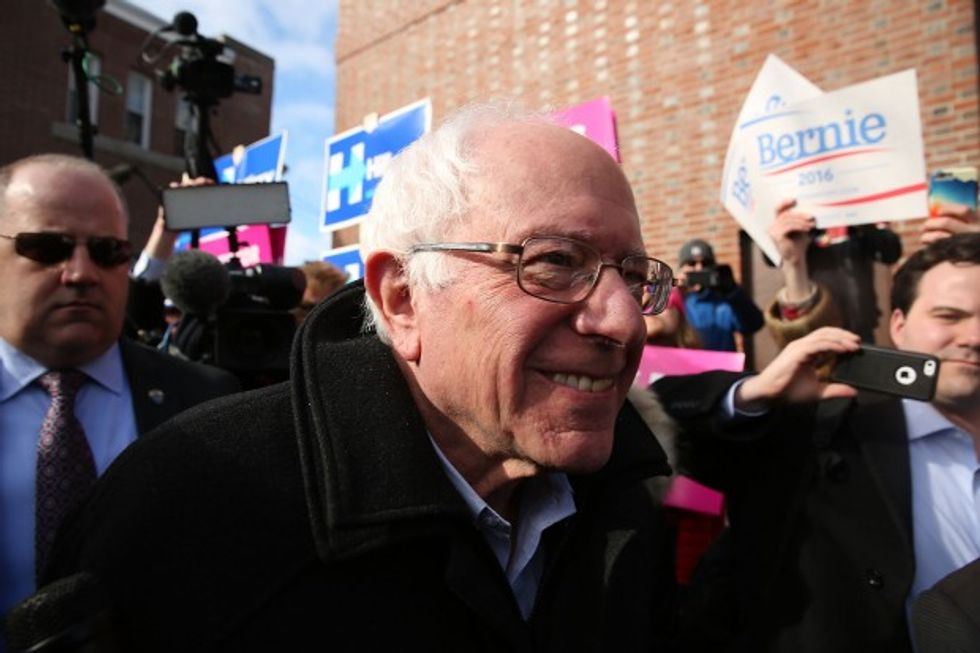 Democratic presidential candidate Senator Bernie Sanders (D-VT) walks through downtown Concord on election day on February 9, 2016 in Concord, New Hampshire.  (Photo by Spencer Platt/Getty Images)
Much of this socialism has been democratically-elected, though December's vote went solidly against the Socialists (and there have long been questions about the "free and fair" status of Venezuelan elections). So, it seems reasonable to ask our very own self-declared "democratic socialist" about this current-day illustration of how socialism has, well, totally sucked.
And it hasn't just failed on the economic front. The political, "democratic" side of the Bolivarian Revolution led by the late Hugo Chavez (and carried forward by Nicolas Maduro) hasn't exactly met the gold standard, either. Venezuela's human rights record also ranks alongside Zimbabwe. And, in the aftermath of last year's elections – which gave Maduro's opponents two-thirds of the National Assembly – Maduro decided to create a "Communal Parliament" that would act in place of the Assembly. Can you say "constitutional crisis"?
So, given that "socialism" has become a buzzword in the 2016 election, and given that many of Sanders' youthful supporters have little distrust in it, then why not open the floor to questions about whether the socialism Venezuela has "enjoyed" since 1999 would be similar to the socialism Sanders would like to implement in 2017?
While Sanders self-identifies as a socialist (or, "democratic socialist"), he has no love for Chavez, who he recently dismissed as a "dead communist dictator." But, just as Sanders gets described in terms he wouldn't use for himself – e.g., "diehard communist" – Chavez never identified as a communist or a Marxist.
So, in the name of avoiding a flurry of similar-sounding, incomprehensible labels, why not ask Sanders which of Chavez's policies are on the right track? It's pretty easy to outline the Bolivarian economic program:
We can simply ask Sanders to check "yes" or "no" next to each policy.
Notice there's something of a progression, here. Massive debt is needed in order to finance the social spending, which in turn prompts a devaluing of the currency to service the debt, which results in inflation alongside the price control-induced shortages, which prods the government into nationalizing the "greedy corporations." In other words, many of these bad policies are mutually reinforcing.
A woman Venezuelan citizen residing in Cali, Colombia, holds a poster that reads: '# SOS Venezuela. Venezuela free! Below repression' during a protest against the government of Venezuela's President Nicolas Maduro, on February 18, 2014. AFP PHOTO/Luis ROBAYO
In the U.S., we talk a lot about "checks and balances" and "separation of powers" as a description of the dynamic within government between the executive, legislative, and judicial branches. But there's another sense in which we could apply these terms: we want a separation between government and business, so that one can check the other. If a business screws up, we want to be able to petition the government for help; when a business is run by the government (e.g., the United States Postal Service), you've got nowhere to go, you're stuck.
Venezuelans are stuck with a government-run economy. They may be in the midst of changing that, but it's likely to be an ugly transition.
We have a right to know how much Bernie Sanders wants our economy to be run like Venezuela's, and there shouldn't be any trouble asking him for specifics.
–
TheBlaze contributor channel supports an open discourse on a range of views. The opinions expressed in this channel are solely those of each individual author.