A man was arrested Tuesday after he walked into a Baltimore police station and was caught with a gun. But it's the story the man told police after he was caught that has them more on edge. A story police say they believe.
Jason Armstrong told police in Maryland Tuesday that the Black Guerrilla Family -- a local gang -- sent him into the station armed with a loaded .22-caliber gun to "test security."
"We're really lucky for a person to walk into a police station fully armed and loaded with drugs on him that we didn't end up in a terrible situation," Baltimore Police Commissioner Anthony Batts said. Not only was Armstrong carrying a loaded firearm, police said he was also packing marijuana and cocaine. Police arrested Armstrong on charges of guns and narcotics, according to the Baltimore Sun.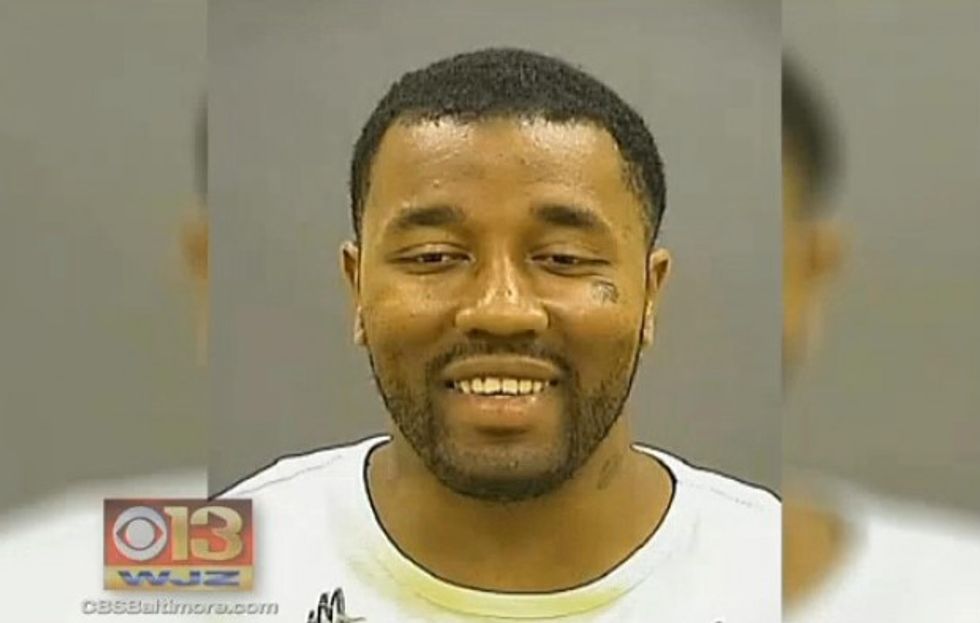 Jason Armstrong (Image source: WJZ-TV)
The incident prompted police in Baltimore to crack down on their own station security but also to advise police departments across the country to do the same. After verifying that Armstrong does in fact have ties to the BGF, police began to devise ways in which they to further combat the gang. Batts said he is planning to meet with representatives of federal agencies such as the FBI, Drug Enforcement Administration and Bureau of Alcohol, Tobacco, Firearms and Explosives as part of the plan.
The FBI has offered police in Baltimore any assistance it can provide, according to Baltimore FBI spokeswoman Amy Thoreson. Meanwhile, others in Baltimore reacted to what could have otherwise resulted in a deadly scene, the Sun reported.
"Another example of the interesting times we're living in. Everyone's on edge. The level of security we have at city buildings, we're not where we need to be and where we should be in 2015." Baltimore City Councilman Brandon Scott, who represents the northeast part of the city, said.
"An organized gang in the city of Baltimore sent an armed suspect into our building to see our security, to test our security and that is alarming for us, that is alarming to me," Maj. Deron Garrity, Baltimore's southeastern district commander, said. "I'm going to send a message along those lines to understand that we're not going to cower, we're not going to back down."
Garrity's message? He sent an email to residents telling them the station would be locked Tuesday night "because of recent events."
Defense attorney Tom Maronick Jr., who has represented BGF suspects in the past, told WJZ-TV that the gang is "very well organized" and "they don't play around. When the outlet asked Maronick about what message the gang was trying to send, he replied, "We're not dead regardless of what happened, in the Baltimore jail, we're a gang that's very much alive and well."
Editor's note: A previous version of this story named the Drug Enforcement Agency. It is the Drug Enforcement Administration. 
(H/T: WJZ-TV)
–
Follow Jon Street (@JonStreet) on Twitter